Filters
In the Streets of London: A 17th Century Musical Pub Tour
In the Streets of London: A 17th Century Musical Pub Tour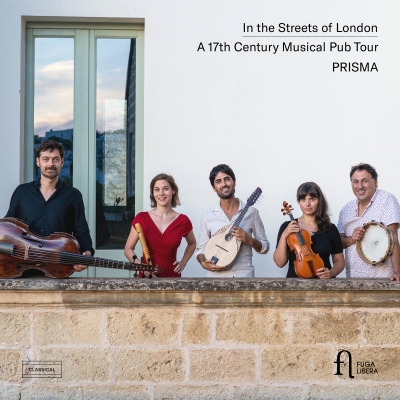 Inlay available for download
Booklet available for download
The Division Violin & The Dancing Master: The New Hornpipe / Johnny, Cock Up thy Beaver / Newcastle

The Division Violin & The Dancing Master: The New Hornpipe / Johnny, Cock Up thy Beaver / Newcastle

$2.30

Trip It Upstairs / My Wife Is a Wanton Wee Thing / 9th of July / Dusty Windowsills

Trip It Upstairs / My Wife Is a Wanton Wee Thing / 9th of July / Dusty Windowsills

$2.30

The Dancing Master: Archibald MacDonald of Keppoch / Daphne

The Dancing Master: Archibald MacDonald of Keppoch / Daphne

$2.30

The Star of County Down / Interlude: Musical Priest / Cooley's / The Swallowtail

The Star of County Down / Interlude: Musical Priest / Cooley's / The Swallowtail

$2.30

The Dancing Master: All in a Garden Green

The Dancing Master: All in a Garden Green

$2.30

The Fairy Queen, Z. 629, Act III: If Love's a Sweet Passion

Composer(s)

Henry Purcell

The Fairy Queen, Z. 629, Act III: If Love's a Sweet Passion

$2.30

Abdelazer, Z. 570: VIII. Hornpipe "Hole in the Wall"

Composer(s)

Henry Purcell

Abdelazer, Z. 570: VIII. Hornpipe "Hole in the Wall"

$2.30

The Fairy Queen, Z. 629, Act III: Hornpipe

Composer(s)

Henry Purcell

The Fairy Queen, Z. 629, Act III: Hornpipe

$2.30

Oedipus, Z. 583: No. 2, Song. Music for a While

Composer(s)

Henry Purcell

Oedipus, Z. 583: No. 2, Song. Music for a While

$2.30

The Mad Lover: IV. Slow Air

The Mad Lover: IV. Slow Air

$2.30

Timon of Athens, Z. 632: Curtain Tune

Composer(s)

Henry Purcell

Timon of Athens, Z. 632: Curtain Tune

$2.30

Niel Gow's Lament for His Second Wife

Niel Gow's Lament for His Second Wife

$2.30

Londonderry Air / Danny Boy

Londonderry Air / Danny Boy

$2.30

The Dancing Master: Upon a Summers Day

The Dancing Master: Upon a Summers Day

$2.30

The Dancing Master: Drive the Cold Winter Away

The Dancing Master: Drive the Cold Winter Away

$2.30

Groud After the Scotch Humour

Composer(s)

Nicola Matteis

Groud After the Scotch Humour

$2.30

The Fairy Queen, Z. 629: Hornpipe

Composer(s)

Henry Purcell

The Fairy Queen, Z. 629: Hornpipe

$2.30

The Sailor's Wife / Jenny's Wedding / The Green Fields of Rossbeigh / The Kerry / Tatter Jack Walsh

The Sailor's Wife / Jenny's Wedding / The Green Fields of Rossbeigh / The Kerry / Tatter Jack Walsh

$2.30
Total running time: 55 minutes.
Album information

Enjoy the carefree spirit of London's buzzing nightlife as PRISMA takes us on a trip through the bars and pubs of the capital to explore the British dance music of the seventeenth century. 

London 1651: the third year of Civil War. Opera houses and theatres are shut down, but people enjoy a few hours of escape thanks to carefree dancing, cheerful songs and good drinks, living for today and not tomorrow. There's so much life in the traditional tunes, virtuosic divisions and popular songs that were well-known thanks to the theatres!

This program comprises melodies from the famous collection The English Dancing Master, as well as music from The Division Violin, Scottish and Irish folk tunes, and even some later hits like Danny Boy – all served up in PRISMA's spontaneous and lively signature style!
Related Artists
Reviews