Filters
Virtuoso in the Making - Biber
Virtuoso in the Making - Biber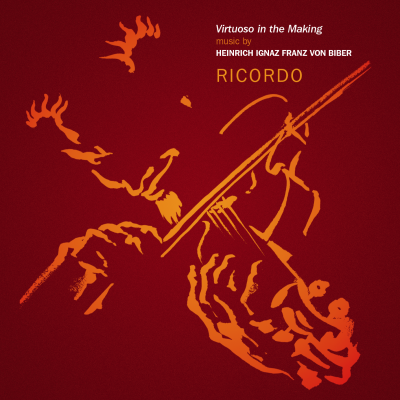 Pastorella

Composer(s)

Heinrich Ignaz Franz von Biber

Artist(s)

Kati Debretzeni - violin, Penelope Spencer - violin, Alison McGillivray - viola da gamba, violone, Adam Woolf - trombone, Matthew Wadsworth - theorbo, baroque lute, Robert Howarth - harpsichord, organ

Pastorella

$1.80

Sonata in E Major - <i>Adagio</i>

Composer(s)

Heinrich Ignaz Franz von Biber

Artist(s)

Kati Debretzeni - violin, Penelope Spencer - violin, Alison McGillivray - viola da gamba, violone, Adam Woolf - trombone, Matthew Wadsworth - theorbo, baroque lute, Robert Howarth - harpsichord, organ

Sonata in E Major - Adagio

$1.80

Sonata in E Major - Aria & Variation: <i>Adagio</i>

Composer(s)

Heinrich Ignaz Franz von Biber

Artist(s)

Kati Debretzeni - violin, Penelope Spencer - violin, Alison McGillivray - viola da gamba, violone, Adam Woolf - trombone, Matthew Wadsworth - theorbo, baroque lute, Robert Howarth - harpsichord, organ

Sonata in E Major - Aria & Variation: Adagio

$1.80

Sonata à 3, per 2 Violini e Trombone

Composer(s)

Heinrich Ignaz Franz von Biber (poss. A Bertali)

Artist(s)

Kati Debretzeni - violin, Penelope Spencer - violin, Alison McGillivray - viola da gamba, violone, Adam Woolf - trombone, Matthew Wadsworth - theorbo, baroque lute, Robert Howarth - harpsichord, organ

Sonata à 3, per 2 Violini e Trombone

$1.80

Fantasia

Composer(s)

Heinrich Ignaz Franz von Biber

Artist(s)

Kati Debretzeni - violin, Penelope Spencer - violin, Alison McGillivray - viola da gamba, violone, Adam Woolf - trombone, Matthew Wadsworth - theorbo, baroque lute, Robert Howarth - harpsichord, organ

Fantasia

$1.80

Fantasia - Gigue & Variation: <i>Minuet</i>

Composer(s)

Heinrich Ignaz Franz von Biber

Artist(s)

Kati Debretzeni - violin, Penelope Spencer - violin, Alison McGillivray - viola da gamba, violone, Adam Woolf - trombone, Matthew Wadsworth - theorbo, baroque lute, Robert Howarth - harpsichord, organ

Fantasia - Gigue & Variation: Minuet

$1.80

Passacaglia for solo lute

Composer(s)

Heinrich Ignaz Franz von Biber

Artist(s)

Matthew Wadsworth - baroque lute

Passacaglia for solo lute

$2.70

Pastorella à 2 Violini

Composer(s)

Johann Heinrich Schmelzer

Artist(s)

Kati Debretzeni - violin, Penelope Spencer - violin, Alison McGillivray - viola da gamba, violone, Adam Woolf - trombone, Matthew Wadsworth - theorbo, baroque lute, Robert Howarth - harpsichord, organ

Pastorella à 2 Violini

$1.80

Sonata in C Minor

Composer(s)

Heinrich Ignaz Franz von Biber

Artist(s)

Kati Debretzeni - violin, Penelope Spencer - violin, Alison McGillivray - viola da gamba, violone, Adam Woolf - trombone, Matthew Wadsworth - theorbo, baroque lute, Robert Howarth - harpsichord, organ

Sonata in C Minor

$3.70

Sonata in A Major - <i>Adagio/Presto</i>

Composer(s)

Heinrich Ignaz Franz von Biber

Artist(s)

Kati Debretzeni - violin, Penelope Spencer - violin, Alison McGillivray - viola da gamba, violone, Adam Woolf - trombone, Matthew Wadsworth - theorbo, baroque lute, Robert Howarth - harpsichord, organ

Sonata in A Major - Adagio/Presto

$1.80

Sonata in A Major - <i>Aria e Variation</i>

Composer(s)

Heinrich Ignaz Franz von Biber

Artist(s)

Kati Debretzeni - violin, Penelope Spencer - violin, Alison McGillivray - viola da gamba, violone, Adam Woolf - trombone, Matthew Wadsworth - theorbo, baroque lute, Robert Howarth - harpsichord, organ

Sonata in A Major - Aria e Variation

$2.70
Total running time: 67 minutes.
Album information

Baroque ensemble Ricordo's debut album with Linn Records which received rave reviews.

Heinrich Ignaz Franz von Biber's music is amazingly different from the more commonly heard baroque style, definitely far more fanciful. The nature of his compositions is essentially extreme improvisation on paper, free and unpredictable explorations of themes or just abstract fantasies

Ricordo play their programmes entirely from memory in order to free themselves from the printed page and to enhance communication between themselves and the audience. "Ricordo" is the Italian word for "Memory".
Related Artists
Reviews