Filters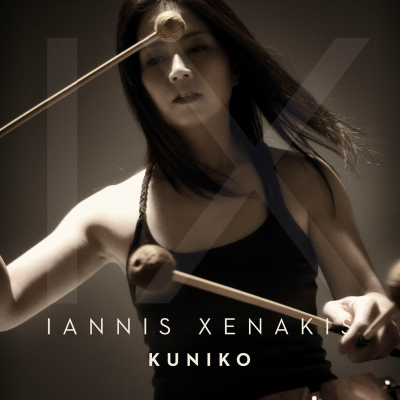 Inlay available for download
Booklet available for download
Pleiades: I. Melanges (Mixtures)

Composer(s)

Iannis Xenakis

Pleiades: I. Melanges (Mixtures)

$3.25

Pleiades: II. Metaux (Metals)

Composer(s)

Iannis Xenakis

Pleiades: II. Metaux (Metals)

$5.25

Pleiades: III. Claviers (Keyboards)

Composer(s)

Iannis Xenakis

Pleiades: III. Claviers (Keyboards)

$4.00

Pleiades: IV. Peaux (Skins)

Composer(s)

Iannis Xenakis

Pleiades: IV. Peaux (Skins)

$4.24

Rebonds A.

Composer(s)

Iannis Xenakis

Rebonds A.

$3.00

Rebonds B.

Composer(s)

Iannis Xenakis

Rebonds B.

$2.30
Total running time: 59 minutes.

Album information

KUNIKO's much-anticipated third studio recording features the works of Iannis Xenakis, whose work has had a huge impact within the world of music, and in particular on percussion repertoire.

Full of challenges, from the pioneering mathematical influences, to unusual notation and virtuosic performance requirements, many classify Xenakis' compositions as unplayable, but KUNIKO's unrivalled prowess sees her perfectly realize the composer's vision. Pléïades explores a rich variety of percussive sounds and textures; marimba, vibraphone, xylophone, xylo-marimba and drums create a sound world of rhythmic complexity and vibrant colours. Uniquely, Pléïades also requires a SIXXEN, an instrument designed by Xenakis and customised by KUNIKO, who hand-selected 120 metal bars to craft the perfect sound.

Since becoming a percussion soloist, Rebonds is a piece that KUNIKO has been playing and performing throughout her entire career. After hearing this performance of Xenakis' popular piece, renowned percussionist Sylvio Gualda congratulated KUNIKO on her "marvellous" interpretation. NPR Music named Rebonds B as one of its 'Favourite Songs of 2015' stating: "Japanese percussionist Kuniko Kato savors the hypnotic groove in the Greek composer's uniquely intense aesthetic". This recording was also nominated in the 'Contemporary Music' and 'Recording' categories at Japan's Record Academy Awards.
Related Artists
Reviews