Filters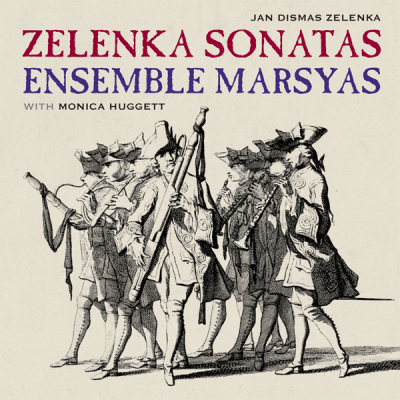 Inlay available for download
Booklet available for download
Sonata V in F Major ZWV. 181/5 - [Allegro]

Composer(s)

Jan Dismas Zelenka

Artist(s)

Ensemble Marsyas

Sonata V in F Major ZWV. 181/5 - [Allegro]

$2.30

Sonata V in F Major ZWV. 181/5 - [Adagio]

Composer(s)

Jan Dismas Zelenka

Artist(s)

Ensemble Marsyas

Sonata V in F Major ZWV. 181/5 - [Adagio]

$2.30

Sonata V in F Major ZWV. 181/5 - Allegro

Composer(s)

Jan Dismas Zelenka

Artist(s)

Ensemble Marsyas

Sonata V in F Major ZWV. 181/5 - Allegro

$2.30

Sonata III in B-flat Major ZWV. 181/3 - Adagio

Composer(s)

Jan Dismas Zelenka

Artist(s)

Ensemble Marsyas

Sonata III in B-flat Major ZWV. 181/3 - Adagio

$2.30

Sonata III in B-flat Major ZWV. 181/3 - Allegro

Composer(s)

Jan Dismas Zelenka

Artist(s)

Ensemble Marsyas

Sonata III in B-flat Major ZWV. 181/3 - Allegro

$2.30

Sonata III in B-flat Major ZWV. 181/3 - Largo

Composer(s)

Jan Dismas Zelenka

Artist(s)

Ensemble Marsyas

Sonata III in B-flat Major ZWV. 181/3 - Largo

$2.30

Sonata III in B-flat Major ZWV. 181/3 - Tempo giusto - Allegro

Composer(s)

Jan Dismas Zelenka

Artist(s)

Ensemble Marsyas

Sonata III in B-flat Major ZWV. 181/3 - Tempo giusto - Allegro

$2.30

Sonata VI in C minor ZWV. 181/6 - [Andante]

Composer(s)

Jan Dismas Zelenka

Artist(s)

Ensemble Marsyas

Sonata VI in C minor ZWV. 181/6 - [Andante]

$2.30

Sonata VI in C minor ZWV. 181/6 - [Allegro]

Composer(s)

Jan Dismas Zelenka

Artist(s)

Ensemble Marsyas

Sonata VI in C minor ZWV. 181/6 - [Allegro]

$2.30

Sonata VI in C minor ZWV. 181/6 - Adagio

Composer(s)

Jan Dismas Zelenka

Artist(s)

Ensemble Marsyas

Sonata VI in C minor ZWV. 181/6 - Adagio

$2.30

Sonata VI in C minor ZWV. 181/6 - [Allegro]

Composer(s)

Jan Dismas Zelenka

Artist(s)

Ensemble Marsyas

Sonata VI in C minor ZWV. 181/6 - [Allegro]

$2.30

Andante from Simphonie à 8 Concertanti in A minor ZWV. 189

Composer(s)

Jan Dismas Zelenka

Artist(s)

Ensemble Marsyas

Andante from Simphonie à 8 Concertanti in A minor ZWV. 189

$2.30
Total running time: 49 minutes.



Album information

Ensemble Marsyas' Linn debut features three of the extraordinary trio sonatas by the Bohemian composer Jan Dismas Zelenka for violin, two oboes, bassoon and continuo on period instruments. They are joined by Baroque violinist Monica Huggett.

These sonatas represent the most spectacularly challenging music ever written for wind instruments in terms of their utopian demands on the technique of the players, their musical integrity and their breathtaking scale. This repertoire saw the ensemble awarded both first prize and the audience prize at the 2007 Brugge International Competition.

The recording made the Baker and Taylor 'Hotlist': "[a] gorgeous disc ...the members of Ensemble Marsyas acquit themselves beautifully. Strongly recommended."

The Edinburgh based chamber group comprises the best of a new generation of musicians specialising in early music from across Europe. Ensemble Marsyas is Peter Whelan - bassoon, Josep Domènech Lafont - oboe, Molly Marsh - oboe, Thomas Dunford - theorbo, Philippe Grisvard - harpsichord/organ, Christine Sticher - violone.  
Related Artists
Reviews