Filters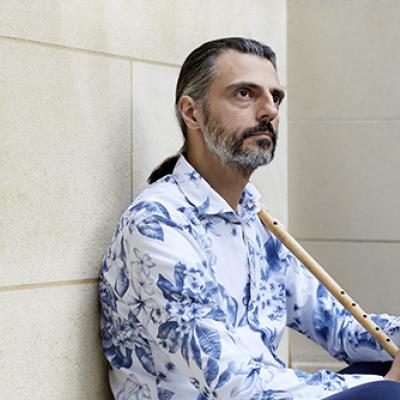 François Lazarevitch plays early and traditional flutes and bagpipes. He is the founder and director of the Les Musiciens de Saint-Julien, with whom he performs in France and abroad.
Biography

Although his primary instrument is the flute, from the outset, François Lazarevitch has concentrated his apprenticeships, research and musical practices on the diversity of sources, oral and written, which he deems necessary for recreating the early and Baroque repertoires today. Backed, since 2006, by the companionship of his Musiciens de Saint-Julien, to whom he passes on his craving for going ever further in comprehension, his taste for the discovery of forgotten repertoires and experimental curiosity about all cultures, he takes a singular new look at a whole chapter of our musical history. 

The driving force? Rhythm, this impulse born of dance and which calls more on what is felt than on what is written on paper and which must imbue all music with flexibility and in awareness. This is why his recording of Bach's Flute Sonatas (Alpha Classics, 2014, 'Choc' Classica) surprises and charms with the eloquence, invention and refinement of his art of phrasing and ornamentation. 

It must be said that while François Lazarevitch tackles early music and the flute with pioneers such as Antoine Geoffroy-Dechaume, Barthold Kuijken and Pierre Séchet, he also approaches Indian music, has a passion for the Irish flute, and practices music of oral tradition with those who still perpetuate it locally. These fruitful encounters and explorations open up his own path, uncharted and demanding, which he travels, adding strings to his bow: today, he divides his time between the flute and the musette with equal virtuosity, the pastoral timbre having become emblematic of Les Musiciens de Saint-Julien. Artistic director of the ensemble, he conducts it on the French and international music scenes, recording innovative programmes for Alpha Classics, which are regularly acclaimed. He also enriches his experience through collaborations with Les Arts Florissants, Le Concert d'Astrée, Les Talens Lyriques, dancers and choreographers, stage directors and composers of today. An impassioned instrument collector and researcher, he publishes scores of unearthed repertoires. 

Finally, he teaches Baroque flute and musette at the Versailles Conservatory, eager to pass on what drives him: 'the freedom of breath in the service of listening, understanding and energy'.
Reviews