Filters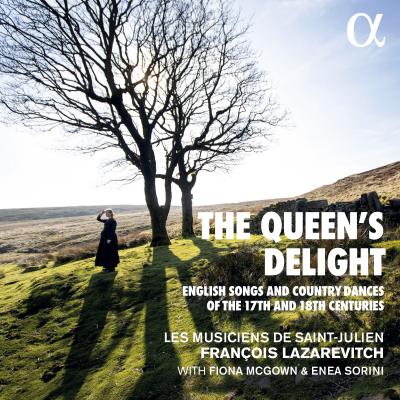 Inlay available for download
Booklet available for download
Song: Bonny Kathern Loggy

Artist(s)

François Lazarevitch

Fiona McGown

Les Musiciens de Saint-Julien

Song: Bonny Kathern Loggy

$2.30

Bellamira (After Solomon Eccles) – Greensleeves (After James Oswald)

Artist(s)

François Lazarevitch

Les Musiciens de Saint-Julien

Bellamira (After Solomon Eccles) – Greensleeves (After James Oswald)

$2.30

Song: The Witty Western Lasse, to the Tune Called The Beggar Boy

Artist(s)

François Lazarevitch

Fiona McGown

Les Musiciens de Saint-Julien

Enea Sorini

Song: The Witty Western Lasse, to the Tune Called The Beggar Boy

$2.30

Emperor of the Moon / Ormond House

Artist(s)

François Lazarevitch

Les Musiciens de Saint-Julien

Emperor of the Moon / Ormond House

$2.30

Song: How Vile Are the Sordid Intrigues

Composer(s)

Henry Purcell

Artist(s)

François Lazarevitch

Fiona McGown

Les Musiciens de Saint-Julien

Song: How Vile Are the Sordid Intrigues

$2.30

Sefauchi's Farewell (After Henry Purcell)

Artist(s)

François Lazarevitch

Les Musiciens de Saint-Julien

Sefauchi's Farewell (After Henry Purcell)

$2.30

Song: An Italian Ayre (Fuggi, Fuggi, Fuggi) [After Henry Lawes]

Artist(s)

François Lazarevitch

Les Musiciens de Saint-Julien

Enea Sorini

Song: An Italian Ayre (Fuggi, Fuggi, Fuggi) [After Henry Lawes]

$2.30

Nobody's Jig – Black and Grey – Where Will Our Goodman Lie – Maiden Lane

Artist(s)

François Lazarevitch

Les Musiciens de Saint-Julien

Nobody's Jig – Black and Grey – Where Will Our Goodman Lie – Maiden Lane

$2.30

Song: Drive the Cold Winter Away

Artist(s)

François Lazarevitch

Fiona McGown

Les Musiciens de Saint-Julien

Enea Sorini

Song: Drive the Cold Winter Away

$2.30

John Come Kiss Me Now (Variations by Thomas Baltzar, Christopher Simpson, David Mell, Solon Eccles)

Artist(s)

François Lazarevitch

Les Musiciens de Saint-Julien

John Come Kiss Me Now (Variations by Thomas Baltzar, Christopher Simpson, David Mell, Solon Eccles)

$2.30

Song: When Daphne from Fair Phoebus Did Fly

Artist(s)

François Lazarevitch

Fiona McGown

Les Musiciens de Saint-Julien

Song: When Daphne from Fair Phoebus Did Fly

$2.30

Scots Rant – Argiers (Variations After Jacob van Eyck)

Artist(s)

François Lazarevitch

Les Musiciens de Saint-Julien

Scots Rant – Argiers (Variations After Jacob van Eyck)

$2.30

Song: Mr Lane's Maggot

Artist(s)

François Lazarevitch

Fiona McGown

Les Musiciens de Saint-Julien

Song: Mr Lane's Maggot

$2.30

The Lord Monk's March – Hey to the Camp

Composer(s)

Henry Purcell

Artist(s)

François Lazarevitch

Les Musiciens de Saint-Julien

The Lord Monk's March – Hey to the Camp

$2.30

Song: A Lad of the Town

Composer(s)

Henry Purcell

Artist(s)

François Lazarevitch

Fiona McGown

Les Musiciens de Saint-Julien

Song: A Lad of the Town

$2.30

Song: Bacchus's Health, On the Tune Paul's Steeple (Variations Published by John Playford and John Walsh)

Artist(s)

François Lazarevitch

Les Musiciens de Saint-Julien

Nick Scott

Song: Bacchus's Health, On the Tune Paul's Steeple (Variations Published by John Playford and John Walsh)

$2.30
Total running time: 68 minutes.
Album information

This programme reflects the full flavour and richness of English music and the instrumental and vocal repertory it inspired in Europe in the seventeenth and eighteenth centuries.

The rhythmic impulse of this repertory – sometimes making use of ostinato – culminates in the grounds, jigs, contredanses and so on that were all the rage at the time and led to the publication of John Playford's collection The English Dancing Master in 1651. Les Musiciens de Saint-Julien, showing their familiarity with early sources from England, Scotland and Ireland, also emphasise the melodic aspect of these dances, which in the course of time became sung airs – the soprano Fiona McGown and the baritone Enea Sorini complete a colourful instrumentarium.

Finally, the light-hearted dimension of entertainment is present everywhere in this repertory, which was popular in the sense that it was universally practised at the time, achieving a fame that spread far beyond the British Isles.
Related Artists
Reviews