Filters
C. P. E. Bach: Sonatas for Flute and Fortepiano
C. P. E. Bach: Sonatas for Flute and Fortepiano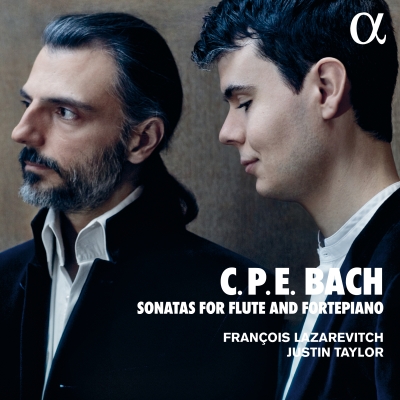 Inlay available for download
Booklet available for download
Trio Sonata in D Minor, Wq.145: I. Allegretto

Composer(s)

Carl Philipp Emanuel Bach

Artist(s)

Justin Taylor

François Lazarevitch

Trio Sonata in D Minor, Wq.145: I. Allegretto

$2.30

Trio Sonata in D Minor, Wq.145: II. Largo

Composer(s)

Carl Philipp Emanuel Bach

Artist(s)

Justin Taylor

François Lazarevitch

Trio Sonata in D Minor, Wq.145: II. Largo

$2.30

Trio Sonata in D Minor, Wq.145: III. Allegro

Composer(s)

Carl Philipp Emanuel Bach

Artist(s)

Justin Taylor

François Lazarevitch

Trio Sonata in D Minor, Wq.145: III. Allegro

$2.30

Trio Sonata in D Major, Wq. 83: I. Allegro un poco

Composer(s)

Carl Philipp Emanuel Bach

Artist(s)

Justin Taylor

François Lazarevitch

Trio Sonata in D Major, Wq. 83: I. Allegro un poco

$2.30

Trio Sonata in D Major, Wq. 83: II. Largo

Composer(s)

Carl Philipp Emanuel Bach

Artist(s)

Justin Taylor

François Lazarevitch

Trio Sonata in D Major, Wq. 83: II. Largo

$2.30

Trio Sonata in D Major, Wq. 83: III. Allegro

Composer(s)

Carl Philipp Emanuel Bach

Artist(s)

Justin Taylor

François Lazarevitch

Trio Sonata in D Major, Wq. 83: III. Allegro

$2.30

Flute Sonata in A Minor, Wq. 132: I. Poco adagio

Composer(s)

Carl Philipp Emanuel Bach

Artist(s)

François Lazarevitch

Flute Sonata in A Minor, Wq. 132: I. Poco adagio

$2.30

Flute Sonata in A Minor, Wq. 132: II. Allegro

Composer(s)

Carl Philipp Emanuel Bach

Artist(s)

François Lazarevitch

Flute Sonata in A Minor, Wq. 132: II. Allegro

$2.30

Flute Sonata in A Minor, Wq. 132: III. Allegro

Composer(s)

Carl Philipp Emanuel Bach

Artist(s)

François Lazarevitch

Flute Sonata in A Minor, Wq. 132: III. Allegro

$2.30

Trio Sonata in C Major, Wq. 149: I. Allegro di molto

Composer(s)

Carl Philipp Emanuel Bach

Artist(s)

Justin Taylor

François Lazarevitch

Trio Sonata in C Major, Wq. 149: I. Allegro di molto

$2.30

Trio Sonata in C Major, Wq. 149: II. Andante

Composer(s)

Carl Philipp Emanuel Bach

Artist(s)

Justin Taylor

François Lazarevitch

Trio Sonata in C Major, Wq. 149: II. Andante

$2.30

Trio Sonata in C Major, Wq. 149: III. Allegretto

Composer(s)

Carl Philipp Emanuel Bach

Artist(s)

Justin Taylor

François Lazarevitch

Trio Sonata in C Major, Wq. 149: III. Allegretto

$2.30

Fantasia in F-Sharp Minor, Wq. 67: I. Adagio - Allegretto

Composer(s)

Carl Philipp Emanuel Bach

Fantasia in F-Sharp Minor, Wq. 67: I. Adagio - Allegretto

$2.30

Fantasia in F-Sharp Minor, Wq. 67: II. Largo - Adagio - Largo

Composer(s)

Carl Philipp Emanuel Bach

Fantasia in F-Sharp Minor, Wq. 67: II. Largo - Adagio - Largo

$2.30

Fantasia in F-Sharp Minor, Wq. 67: III. Adagio - Allegretto - Adagio - Allegretto - Largo

Composer(s)

Carl Philipp Emanuel Bach

Fantasia in F-Sharp Minor, Wq. 67: III. Adagio - Allegretto - Adagio - Allegretto - Largo

$2.30

Trio Sonata in B Minor, Wq. 143: I. Allegro

Composer(s)

Carl Philipp Emanuel Bach

Artist(s)

Justin Taylor

François Lazarevitch

Trio Sonata in B Minor, Wq. 143: I. Allegro

$2.30

Trio Sonata in B Minor, Wq. 143: II. Adagio

Composer(s)

Carl Philipp Emanuel Bach

Artist(s)

Justin Taylor

François Lazarevitch

Trio Sonata in B Minor, Wq. 143: II. Adagio

$2.30

Trio Sonata in B Minor, Wq. 143: III. Presto

Composer(s)

Carl Philipp Emanuel Bach

Artist(s)

Justin Taylor

François Lazarevitch

Trio Sonata in B Minor, Wq. 143: III. Presto

$2.30
Total running time: 79 minutes.
Album information

With these sonatas by C. P. E. Bach, François Lazarevitch continues the exploration of the jewels of the flute and recorder repertory he has embarked on with Les Musiciens de Saint-Julien or as a soloist with recordings of music by Bach, Telemann, Vivaldi and van Eyck.

François Lazarevitch and Justin Taylor now bring their sensitivity and virtuosity to bear on the sonatas for flute and obbligato harpsichord of Carl Philipp Emmanuel Bach. The majority of these works date from the years 1745-66, when he was in the service of the flute-playing King Frederick II. Two solos complete the programme: the famous Sonata in A minor for unaccompanied flute and the Fantasia in F# minor for keyboard, which testifies to Emanuel's improvisational artistry.

Situated at the epicentre of the Enlightenment era, Bach's second son was the key figure of Empfindsamkeit (Sensibility), the movement that explored the deep and unfathomable stirrings of humanity and nature, countering the learned style of the early eighteenth-century masters with freedom of inspiration and hence emancipation of form. The artist now sought above all to express the impulses of the soul, displaying unexpected traits that sometimes verge on the bizarre.
Related Artists
Reviews