Filters
Bach: 6 Suites a Violoncello Solo Senza Basso
Bach: 6 Suites a Violoncello Solo Senza Basso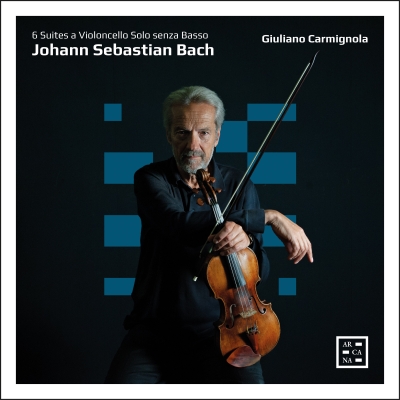 Inlay available for download
Booklet available for download
Cello Suite No. 1 in G Major, BWV 1007: I. Prélude

Composer(s)

Johann Sebastian Bach

Artist(s)

Giuliano Carmignola

Cello Suite No. 1 in G Major, BWV 1007: I. Prélude

$2.30

Cello Suite No. 1 in G Major, BWV 1007: II. Allemande

Composer(s)

Johann Sebastian Bach

Artist(s)

Giuliano Carmignola

Cello Suite No. 1 in G Major, BWV 1007: II. Allemande

$2.30

Cello Suite No. 1 in G Major, BWV 1007: III. Courante

Composer(s)

Johann Sebastian Bach

Artist(s)

Giuliano Carmignola

Cello Suite No. 1 in G Major, BWV 1007: III. Courante

$2.30

Cello Suite No. 1 in G Major, BWV 1007: IV. Sarabande

Composer(s)

Johann Sebastian Bach

Artist(s)

Giuliano Carmignola

Cello Suite No. 1 in G Major, BWV 1007: IV. Sarabande

$2.30

Cello Suite No. 1 in G Major, BWV 1007: V. Menuet I - II

Composer(s)

Johann Sebastian Bach

Artist(s)

Giuliano Carmignola

Cello Suite No. 1 in G Major, BWV 1007: V. Menuet I - II

$2.30

Cello Suite No. 1 in G Major, BWV 1007: VI. Gigue

Composer(s)

Johann Sebastian Bach

Artist(s)

Giuliano Carmignola

Cello Suite No. 1 in G Major, BWV 1007: VI. Gigue

$2.30

Cello Suite No. 2 in D Minor, BWV 1008: I. Prélude

Composer(s)

Johann Sebastian Bach

Artist(s)

Giuliano Carmignola

Cello Suite No. 2 in D Minor, BWV 1008: I. Prélude

$2.30

Cello Suite No. 2 in D Minor, BWV 1008: II. Allemande

Composer(s)

Johann Sebastian Bach

Artist(s)

Giuliano Carmignola

Cello Suite No. 2 in D Minor, BWV 1008: II. Allemande

$2.30

Cello Suite No. 2 in D Minor, BWV 1008: III. Courante

Composer(s)

Johann Sebastian Bach

Artist(s)

Giuliano Carmignola

Cello Suite No. 2 in D Minor, BWV 1008: III. Courante

$2.30

Cello Suite No. 2 in D Minor, BWV 1008: IV. Sarabande

Composer(s)

Johann Sebastian Bach

Artist(s)

Giuliano Carmignola

Cello Suite No. 2 in D Minor, BWV 1008: IV. Sarabande

$2.30

Cello Suite No. 2 in D Minor, BWV 1008: V. Menuet I - II

Composer(s)

Johann Sebastian Bach

Artist(s)

Giuliano Carmignola

Cello Suite No. 2 in D Minor, BWV 1008: V. Menuet I - II

$2.30

Cello Suite No. 2 in D Minor, BWV 1008: VI. Gigue

Composer(s)

Johann Sebastian Bach

Artist(s)

Giuliano Carmignola

Cello Suite No. 2 in D Minor, BWV 1008: VI. Gigue

$2.30

Cello Suite No. 3 in C Major, BWV 1009: I. Prélude

Composer(s)

Johann Sebastian Bach

Artist(s)

Giuliano Carmignola

Cello Suite No. 3 in C Major, BWV 1009: I. Prélude

$2.30

Cello Suite No. 3 in C Major, BWV 1009: II. Allemande

Composer(s)

Johann Sebastian Bach

Artist(s)

Giuliano Carmignola

Cello Suite No. 3 in C Major, BWV 1009: II. Allemande

$2.30

Cello Suite No. 3 in C Major, BWV 1009: III. Courante

Composer(s)

Johann Sebastian Bach

Artist(s)

Giuliano Carmignola

Cello Suite No. 3 in C Major, BWV 1009: III. Courante

$2.30

Cello Suite No. 3 in C Major, BWV 1009: IV. Sarabande

Composer(s)

Johann Sebastian Bach

Artist(s)

Giuliano Carmignola

Cello Suite No. 3 in C Major, BWV 1009: IV. Sarabande

$2.30

Cello Suite No. 3 in C Major, BWV 1009: V. Bourrée I - II

Composer(s)

Johann Sebastian Bach

Artist(s)

Giuliano Carmignola

Cello Suite No. 3 in C Major, BWV 1009: V. Bourrée I - II

$2.30

Cello Suite No. 3 in C Major, BWV 1009: VI. Gigue

Composer(s)

Johann Sebastian Bach

Artist(s)

Giuliano Carmignola

Cello Suite No. 3 in C Major, BWV 1009: VI. Gigue

$2.30

Cello Suite No. 4 in E-Flat Major, BWV 1010: I. Prélude

Composer(s)

Johann Sebastian Bach

Artist(s)

Giuliano Carmignola

Cello Suite No. 4 in E-Flat Major, BWV 1010: I. Prélude

$2.30

Cello Suite No. 4 in E-Flat Major, BWV 1010: II. Allemande

Composer(s)

Johann Sebastian Bach

Artist(s)

Giuliano Carmignola

Cello Suite No. 4 in E-Flat Major, BWV 1010: II. Allemande

$2.30

Cello Suite No. 4 in E-Flat Major, BWV 1010: III. Courante

Composer(s)

Johann Sebastian Bach

Artist(s)

Giuliano Carmignola

Cello Suite No. 4 in E-Flat Major, BWV 1010: III. Courante

$2.30

Cello Suite No. 4 in E-Flat Major, BWV 1010: IV. Sarabande

Composer(s)

Johann Sebastian Bach

Artist(s)

Giuliano Carmignola

Cello Suite No. 4 in E-Flat Major, BWV 1010: IV. Sarabande

$2.30

Cello Suite No. 4 in E-Flat Major, BWV 1010: V. Bourrée I - II

Composer(s)

Johann Sebastian Bach

Artist(s)

Giuliano Carmignola

Cello Suite No. 4 in E-Flat Major, BWV 1010: V. Bourrée I - II

$2.30

Cello Suite No. 4 in E-Flat Major, BWV 1010: VI. Gigue

Composer(s)

Johann Sebastian Bach

Artist(s)

Giuliano Carmignola

Cello Suite No. 4 in E-Flat Major, BWV 1010: VI. Gigue

$2.30

Cello Suite No. 5 in C Minor, BWV 1011: I. Prélude

Composer(s)

Johann Sebastian Bach

Artist(s)

Giuliano Carmignola

Cello Suite No. 5 in C Minor, BWV 1011: I. Prélude

$2.30

Cello Suite No. 5 in C Minor, BWV 1011: II. Allemande

Composer(s)

Johann Sebastian Bach

Artist(s)

Giuliano Carmignola

Cello Suite No. 5 in C Minor, BWV 1011: II. Allemande

$2.30

Cello Suite No. 5 in C Minor, BWV 1011: III. Courante

Composer(s)

Johann Sebastian Bach

Artist(s)

Giuliano Carmignola

Cello Suite No. 5 in C Minor, BWV 1011: III. Courante

$2.30

Cello Suite No. 5 in C Minor, BWV 1011: IV. Sarabande

Composer(s)

Johann Sebastian Bach

Artist(s)

Giuliano Carmignola

Cello Suite No. 5 in C Minor, BWV 1011: IV. Sarabande

$2.30

Cello Suite No. 5 in C Minor, BWV 1011: V. Gavotte I - II

Composer(s)

Johann Sebastian Bach

Artist(s)

Giuliano Carmignola

Cello Suite No. 5 in C Minor, BWV 1011: V. Gavotte I - II

$2.30

Cello Suite No. 5 in C Minor, BWV 1011: VI. Gigue

Composer(s)

Johann Sebastian Bach

Artist(s)

Giuliano Carmignola

Cello Suite No. 5 in C Minor, BWV 1011: VI. Gigue

$2.30

Cello Suite No. 6 in D Major, BWV 1012: I. Prélude

Composer(s)

Johann Sebastian Bach

Artist(s)

Giuliano Carmignola

Cello Suite No. 6 in D Major, BWV 1012: I. Prélude

$2.30

Cello Suite No. 6 in D Major, BWV 1012: II. Allemande

Composer(s)

Johann Sebastian Bach

Artist(s)

Giuliano Carmignola

Cello Suite No. 6 in D Major, BWV 1012: II. Allemande

$3.40

Cello Suite No. 6 in D Major, BWV 1012: III. Courante

Composer(s)

Johann Sebastian Bach

Artist(s)

Giuliano Carmignola

Cello Suite No. 6 in D Major, BWV 1012: III. Courante

$2.30

Cello Suite No. 6 in D Major, BWV 1012: IV. Sarabande

Composer(s)

Johann Sebastian Bach

Artist(s)

Giuliano Carmignola

Cello Suite No. 6 in D Major, BWV 1012: IV. Sarabande

$2.30

Cello Suite No. 6 in D Major, BWV 1012: V. Gavotte I - II

Composer(s)

Johann Sebastian Bach

Artist(s)

Giuliano Carmignola

Cello Suite No. 6 in D Major, BWV 1012: V. Gavotte I - II

$2.30

Cello Suite No. 6 in D Major, BWV 1012: VI. Gigue

Composer(s)

Johann Sebastian Bach

Artist(s)

Giuliano Carmignola

Cello Suite No. 6 in D Major, BWV 1012: VI. Gigue

$2.30
Total running time: 138 minutes.


Album information

Giuliano Carmignola offers a new and sometimes experimental reading of Bach's Suites à Violoncello Solo senza Basso in a new transcription by Marco Serino.

An eminent interpreter of Vivaldi, Giuliano Carmignola has always had a great affinity with the music of Johann Sebastian Bach, as can be heard in his landmark recordings of the Violin Sonatas with Andrea Marcon (2002), the Violin Concertos with Concerto Köln (2014, Diapason d'or), and the Sonatas & Partitas (2018), which Gramophone judged to be "a first-rate choice among the recordings of these works on period instruments, despite the competition".

Carmignola highlights new details and exalts the choreatic character and the brilliance of many of the suites' movements. Having already assured the success of Sonar in Ottava (A472) with his long-time friend Mario Brunello, this recording is the first of a series of solo projects that Carmignola will realise for Arcana.
Related Artists
Reviews