Filters
Bach: Ich habe genug. Cantatas BWV 32, 82 & 106
Bach: Ich habe genug. Cantatas BWV 32, 82 & 106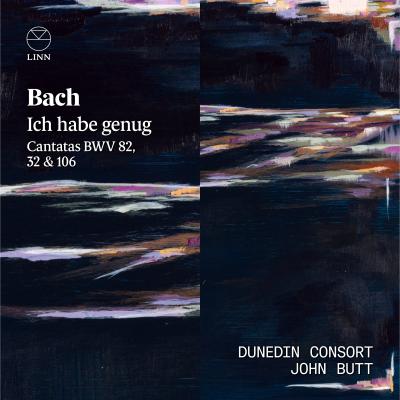 Inlay available for download
Booklet available for download
Ich habe genug, BWV 82: I. Aria. "Ich habe genug"

Composer(s)

Johann Sebastian Bach

Artist(s)

John Butt

Matthew Brook

Dunedin Consort

Ich habe genug, BWV 82: I. Aria. "Ich habe genug"

$3.40

Ich habe genug, BWV 82: II. Recitativo. "Ich habe genug"

Composer(s)

Johann Sebastian Bach

Artist(s)

John Butt

Matthew Brook

Dunedin Consort

Ich habe genug, BWV 82: II. Recitativo. "Ich habe genug"

$2.30

Ich habe genug, BWV 82: III. Aria. "Schlummert ein, ihr matten Augen"

Composer(s)

Johann Sebastian Bach

Artist(s)

John Butt

Matthew Brook

Dunedin Consort

Ich habe genug, BWV 82: III. Aria. "Schlummert ein, ihr matten Augen"

$3.40

Ich habe genug, BWV 82: IV. Recitativo. "Mein Gott! wenn kömmt das schöne, Nun!"

Composer(s)

Johann Sebastian Bach

Artist(s)

John Butt

Matthew Brook

Dunedin Consort

Ich habe genug, BWV 82: IV. Recitativo. "Mein Gott! wenn kömmt das schöne, Nun!"

$2.30

Ich habe genug, BWV 82: V. Aria. "Ich freue mich auf meinen Tod"

Composer(s)

Johann Sebastian Bach

Artist(s)

John Butt

Matthew Brook

Dunedin Consort

Ich habe genug, BWV 82: V. Aria. "Ich freue mich auf meinen Tod"

$2.30

Liebster Jesu, mein Verlangen, BWV 32: I. Aria. "Liebster Jesu, mein Verlangen"

Composer(s)

Johann Sebastian Bach

Artist(s)

John Butt

Joanne Lunn

Dunedin Consort

Liebster Jesu, mein Verlangen, BWV 32: I. Aria. "Liebster Jesu, mein Verlangen"

$2.30

Liebster Jesu, mein Verlangen, BWV 32: II. Recitativo. "Was ists, dass du mich gesuchet?"

Composer(s)

Johann Sebastian Bach

Artist(s)

John Butt

Matthew Brook

Dunedin Consort

Liebster Jesu, mein Verlangen, BWV 32: II. Recitativo. "Was ists, dass du mich gesuchet?"

$2.30

Liebster Jesu, mein Verlangen, BWV 32: III. Aria. "Hier, in meines Vaters Stätte"

Composer(s)

Johann Sebastian Bach

Artist(s)

John Butt

Matthew Brook

Dunedin Consort

Liebster Jesu, mein Verlangen, BWV 32: III. Aria. "Hier, in meines Vaters Stätte"

$3.40

Liebster Jesu, mein Verlangen, BWV 32: IV. Recitativo (Dialogo). "Ach! heiliger und großer Gott"

Composer(s)

Johann Sebastian Bach

Artist(s)

John Butt

Joanne Lunn

Dunedin Consort

Matthew Brook

Liebster Jesu, mein Verlangen, BWV 32: IV. Recitativo (Dialogo). "Ach! heiliger und großer Gott"

$2.30

Liebster Jesu, mein Verlangen, BWV 32: V. Aria (Duetto). "Nun verschwinden alle Plagen"

Composer(s)

Johann Sebastian Bach

Artist(s)

John Butt

Joanne Lunn

Dunedin Consort

Matthew Brook

Liebster Jesu, mein Verlangen, BWV 32: V. Aria (Duetto). "Nun verschwinden alle Plagen"

$2.30

Liebster Jesu, mein Verlangen, BWV 32: VI. Choral. "Mein Gott, öffne mir die Pforten"

Composer(s)

Johann Sebastian Bach

Artist(s)

John Butt

Dunedin Consort

Liebster Jesu, mein Verlangen, BWV 32: VI. Choral. "Mein Gott, öffne mir die Pforten"

$2.30

Gottes Zeit ist die allerbeste Zeit "Actus tragicus", BWV 106: I. Sonatina

Composer(s)

Johann Sebastian Bach

Artist(s)

John Butt

Dunedin Consort

Gottes Zeit ist die allerbeste Zeit "Actus tragicus", BWV 106: I. Sonatina

$2.30

Gottes Zeit ist die allerbeste Zeit "Actus tragicus", BWV 106: II. Coro. "Gottes Zeit ist die allerbeste Zeit"

Composer(s)

Johann Sebastian Bach

Artist(s)

John Butt

Dunedin Consort

Gottes Zeit ist die allerbeste Zeit "Actus tragicus", BWV 106: II. Coro. "Gottes Zeit ist die allerbeste Zeit"

$2.30

Gottes Zeit ist die allerbeste Zeit "Actus tragicus", BWV 106: III. Arioso. "Ach, Herr, lehre uns bedenken"

Composer(s)

Johann Sebastian Bach

Artist(s)

John Butt

Hugo Hymas

Dunedin Consort

Gottes Zeit ist die allerbeste Zeit "Actus tragicus", BWV 106: III. Arioso. "Ach, Herr, lehre uns bedenken"

$2.30

Gottes Zeit ist die allerbeste Zeit "Actus tragicus", BWV 106: IV. Aria. "Bestelle dein Haus"

Composer(s)

Johann Sebastian Bach

Artist(s)

John Butt

Robert Davies

Dunedin Consort

Gottes Zeit ist die allerbeste Zeit "Actus tragicus", BWV 106: IV. Aria. "Bestelle dein Haus"

$2.30

Gottes Zeit ist die allerbeste Zeit "Actus tragicus", BWV 106: V. Coro ed Arioso. "Es ist der alte Bund"

Composer(s)

Johann Sebastian Bach

Artist(s)

John Butt

Joanne Lunn

Dunedin Consort

Gottes Zeit ist die allerbeste Zeit "Actus tragicus", BWV 106: V. Coro ed Arioso. "Es ist der alte Bund"

$2.30

Gottes Zeit ist die allerbeste Zeit "Actus tragicus", BWV 106: VI. Aria. "In deine Hände befehl ich meinen Geist"

Composer(s)

Johann Sebastian Bach

Artist(s)

John Butt

Katie Bray

Dunedin Consort

Robert Davies

Gottes Zeit ist die allerbeste Zeit "Actus tragicus", BWV 106: VI. Aria. "In deine Hände befehl ich meinen Geist"

$2.30

Gottes Zeit ist die allerbeste Zeit "Actus tragicus", BWV 106: VII. Coro. "Glorie, Lob, Ehr und Herrlichkeit"

Composer(s)

Johann Sebastian Bach

Artist(s)

John Butt

Dunedin Consort

Gottes Zeit ist die allerbeste Zeit "Actus tragicus", BWV 106: VII. Coro. "Glorie, Lob, Ehr und Herrlichkeit"

$2.30
Total running time: 66 minutes.




Album information

John Butt directs Dunedin Consort, one of the world's leading Baroque ensembles, in this collection of three of Bach's finest cantatas, which won the 2022 BBC Music Magazine Choral Award.

Having previously received exceptional critical acclaim for recordings of Bach's Mass in B minor (which was named a Benchmark Recording by BBC Music Magazine) and John Passion (nominated for both a 2014 ICMA and a 2013 Gramophone Award), Dunedin Consort now cements its impressive Bachian credentials with these three cantatas which explore the timely themes of consolation and salvation. Bass Matthew Brook takes centre stage in the melancholic yet optimistic Ich habe genug, with soprano Joanne Lunn joining him to portray the searching dialogue of Jesus and the Soul in the profoundly beautiful Liebster Jesu, mein Verlangen. Known as 'Actus tragicus', the early cantata Gottes Zeit ist die allerbeste Zeit is an altogether grander affair. Likely intended for a funeral, it stands out in Bach's output both for its sublime choruses and its unusual instrumentation – notably the two oscillating recorders in the introduction, which set the tone for one of Bach's most heartfelt and quietly uplifting cantatas.
Related Artists
Reviews