Filters
Beethoven: Piano Concerto 3 - Triple Concerto
Beethoven: Piano Concerto 3 - Triple Concerto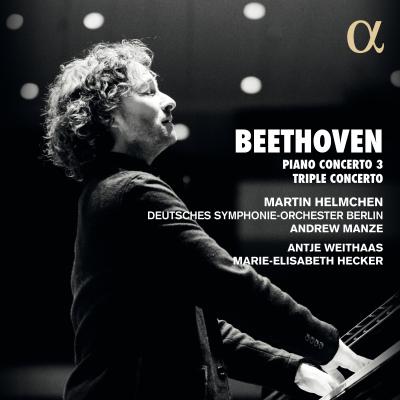 Inlay available for download
Booklet available for download
Piano Concerto No.3 in C Minor, Op. 37: I. Allegro con brio

Composer(s)

Ludwig van Beethoven

Artist(s)

Andrew Manze

Martin Helmchen

Deutsches Symphonie-Orchester Berlin

Piano Concerto No.3 in C Minor, Op. 37: I. Allegro con brio

$5.75

Piano Concerto No.3 in C Minor, Op. 37: II. Largo

Composer(s)

Ludwig van Beethoven

Artist(s)

Andrew Manze

Martin Helmchen

Deutsches Symphonie-Orchester Berlin

Piano Concerto No.3 in C Minor, Op. 37: II. Largo

$3.40

Piano Concerto No.3 in C Minor, Op. 37: III. Rondo. Allegro – Presto

Composer(s)

Ludwig van Beethoven

Artist(s)

Andrew Manze

Martin Helmchen

Deutsches Symphonie-Orchester Berlin

Piano Concerto No.3 in C Minor, Op. 37: III. Rondo. Allegro – Presto

$3.40

Triple Concerto in C Major, Op. 56: I. Allegro

Composer(s)

Ludwig van Beethoven

Artist(s)

Martin Helmchen

Deutsches Symphonie-Orchester Berlin

Marie-Elisabeth Hecker

Antje Weithaas

Triple Concerto in C Major, Op. 56: I. Allegro

$5.75

Triple Concerto in C Major, Op. 56: II. Largo

Composer(s)

Ludwig van Beethoven

Artist(s)

Martin Helmchen

Deutsches Symphonie-Orchester Berlin

Marie-Elisabeth Hecker

Antje Weithaas

Triple Concerto in C Major, Op. 56: II. Largo

$2.30

Triple Concerto in C Major, Op. 56: III. Rondo alla Polacca

Composer(s)

Ludwig van Beethoven

Artist(s)

Martin Helmchen

Deutsches Symphonie-Orchester Berlin

Marie-Elisabeth Hecker

Antje Weithaas

Triple Concerto in C Major, Op. 56: III. Rondo alla Polacca

$4.60
Total running time: 68 minutes.
Album information

German pianist Martin Helmchen continues his journey through Beethoven's piano concertos with the Deutsches Symphonie-Orchester and Andrew Manze.

In the Third Concerto, published in 1804, Beethoven seems to be moving away from the Mozartian model and inaugurates his 'middle period', using the minor mode to depict a distress and heartache that are certainly not unconnected with the famous 'Heiligenstadt Testament', which he wrote in 1802 to record his growing deafness. Martin Helmchen is joined by two partners with whom he performs a great deal of chamber music – violinist Antje Weithaas and cellist Marie-Elisabeth Hecker – to record the Triple Concerto, also written during the composer's so-called 'heroic' period.
Related Artists
Reviews