Filters
Beethoven: Piano Trio, Op. 70 No. 2 & Schubert: Piano Trio Op. 100
Beethoven: Piano Trio, Op. 70 No. 2 & Schubert: Piano Trio Op. 100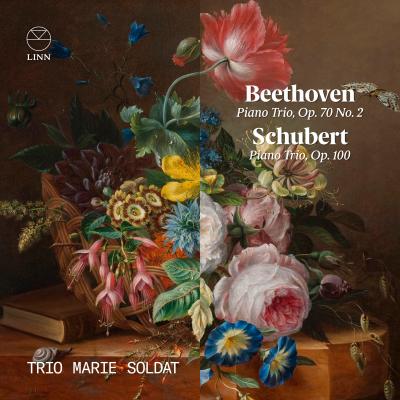 Inlay available for download
Booklet available for download
Piano Trio in E-Flat Major, Op. 70 No. 2: I. Poco sostenuto; Allegro ma non troppo

Composer(s)

Ludwig van Beethoven

Artist(s)

Trio Marie Soldat

Piano Trio in E-Flat Major, Op. 70 No. 2: I. Poco sostenuto; Allegro ma non troppo

$3.40

Piano Trio in E-Flat Major, Op. 70 No. 2: II. Allegretto

Composer(s)

Ludwig van Beethoven

Artist(s)

Trio Marie Soldat

Piano Trio in E-Flat Major, Op. 70 No. 2: II. Allegretto

$2.30

Piano Trio in E-Flat Major, Op. 70 No. 2: III. Allegretto ma non troppo

Composer(s)

Ludwig van Beethoven

Artist(s)

Trio Marie Soldat

Piano Trio in E-Flat Major, Op. 70 No. 2: III. Allegretto ma non troppo

$2.30

Piano Trio in E-Flat Major, Op. 70 No. 2: IV. Finale: Allegro

Composer(s)

Ludwig van Beethoven

Artist(s)

Trio Marie Soldat

Piano Trio in E-Flat Major, Op. 70 No. 2: IV. Finale: Allegro

$3.40

Piano Trio No. 2 in E-Flat Major, D. 929 Op. 100: I. Allegro

Composer(s)

Franz Schubert

Artist(s)

Trio Marie Soldat

Piano Trio No. 2 in E-Flat Major, D. 929 Op. 100: I. Allegro

$5.75

Piano Trio No. 2 in E-Flat Major, D. 929 Op. 100: II. Andante con moto

Composer(s)

Franz Schubert

Artist(s)

Trio Marie Soldat

Piano Trio No. 2 in E-Flat Major, D. 929 Op. 100: II. Andante con moto

$3.40

Piano Trio No. 2 in E-Flat Major, D. 929 Op. 100: III. Scherzo: Allegro moderato

Composer(s)

Franz Schubert

Artist(s)

Trio Marie Soldat

Piano Trio No. 2 in E-Flat Major, D. 929 Op. 100: III. Scherzo: Allegro moderato

$2.30

Piano Trio No. 2 in E-Flat Major, D. 929 Op. 100: IV. Allegro moderato

Composer(s)

Franz Schubert

Artist(s)

Trio Marie Soldat

Piano Trio No. 2 in E-Flat Major, D. 929 Op. 100: IV. Allegro moderato

$7.00
Total running time: 78 minutes.
Album information

Newly formed Trio Marie Soldat releases its enticing debut album. Comprising violinist Cecilia Bernardini, fortepianist Keiko Shichijo and cellist Marcus van den Munckhof, the Dutch trio performs two E flat major masterpieces of the genre.

The Dutch trio takes its name from Marie Soldat-Roeger, a pupil of Joseph Joachim and celebrated violinist who formed perhaps the first all-women chamber group in 1887 known as the Soldat Quartet. The programme is fittingly performed on period instruments.

Mellow in tone and richly textured, Beethoven's Op. 70 No. 2 belongs to the composer's so-called 'middle period'. Composed in 1808 at the end of a particularly creative phase which saw a flurry of expansive works, the trio looks back at Beethoven's one-time teacher Haydn.

Trio Marie Soldat rounds off its recital with an enticing account of what is perhaps the pinnacle of the trio repertoire, Schubert's Piano Trio No. 2. Although later revised by the composer himself, the Trio gives a rare chance to hear the longer, seldom performed premiere edition.
Related Artists
Reviews