Filters
Bizet: Carmen Suite No. 1 & Symphony No. 1 - Gounod: Petite Symphonie
Bizet: Carmen Suite No. 1 & Symphony No. 1 - Gounod: Petite Symphonie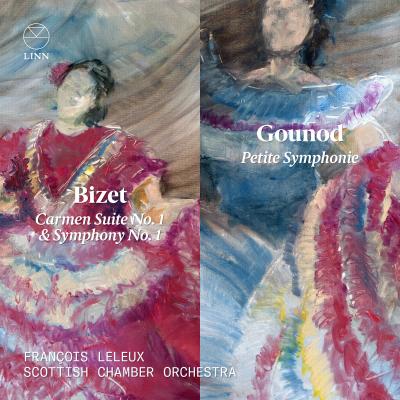 Inlay available for download
Booklet available for download
Carmen Suite No. 1: I. Prélude – Aragonaise

Composer(s)

Georges Bizet

Artist(s)

François Leleux

Scottish Chamber Orchestra

Carmen Suite No. 1: I. Prélude – Aragonaise

$2.30

Carmen Suite No. 1: II. Intermezzo

Composer(s)

Georges Bizet

Artist(s)

François Leleux

Scottish Chamber Orchestra

Carmen Suite No. 1: II. Intermezzo

$2.30

Carmen Suite No. 1: III. Séguedille

Composer(s)

Georges Bizet

Artist(s)

François Leleux

Scottish Chamber Orchestra

Carmen Suite No. 1: III. Séguedille

$2.30

Carmen Suite No. 1: IV. Les dragons d'Alcala

Composer(s)

Georges Bizet

Artist(s)

François Leleux

Scottish Chamber Orchestra

Carmen Suite No. 1: IV. Les dragons d'Alcala

$2.30

Carmen Suite No. 1: V. Les toréadors

Composer(s)

Georges Bizet

Artist(s)

François Leleux

Scottish Chamber Orchestra

Carmen Suite No. 1: V. Les toréadors

$2.30

Petite Symphonie: I. Adagio et Allegretto

Composer(s)

Charles Gounod

Artist(s)

François Leleux

Scottish Chamber Orchestra

Petite Symphonie: I. Adagio et Allegretto

$2.30

Petite Symphonie: II. Andante cantabile

Composer(s)

Charles Gounod

Artist(s)

François Leleux

Scottish Chamber Orchestra

Petite Symphonie: II. Andante cantabile

$2.30

Petite Symphonie: III. Scherzo - Allegro moderato

Composer(s)

Charles Gounod

Artist(s)

François Leleux

Scottish Chamber Orchestra

Petite Symphonie: III. Scherzo - Allegro moderato

$2.30

Petite Symphonie: IV. Finale - Allegretto

Composer(s)

Charles Gounod

Artist(s)

François Leleux

Scottish Chamber Orchestra

Petite Symphonie: IV. Finale - Allegretto

$2.30

Symphony No. 1 in C Major: I. Allegro vivo

Composer(s)

Georges Bizet

Artist(s)

François Leleux

Scottish Chamber Orchestra

Symphony No. 1 in C Major: I. Allegro vivo

$3.40

Symphony No. 1 in C Major: II. Adagio

Composer(s)

Georges Bizet

Artist(s)

François Leleux

Scottish Chamber Orchestra

Symphony No. 1 in C Major: II. Adagio

$3.40

Symphony No. 1 in C Major: III. Allegro vivace – Trio

Composer(s)

Georges Bizet

Artist(s)

François Leleux

Scottish Chamber Orchestra

Symphony No. 1 in C Major: III. Allegro vivace – Trio

$2.30

Symphony No. 1 in C Major: IV. Allegro vivace

Composer(s)

Georges Bizet

Artist(s)

François Leleux

Scottish Chamber Orchestra

Symphony No. 1 in C Major: IV. Allegro vivace

$3.40
Total running time: 63 minutes.


Album information

In his debut recording with the Scottish Chamber Orchestra oboist François Leleux celebrates his dual roles of conductor and soloist as he directs performances of Bizet and Gounod.

Following several successful collaborations, including a season as a Featured Artist, Leleux has established a strong rapport with the SCO. The programme features Bizet's Symphony in C, written in two months when the French composer was just eighteen, which is simply full of life, exuding brilliance, charm, wit and wonderful tunes. The Scotsman described his interpretation as 'brisk, urgent, full of bite, and as playful as you could ever want it to be'.

Leleux is particularly suited to performing Gounod's Petite Symphonie, which was written for nine of the finest wind players in Paris. Directing from the oboe, Leleux joins the SCO section principals as they demonstrate the strength of their chamber music instincts in a performance which sparkles with personality and individuality.

To complete the programme Leleux takes listeners to the opera with a suite from Bizet's Carmen bursting with the drama, passion and entrancing melodies that set this iconic opera apart.
Related Artists
Reviews