Filters
The Complete Works of Ravel Vol. 2
The Complete Works of Ravel Vol. 2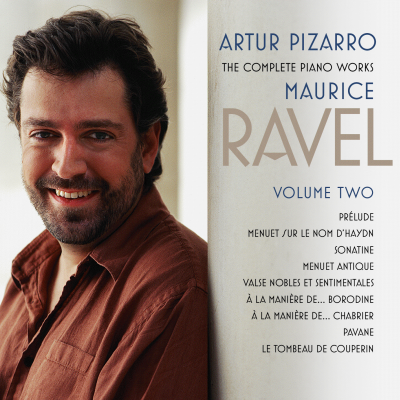 Inlay available for download
Booklet available for download
Prelude

Composer(s)

Maurice Ravel

Artist(s)

Artur Pizarro - piano

Prelude

$2.30

Menuet sur le nom d'Haydn

Composer(s)

Maurice Ravel

Artist(s)

Artur Pizarro - piano

Menuet sur le nom d'Haydn

$2.30

Sonatine - Modere

Composer(s)

Maurice Ravel

Artist(s)

Artur Pizarro - piano

Sonatine - Modere

$2.30

Sonatine - Mouvement de menuet

Composer(s)

Maurice Ravel

Artist(s)

Artur Pizarro - piano

Sonatine - Mouvement de menuet

$2.30

Sonatine - Anime

Composer(s)

Maurice Ravel

Artist(s)

Artur Pizarro - piano

Sonatine - Anime

$2.30

Menuet antique

Composer(s)

Maurice Ravel

Artist(s)

Artur Pizarro - piano

Menuet antique

$2.30

Valses nobles et sentimentales - Modere

Composer(s)

Maurice Ravel

Artist(s)

Artur Pizarro - piano

Valses nobles et sentimentales - Modere

$2.30

Valses nobles et sentimentales - Assez lent

Composer(s)

Maurice Ravel

Artist(s)

Artur Pizarro - piano

Valses nobles et sentimentales - Assez lent

$2.30

Valses nobles et sentimentales - Modere

Composer(s)

Maurice Ravel

Artist(s)

Artur Pizarro - piano

Valses nobles et sentimentales - Modere

$2.30

Valses nobles et sentimentales - Assez anime

Composer(s)

Maurice Ravel

Artist(s)

Artur Pizarro - piano

Valses nobles et sentimentales - Assez anime

$2.30

Valses nobles et sentimentales - Presque lent

Composer(s)

Maurice Ravel

Artist(s)

Artur Pizarro - piano

Valses nobles et sentimentales - Presque lent

$2.30

Valses nobles et sentimentales - Vif

Composer(s)

Maurice Ravel

Artist(s)

Artur Pizarro - piano

Valses nobles et sentimentales - Vif

$2.30

Valses nobles et sentimentales - Moins vif

Composer(s)

Maurice Ravel

Artist(s)

Artur Pizarro - piano

Valses nobles et sentimentales - Moins vif

$2.30

Valses nobles et sentimentales - Epilogue: lent

Composer(s)

Maurice Ravel

Artist(s)

Artur Pizarro - piano

Valses nobles et sentimentales - Epilogue: lent

$2.30

A la maniere de… Borodine

Composer(s)

Maurice Ravel

Artist(s)

Artur Pizarro - piano

A la maniere de… Borodine

$2.30

A la maniere de… Chabrier

Composer(s)

Maurice Ravel

Artist(s)

Artur Pizarro - piano

A la maniere de… Chabrier

$2.30

Pavane pour une infante defunte

Composer(s)

Maurice Ravel

Artist(s)

Artur Pizarro - piano

Pavane pour une infante defunte

$2.30

Le tombeau de Couperin - Prelude

Composer(s)

Maurice Ravel

Artist(s)

Artur Pizarro - piano

Le tombeau de Couperin - Prelude

$2.30

Le tombeau de Couperin - Fugue

Composer(s)

Maurice Ravel

Artist(s)

Artur Pizarro - piano

Le tombeau de Couperin - Fugue

$2.30

Le tombeau de Couperin - Forlane

Composer(s)

Maurice Ravel

Artist(s)

Artur Pizarro - piano

Le tombeau de Couperin - Forlane

$2.30

Le tombeau de Couperin - Rigaudon

Composer(s)

Maurice Ravel

Artist(s)

Artur Pizarro - piano

Le tombeau de Couperin - Rigaudon

$2.30

Le tombeau de Couperin - Menuet

Composer(s)

Maurice Ravel

Artist(s)

Artur Pizarro - piano

Le tombeau de Couperin - Menuet

$2.30

Le tombeau de Couperin - Toccata

Composer(s)

Maurice Ravel

Artist(s)

Artur Pizarro - piano

Le tombeau de Couperin - Toccata

$2.30
Total running time: 74 minutes.
Album information

The second disc in this talented pianist's acclaimed Ravel series, Volume Two contains some of Ravel's most cherished piano works.

The widespread acclaim which met the release of Artur Pizarro's first volume of Ravel ensured that the popular pianist would be back to record Vol. 2. "Phenomenal", "scintillating" and "super-refined" were just some of the superlatives used to describe Pizarro's performance. The Complete Works of Ravel Vol. 2 surpasses the incredibly high standards set by Vol. 1 as Pizarro reaches new heights with an outstanding performance.

Pavane pour une Infante défunte, one of Ravel's most popular pieces, is played beautifully in its original piano version. The suite Le tombeau de Couperin pays homage to French music of the eighteenth century whose premiere elicited a warm and enthusiastic reception, a response which continues to this day. Valse nobles et sentimentales is highly stylised and harmonically complex, and is considered of seminal importance for Ravel's future writing. Ravel himself considered the Sonatine too advanced for his supreme pianistic skills. Pizarro's virtuosity is apparent in his notable performance.
Related Artists
Reviews