Filters
Beethoven: Piano Concertos 3, 4 & 5
Beethoven: Piano Concertos 3, 4 & 5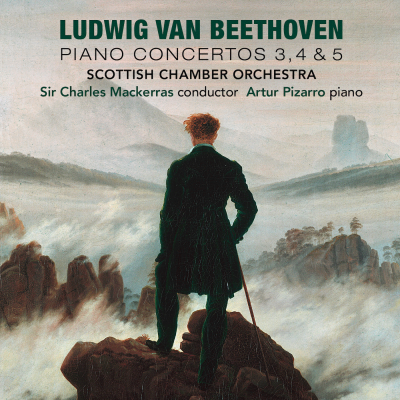 Inlay available for download
Booklet available for download
Piano Concerto No. 3 in C minor, Op. 37: I. Allegro con brio

Composer(s)

Ludwig van Beethoven

Artist(s)

Sir Charles Mackerras

Artur Pizarro - piano

Scottish Chamber Orchestra

Piano Concerto No. 3 in C minor, Op. 37: I. Allegro con brio

$5.75

Piano Concerto No. 3 in C minor, Op. 37: II. Largo

Composer(s)

Ludwig van Beethoven

Artist(s)

Sir Charles Mackerras

Artur Pizarro - piano

Scottish Chamber Orchestra

Piano Concerto No. 3 in C minor, Op. 37: II. Largo

$3.40

Piano Concerto No. 3 in C minor, Op. 37: III. Rondo allegro

Composer(s)

Ludwig van Beethoven

Artist(s)

Sir Charles Mackerras

Artur Pizarro - piano

Scottish Chamber Orchestra

Piano Concerto No. 3 in C minor, Op. 37: III. Rondo allegro

$3.40

Piano Concerto No. 4 in G major, Op. 58: I. Allegro moderato

Composer(s)

Ludwig van Beethoven

Artist(s)

Sir Charles Mackerras

Artur Pizarro - piano

Scottish Chamber Orchestra

Piano Concerto No. 4 in G major, Op. 58: I. Allegro moderato

$5.75

Piano Concerto No. 4 in G major, Op. 58: II. Andante con moto

Composer(s)

Ludwig van Beethoven

Artist(s)

Sir Charles Mackerras

Artur Pizarro - piano

Scottish Chamber Orchestra

Piano Concerto No. 4 in G major, Op. 58: II. Andante con moto

$2.30

Piano Concerto No. 4 in G major, Op. 58: III. Rondo vivace

Composer(s)

Ludwig van Beethoven

Artist(s)

Sir Charles Mackerras

Artur Pizarro - piano

Scottish Chamber Orchestra

Piano Concerto No. 4 in G major, Op. 58: III. Rondo vivace

$3.40

Piano Concerto No. 5 in E flat major, Op. 73 'Emperor': I. Allegro

Composer(s)

Ludwig van Beethoven

Artist(s)

Sir Charles Mackerras

Artur Pizarro - piano

Scottish Chamber Orchestra

Piano Concerto No. 5 in E flat major, Op. 73 'Emperor': I. Allegro

$7.00

Piano Concerto No. 5 in E flat major, Op. 73 'Emperor': II. Adagio un poco mosso

Composer(s)

Ludwig van Beethoven

Artist(s)

Sir Charles Mackerras

Artur Pizarro - piano

Scottish Chamber Orchestra

Piano Concerto No. 5 in E flat major, Op. 73 'Emperor': II. Adagio un poco mosso

$2.30

Piano Concerto No. 5 in E flat major, Op. 73 'Emperor': III. Rondo: Allegro, ma non troppo

Composer(s)

Ludwig van Beethoven

Artist(s)

Sir Charles Mackerras

Artur Pizarro - piano

Scottish Chamber Orchestra

Piano Concerto No. 5 in E flat major, Op. 73 'Emperor': III. Rondo: Allegro, ma non troppo

$3.40
Total running time: 103 minutes.


Album information

Renowned conductor Sir Charles Mackerras leads pianist Artur Pizarro and the SCO in a truly memorable performance of these great works.  

The magical partnership of Charles Mackerras and the SCO resulted in the addition of Concerto No. 5, which was not originally in the recording plan. Concertos 3 and 4 were recorded very quickly - often in one take! Beethoven's final three piano concertos demonstrate the composer's move away from the classical style by challenging previous concerto models; delicate and ornamental features are replaced with powerful, rousing, and even heroic, melodies and developments.

Upon its release this recording was selected by Classic FM as its 'Disc of the Week', entered the UK Classical Chart and received several five star reviews.
Related Artists
Reviews