Filters
Rimsky-Korsakov: Piano Duos
Rimsky-Korsakov: Piano Duos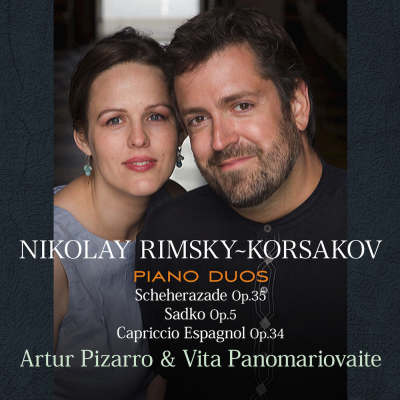 Inlay available for download
Booklet available for download
Scheherazade, Op. 35 (version for piano 4-hands): I. Largo e maestoso

Composer(s)

Nikolay Rimsky-Korsakov

Artist(s)

Artur Pizarro - piano (secondo), Vita Panomariovaite - piano (primo)

Scheherazade, Op. 35 (version for piano 4-hands): I. Largo e maestoso

$4.60

Scheherazade, Op. 35 (version for piano 4-hands): II. Lento

Composer(s)

Nikolay Rimsky-Korsakov

Artist(s)

Artur Pizarro - piano (secondo), Vita Panomariovaite - piano (primo)

Scheherazade, Op. 35 (version for piano 4-hands): II. Lento

$4.60

Scheherazade, Op. 35 (version for piano 4-hands): III. Andantino quasi allegretto

Composer(s)

Nikolay Rimsky-Korsakov

Artist(s)

Artur Pizarro - piano (secondo), Vita Panomariovaite - piano (primo)

Scheherazade, Op. 35 (version for piano 4-hands): III. Andantino quasi allegretto

$3.40

Scheherazade, Op. 35 (version for piano 4-hands): IV. Allegro molto

Composer(s)

Nikolay Rimsky-Korsakov

Artist(s)

Artur Pizarro - piano (secondo), Vita Panomariovaite - piano (primo)

Scheherazade, Op. 35 (version for piano 4-hands): IV. Allegro molto

$4.60

Sadko, Op. 5 (Arr. N.N. Rimskaya-Korsakova for 2 pianos)

Composer(s)

Nikolay Rimsky-Korsakov

Artist(s)

Artur Pizarro - piano (primo), Vita Panomariovaite - piano (secondo)

Sadko, Op. 5 (Arr. N.N. Rimskaya-Korsakova for 2 pianos)

$4.60

Capriccio Espagnol, Op. 34 (version for piano duet): I. Alborada

Composer(s)

Nikolay Rimsky-Korsakov

Artist(s)

Artur Pizarro - piano (secondo), Vita Panomariovaite - piano (primo)

Capriccio Espagnol, Op. 34 (version for piano duet): I. Alborada

$2.30

Capriccio Espagnol, Op. 34 (version for piano duet): II. Variazioni

Composer(s)

Nikolay Rimsky-Korsakov

Artist(s)

Artur Pizarro - piano (secondo), Vita Panomariovaite - piano (primo)

Capriccio Espagnol, Op. 34 (version for piano duet): II. Variazioni

$2.30

Capriccio Espagnol, Op. 34 (version for piano duet): III. Alborada

Composer(s)

Nikolay Rimsky-Korsakov

Artist(s)

Artur Pizarro - piano (secondo), Vita Panomariovaite - piano (primo)

Capriccio Espagnol, Op. 34 (version for piano duet): III. Alborada

$2.30

Capriccio Espagnol, Op. 34 (version for piano duet): IV. Scena e canto gitano

Composer(s)

Nikolay Rimsky-Korsakov

Artist(s)

Artur Pizarro - piano (secondo), Vita Panomariovaite - piano (primo)

Capriccio Espagnol, Op. 34 (version for piano duet): IV. Scena e canto gitano

$2.30

Capriccio Espagnol, Op. 34 (version for piano duet): V. Fandango asturiano

Composer(s)

Nikolay Rimsky-Korsakov

Artist(s)

Artur Pizarro - piano (secondo), Vita Panomariovaite - piano (primo)

Capriccio Espagnol, Op. 34 (version for piano duet): V. Fandango asturiano

$2.30
Total running time: 74 minutes.
Album information

Celebrated pianist Artur Pizarro combines his extensive experience with that of his pupil and friend Vita Panomariovaite, herself an award-winning pianist, to produce an album of rarely recorded Rimsky Korsakov arrangements for piano duo.

These two talented pianists bring their combined skill and virtuosity to bear in three colourful arrangements encompassing Rimsky-Korsakov's most popular music for orchestra. Widely considered one of Rimsky-Korsakov's finest orchestral works, Scheherazade is equally engaging and thrilling arranged for two pianos. The famous Arabian Nights story is clearly brought to life in the composer's own arrangement.

Sadko was an instant hit, with Borodin declaring it "a delight"; this arrangement retains the work's original colours and moods. The Capriccio Espagnol is a Spanish-themed fantasy full of colour and exoticism, thoughtfully arranged by the composer.
Related Artists
Reviews