Filters
Dupont: Complete Symphonic Works
Dupont: Complete Symphonic Works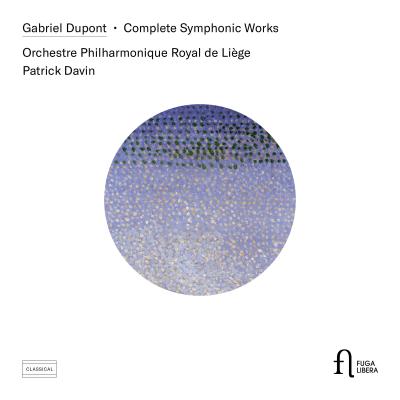 Inlay available for download
Booklet available for download
Les Heures dolentes (Au Maître Humperdinck): A Épigraphe (Lent et grave) / B La mort rôde (Très modéré)

Composer(s)

Gabriel Dupont

Artist(s)

Patrick Davin

Orchestre Philharmonique Royal de Liège

Les Heures dolentes (Au Maître Humperdinck): A Épigraphe (Lent et grave) / B La mort rôde (Très modéré)

$3.40

Les Heures dolentes (Au Maître Humperdinck): Des enfants jouent dans le jardin (Un peu animé)

Composer(s)

Gabriel Dupont

Artist(s)

Patrick Davin

Orchestre Philharmonique Royal de Liège

Les Heures dolentes (Au Maître Humperdinck): Des enfants jouent dans le jardin (Un peu animé)

$2.30

Les Heures dolentes (Au Maître Humperdinck): Le soir tombe dans la chambre (Lent et recueilli)

Composer(s)

Gabriel Dupont

Artist(s)

Patrick Davin

Orchestre Philharmonique Royal de Liège

Les Heures dolentes (Au Maître Humperdinck): Le soir tombe dans la chambre (Lent et recueilli)

$2.30

Les Heures dolentes (Au Maître Humperdinck): Nuit blanche – Hallucinations (Lent et sombre)

Composer(s)

Gabriel Dupont

Artist(s)

Patrick Davin

Orchestre Philharmonique Royal de Liège

Les Heures dolentes (Au Maître Humperdinck): Nuit blanche – Hallucinations (Lent et sombre)

$3.40

Jour d'Été, Poème symphonique en 3 parties: Matinée ensoleillée (Allegro giocoso)

Composer(s)

Gabriel Dupont

Artist(s)

Patrick Davin

Orchestre Philharmonique Royal de Liège

Jour d'Été, Poème symphonique en 3 parties: Matinée ensoleillée (Allegro giocoso)

$2.30

Jour d'Été, Poème symphonique en 3 parties: Sous-bois (Andante tranquillamente)

Composer(s)

Gabriel Dupont

Artist(s)

Patrick Davin

Orchestre Philharmonique Royal de Liège

Jour d'Été, Poème symphonique en 3 parties: Sous-bois (Andante tranquillamente)

$2.30

Jour d'Été, Poème symphonique en 3 parties: Nocturne (Allegro vivo)

Composer(s)

Gabriel Dupont

Artist(s)

Patrick Davin

Orchestre Philharmonique Royal de Liège

Jour d'Été, Poème symphonique en 3 parties: Nocturne (Allegro vivo)

$2.30

Le Chant de la Destinée (à Édouard Colonne)

Composer(s)

Gabriel Dupont

Artist(s)

Patrick Davin

Orchestre Philharmonique Royal de Liège

Le Chant de la Destinée (à Édouard Colonne)

$4.60
Total running time: 57 minutes.


Album information

Gabriel Dupont (1878-1914) has been partly rediscovered over the past few years – mainly his piano works, songs, and some rare chamber works – yet his symphonic music remains almost entirely unknown.

Greatly admired by his contemporaries, Dupont studied with Massenet, then became a disciple of Vierne and Widor; he is one of those composers whose too-brief career prevented them from taking their merited place in the history of music. Despite suffering a chronic bout of tuberculosis in 1901, Dupont managed to enter the Prix de Rome, obtaining a 'second prize' (ahead of Maurice Ravel).

The compositions on this disc are the very first recorded collection of his complete orchestral repertoire, and they mark the course of Dupont's brief creative years, from the three-part symphonic sketch Jour d'Été (1900), to the poignant Le Chant de la Destinée (1908), and including the orchestrated piano pieces Les Heures dolentes. Dupont's language is a passionate synthesis of late 19th century French traditions with his quest for a new identity, a new path: one that weaves around the tracks of his contemporaries, sometimes crossing the border into German musical territory.
Related Artists
Reviews