Filters
Dvořák & Martinů: Cello Concertos
Dvořák & Martinů: Cello Concertos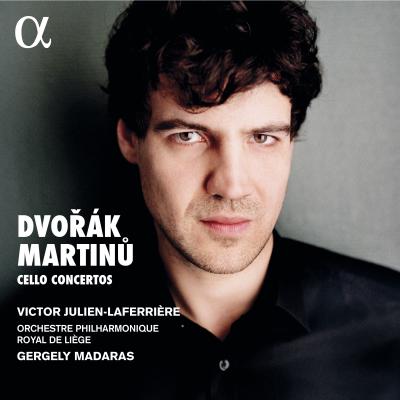 Inlay available for download
Booklet available for download
Cello Concerto No. 2 in B Minor, Op. 104: I. Allegro

Composer(s)

Antonín Dvořák

Artist(s)

Gergely Madaras

Victor Julien-Laferrière

Orchestre Philharmonique Royal de Liège

Cello Concerto No. 2 in B Minor, Op. 104: I. Allegro

$5.75

Cello Concerto No. 2 in B Minor, Op. 104: II. Adagio ma non troppo

Composer(s)

Antonín Dvořák

Artist(s)

Gergely Madaras

Victor Julien-Laferrière

Orchestre Philharmonique Royal de Liège

Cello Concerto No. 2 in B Minor, Op. 104: II. Adagio ma non troppo

$4.60

Cello Concerto No. 2 in B Minor, Op. 104: III. Finale. Allegro moderato

Composer(s)

Antonín Dvořák

Artist(s)

Gergely Madaras

Victor Julien-Laferrière

Orchestre Philharmonique Royal de Liège

Cello Concerto No. 2 in B Minor, Op. 104: III. Finale. Allegro moderato

$4.60

Cello Concerto No. 1, H. 196: I. Allegro moderato

Composer(s)

Bohuslav Martinů

Artist(s)

Gergely Madaras

Victor Julien-Laferrière

Orchestre Philharmonique Royal de Liège

Cello Concerto No. 1, H. 196: I. Allegro moderato

$3.40

Cello Concerto No. 1, H. 196: II. Andante poco moderato

Composer(s)

Bohuslav Martinů

Artist(s)

Gergely Madaras

Victor Julien-Laferrière

Orchestre Philharmonique Royal de Liège

Cello Concerto No. 1, H. 196: II. Andante poco moderato

$3.40

Cello Concerto No. 1, H. 196: III. Allegro

Composer(s)

Bohuslav Martinů

Artist(s)

Gergely Madaras

Victor Julien-Laferrière

Orchestre Philharmonique Royal de Liège

Cello Concerto No. 1, H. 196: III. Allegro

$3.40
Total running time: 66 minutes.
Album information

Cellist Victor Julien-Laferrière couples two key works for his instrument by eminent members of the Czech school: Antonín Dvořák's Cello Concerto No. 2 and Bohuslav Martinů's Cello Concerto No. 1.

After a first recital album devoted to Rachmaninoff, Shostakovich and Denisov in the company of the pianist Jonas Vitaud, Victor Julien-Laferrière now presents two cello concertos accompanied by the Liège Royal Philharmonic Orchestra under the direction of Gergely Madaras. The two composers, born in Bohemia in 1841 and 1890 respectively, shared a strong attachment to the music of their homeland and a significant American experience - even if the reason for their travels was very different: Dvořák was director of the National Conservatory of New York from 1892 to 1895 (during which time he composed the 'New World' Symphony and this cello concerto) while Martinů emigrated to the United States during the Second World War and remained there until 1953, composing dozens of successful pieces.

This recording continues Victor Julien-Laferrière's series with Alpha Classics and cements his success as the winner of the very first Queen Elisabeth Competition for cellists in Brussels in 2017 and Victoire de la Musique Classique's 'Soloist of the Year' in 2018.
Related Artists
Reviews