Filters
Dvořák: Legends Op. 59, Czech Suite Op. 39
Dvořák: Legends Op. 59, Czech Suite Op. 39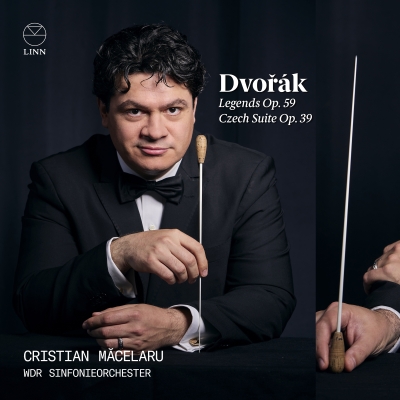 Inlay available for download
Booklet available for download
Legends, Op. 59, B. 122: I. Allegretto non troppo, quasi andantino

Composer(s)

Antonín Dvořák

Artist(s)

Cristian Măcelaru

WDR Sinfonieorchester

Legends, Op. 59, B. 122: I. Allegretto non troppo, quasi andantino

$2.30

Legends, Op. 59, B. 122: II. Molto moderato

Composer(s)

Antonín Dvořák

Artist(s)

Cristian Măcelaru

WDR Sinfonieorchester

Legends, Op. 59, B. 122: II. Molto moderato

$2.30

Legends, Op. 59, B. 122: III. Allegro giusto

Composer(s)

Antonín Dvořák

Artist(s)

Cristian Măcelaru

WDR Sinfonieorchester

Legends, Op. 59, B. 122: III. Allegro giusto

$2.30

Legends, Op. 59, B. 122: IV. Molto maestoso

Composer(s)

Antonín Dvořák

Artist(s)

Cristian Măcelaru

WDR Sinfonieorchester

Legends, Op. 59, B. 122: IV. Molto maestoso

$2.30

Legends, Op. 59, B. 122: V. Allegro giusto

Composer(s)

Antonín Dvořák

Artist(s)

Cristian Măcelaru

WDR Sinfonieorchester

Legends, Op. 59, B. 122: V. Allegro giusto

$2.30

Legends, Op. 59, B. 122: VI. Allegro con moto

Composer(s)

Antonín Dvořák

Artist(s)

Cristian Măcelaru

WDR Sinfonieorchester

Legends, Op. 59, B. 122: VI. Allegro con moto

$2.30

Legends, Op. 59, B. 122: VII. Allegretto grazioso

Composer(s)

Antonín Dvořák

Artist(s)

Cristian Măcelaru

WDR Sinfonieorchester

Legends, Op. 59, B. 122: VII. Allegretto grazioso

$2.30

Legends, Op. 59, B. 122: VIII. Un poco allegretto e grazioso

Composer(s)

Antonín Dvořák

Artist(s)

Cristian Măcelaru

WDR Sinfonieorchester

Legends, Op. 59, B. 122: VIII. Un poco allegretto e grazioso

$2.30

Legends, Op. 59, B. 122: IX. Andante con moto

Composer(s)

Antonín Dvořák

Artist(s)

Cristian Măcelaru

WDR Sinfonieorchester

Legends, Op. 59, B. 122: IX. Andante con moto

$2.30

Legends, Op. 59, B. 122: X. Andante

Composer(s)

Antonín Dvořák

Artist(s)

Cristian Măcelaru

WDR Sinfonieorchester

Legends, Op. 59, B. 122: X. Andante

$2.30

Czech Suite in D Major, Op. 39, B. 93: I. Preludium. Pastorale (Allegro moderato)

Composer(s)

Antonín Dvořák

Artist(s)

Cristian Măcelaru

WDR Sinfonieorchester

Czech Suite in D Major, Op. 39, B. 93: I. Preludium. Pastorale (Allegro moderato)

$2.30

Czech Suite in D Major, Op. 39, B. 93: II. Polka (Allegretto grazioso)

Composer(s)

Antonín Dvořák

Artist(s)

Cristian Măcelaru

WDR Sinfonieorchester

Czech Suite in D Major, Op. 39, B. 93: II. Polka (Allegretto grazioso)

$2.30

Czech Suite in D Major, Op. 39, B. 93: III. Sousedská. Minuetto (Allegro giusto)

Composer(s)

Antonín Dvořák

Artist(s)

Cristian Măcelaru

WDR Sinfonieorchester

Czech Suite in D Major, Op. 39, B. 93: III. Sousedská. Minuetto (Allegro giusto)

$2.30

Czech Suite in D Major, Op. 39, B. 93: IV. Romance (Andante con moto)

Composer(s)

Antonín Dvořák

Artist(s)

Cristian Măcelaru

WDR Sinfonieorchester

Czech Suite in D Major, Op. 39, B. 93: IV. Romance (Andante con moto)

$2.30

Czech Suite in D Major, Op. 39, B. 93: V. Finale. Furiant (Presto)

Composer(s)

Antonín Dvořák

Artist(s)

Cristian Măcelaru

WDR Sinfonieorchester

Czech Suite in D Major, Op. 39, B. 93: V. Finale. Furiant (Presto)

$2.30
Total running time: 68 minutes.
Album information

Linn is thrilled to commence a new collaboration with one of the most renowned orchestras in Germany, Cologne based WDR Sinfonieorchester, with Cristian Măcelaru, one of the finest international conductors of his generation, at the helm.

In this first album, the all Dvořák programme includes the composer's Legends Op. 59 and the Czech Suite in D major, Op. 39. Initially written for piano four-hands – a highly profitable market in those days – the rather contemplative Legends were shortly later orchestrated for relatively small forces by Dvořák. Though not carrying a specific story, the ten Legends have somewhat an epic character as if they fused in one continuous narrative. The dance based Czech Suite epitomizes Dvořák's unrivaled folk suffused writing. The four-movement work ends with a superb Furiant, which brings the album to a close.
Related Artists
Reviews