Filters
Bartók: The Wooden Prince & Dance Suite
Bartók: The Wooden Prince & Dance Suite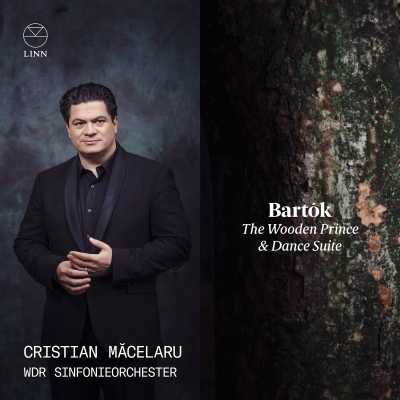 Inlay available for download
Booklet available for download
The Wooden Prince, Op. 13 Sz. 60: I. Introduction

Artist(s)

Cristian Măcelaru

WDR Sinfonieorchester

The Wooden Prince, Op. 13 Sz. 60: I. Introduction

$2.30

The Wooden Prince, Op. 13 Sz. 60: II. First Dance. Dance of the Princess in the Forest

Artist(s)

Cristian Măcelaru

WDR Sinfonieorchester

The Wooden Prince, Op. 13 Sz. 60: II. First Dance. Dance of the Princess in the Forest

$2.30

The Wooden Prince, Op. 13 Sz. 60: III. The Prince Sets off and Falls in Love

Artist(s)

Cristian Măcelaru

WDR Sinfonieorchester

The Wooden Prince, Op. 13 Sz. 60: III. The Prince Sets off and Falls in Love

$2.30

The Wooden Prince, Op. 13 Sz. 60: IV. Second Dance. Dance of the Trees

Artist(s)

Cristian Măcelaru

WDR Sinfonieorchester

The Wooden Prince, Op. 13 Sz. 60: IV. Second Dance. Dance of the Trees

$2.30

The Wooden Prince, Op. 13 Sz. 60: V. Third Dance. Dance of the Waves

Artist(s)

Cristian Măcelaru

WDR Sinfonieorchester

The Wooden Prince, Op. 13 Sz. 60: V. Third Dance. Dance of the Waves

$2.30

The Wooden Prince, Op. 13 Sz. 60: VI. The Prince Has an Idea

Artist(s)

Cristian Măcelaru

WDR Sinfonieorchester

The Wooden Prince, Op. 13 Sz. 60: VI. The Prince Has an Idea

$3.40

The Wooden Prince, Op. 13 Sz. 60: VII. Fourth Dance. Dance of the Princess With the Wooden Prince

Artist(s)

Cristian Măcelaru

WDR Sinfonieorchester

The Wooden Prince, Op. 13 Sz. 60: VII. Fourth Dance. Dance of the Princess With the Wooden Prince

$2.30

The Wooden Prince, Op. 13 Sz. 60: VIII. The Prince Despairs

Artist(s)

Cristian Măcelaru

WDR Sinfonieorchester

The Wooden Prince, Op. 13 Sz. 60: VIII. The Prince Despairs

$3.40

The Wooden Prince, Op. 13 Sz. 60: IX. The prince Is Restored

Artist(s)

Cristian Măcelaru

WDR Sinfonieorchester

The Wooden Prince, Op. 13 Sz. 60: IX. The prince Is Restored

$2.30

The Wooden Prince, Op. 13 Sz. 60: X. Return of the Princess - Fifth Dance

Artist(s)

Cristian Măcelaru

WDR Sinfonieorchester

The Wooden Prince, Op. 13 Sz. 60: X. Return of the Princess - Fifth Dance

$2.30

The Wooden Prince, Op. 13 Sz. 60: XI. The Wooden Prince Falls to the Ground - The Radiant Prince Appears - Sixth Dance

Artist(s)

Cristian Măcelaru

WDR Sinfonieorchester

The Wooden Prince, Op. 13 Sz. 60: XI. The Wooden Prince Falls to the Ground - The Radiant Prince Appears - Sixth Dance

$2.30

The Wooden Prince, Op. 13 Sz. 60: XII. Seventh Dance. The Despair of the Princess

Artist(s)

Cristian Măcelaru

WDR Sinfonieorchester

The Wooden Prince, Op. 13 Sz. 60: XII. Seventh Dance. The Despair of the Princess

$2.30

The Wooden Prince, Op. 13 Sz. 60: XIII. The Happy End

Artist(s)

Cristian Măcelaru

WDR Sinfonieorchester

The Wooden Prince, Op. 13 Sz. 60: XIII. The Happy End

$2.30

Dance Suite, Sz. 77: I. Moderato

Artist(s)

Cristian Măcelaru

WDR Sinfonieorchester

Dance Suite, Sz. 77: I. Moderato

$2.30

Dance Suite, Sz. 77: II. Allegro molto

Artist(s)

Cristian Măcelaru

WDR Sinfonieorchester

Dance Suite, Sz. 77: II. Allegro molto

$2.30

Dance Suite, Sz. 77: III. Allegro vivace

Artist(s)

Cristian Măcelaru

WDR Sinfonieorchester

Dance Suite, Sz. 77: III. Allegro vivace

$2.30

Dance Suite, Sz. 77: IV. Molto tranquillo

Artist(s)

Cristian Măcelaru

WDR Sinfonieorchester

Dance Suite, Sz. 77: IV. Molto tranquillo

$2.30

Dance Suite, Sz. 77: V. Comodo

Artist(s)

Cristian Măcelaru

WDR Sinfonieorchester

Dance Suite, Sz. 77: V. Comodo

$2.30

Dance Suite, Sz. 77: VI. Finale. Allegro

Artist(s)

Cristian Măcelaru

WDR Sinfonieorchester

Dance Suite, Sz. 77: VI. Finale. Allegro

$2.30
Total running time: 74 minutes.



Album information

Cristian Măcelaru and the WDR Sinfonieorchester reunite for two orchestral works by Béla Bartók: the century-old Dance-Suite and the ballet The Wooden Prince.

Based on a rather childish tale (prince, princess, fairies, and of course a happy ending!), the music of the ballet The Wooden Prince – recorded in full here – has all the ingredients of a masterpiece: masterful scoring for large forces, use of musical themes, an effortless amalgam of folk and late-Romantic elements. Composed in 1923 to celebrate the 50th anniversary of the merging of the towns of Buda and Pest – alongside commissions by Ernö Dohnányi and Zoltán Kodály – the century-old Dance Suite is a six-movement work that has become one of Bartók's best known compositions. Born in Timișoara, a short distance from Hungaria, Măcelaru can boast an unparalleled understanding of Bartók, as evident here.

It is the perfect pairing for their first Linn album, Dvořák: Legends Op. 59, Czech Suite Op. 39.
Related Artists
Reviews