Filters
Janáček - Brahms - Bartók
Janáček - Brahms - Bartók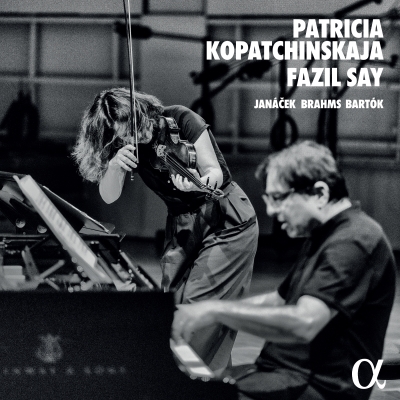 Inlay available for download
Booklet available for download
Violin Sonata, JW VII/7: I. Con moto

Artist(s)

Fazıl Say

Patricia Kopatchinskaja

Violin Sonata, JW VII/7: I. Con moto

$2.30

Violin Sonata, JW VII/7: II. Ballada

Artist(s)

Fazıl Say

Patricia Kopatchinskaja

Violin Sonata, JW VII/7: II. Ballada

$2.30

Violin Sonata, JW VII/7: III. Allegretto

Artist(s)

Fazıl Say

Patricia Kopatchinskaja

Violin Sonata, JW VII/7: III. Allegretto

$2.30

Violin Sonata, JW VII/7: IV. Adagio

Artist(s)

Fazıl Say

Patricia Kopatchinskaja

Violin Sonata, JW VII/7: IV. Adagio

$2.30

Violin Sonata No. 3 in D Minor, Op. 108: I. Allegro

Composer(s)

Johannes Brahms

Artist(s)

Fazıl Say

Patricia Kopatchinskaja

Violin Sonata No. 3 in D Minor, Op. 108: I. Allegro

$3.40

Violin Sonata No. 3 in D Minor, Op. 108: II. Adagio

Composer(s)

Johannes Brahms

Artist(s)

Fazıl Say

Patricia Kopatchinskaja

Violin Sonata No. 3 in D Minor, Op. 108: II. Adagio

$2.30

Violin Sonata No. 3 in D Minor, Op. 108: III. Un poco presto e con sentimento

Composer(s)

Johannes Brahms

Artist(s)

Fazıl Say

Patricia Kopatchinskaja

Violin Sonata No. 3 in D Minor, Op. 108: III. Un poco presto e con sentimento

$2.30

Violin Sonata No. 3 in D Minor, Op. 108: IV. Presto agitato

Composer(s)

Johannes Brahms

Artist(s)

Fazıl Say

Patricia Kopatchinskaja

Violin Sonata No. 3 in D Minor, Op. 108: IV. Presto agitato

$2.30

Violin Sonata No. 1, Sz. 75: I. Allegro appassionato

Artist(s)

Fazıl Say

Patricia Kopatchinskaja

Violin Sonata No. 1, Sz. 75: I. Allegro appassionato

$4.60

Violin Sonata No. 1, Sz. 75: II. Adagio

Artist(s)

Fazıl Say

Patricia Kopatchinskaja

Violin Sonata No. 1, Sz. 75: II. Adagio

$3.40

Violin Sonata No. 1, Sz. 75: III. Allegro

Artist(s)

Fazıl Say

Patricia Kopatchinskaja

Violin Sonata No. 1, Sz. 75: III. Allegro

$3.40
Total running time: 72 minutes.


Album information

This new recording marks the reformation of the legendary duo of Patricia Kopatchinskaja and Fazil Say.

The Moldovan violinist says the Turkish pianist 'is a volcano, with an indomitable strength and energy', while he emphasises the 'freedom' that her 'spontaneous playing' exudes: 'At each concert, she creates a different character and tells a new story.' The explosive duo presents a programme devoted to Bartók's Violin Sonata no.1 ('a marvel from start to finish, one of his finest works', says Patkop), Brahms's D minor Sonata ('I imagine a feather in flight at the opening of the sonata') and Janáček's Sonata, 'an extreme work, wounded and heart-rending'.
Related Artists
Reviews