Filters
Fernando Sor: Early Works
Fernando Sor: Early Works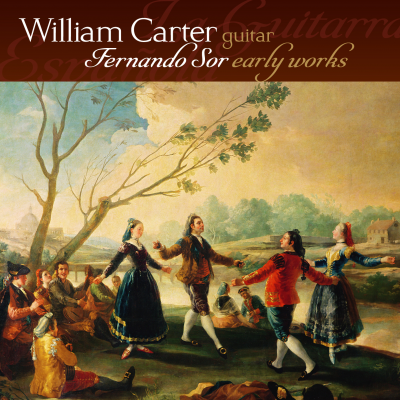 Inlay available for download
Booklet available for download
2 Theme Variées and 12 Menuets, Op.11: Minuet No. 6 in A Major

2 Theme Variées and 12 Menuets, Op.11: Minuet No. 6 in A Major

$2.30

2 Thème Variees and 12 Menuets, Op.11: Minuet No. 7 in A Minor

2 Thème Variees and 12 Menuets, Op.11: Minuet No. 7 in A Minor

$2.30

2 Theme Variées and 12 Menuets, Op.11: Minuet No. 8 in A Major

2 Theme Variées and 12 Menuets, Op.11: Minuet No. 8 in A Major

$2.30

Variations on O Cara Armonia from Mozart's Die Zauberflote, Op. 9

Composer(s)

Wolfgang Amadeus Mozart

Variations on O Cara Armonia from Mozart's Die Zauberflote, Op. 9

$3.40

8 Short Pieces, Op. 24: No. 1. Menuet in C Minor

8 Short Pieces, Op. 24: No. 1. Menuet in C Minor

$2.30

6 Short Pieces, Op. 5: No. 3. Menuet in C Major

6 Short Pieces, Op. 5: No. 3. Menuet in C Major

$2.30

6 Short Pieces, Op. 5: No. 5. Andante Largo

6 Short Pieces, Op. 5: No. 5. Andante Largo

$3.40

2 Theme Variees et 12 Minuets, Op. 11: Minuet No. 5 in D Major

2 Theme Variees et 12 Minuets, Op. 11: Minuet No. 5 in D Major

$2.30

2 Theme Variees et 12 Minuets, Op. 11: Minuet No. 4 in D Major

2 Theme Variees et 12 Minuets, Op. 11: Minuet No. 4 in D Major

$2.30

12 Studies, Op. 6: No. 2 in A Major

12 Studies, Op. 6: No. 2 in A Major

$2.30

12 Studies, Op. 6: No. 8 in C Major

12 Studies, Op. 6: No. 8 in C Major

$2.30

12 Studies, Op. 6: No. 9 in D Minor

12 Studies, Op. 6: No. 9 in D Minor

$2.30

12 Studies, Op. 6: No. 11 in E Minor

12 Studies, Op. 6: No. 11 in E Minor

$2.30

12 Studies, Op. 6: No. 12 in A Major

12 Studies, Op. 6: No. 12 in A Major

$2.30

Guitar Sonata No. 1 in D Major, Op. 14 "Gran Solo"

Guitar Sonata No. 1 in D Major, Op. 14 "Gran Solo"

$3.40

Theme Varie suivi d'un Menuet, Op. 3: Menuetto in G Major

Theme Varie suivi d'un Menuet, Op. 3: Menuetto in G Major

$2.30
Total running time: 60 minutes.

Album information

World-renowned Baroque guitarist William Carter presents an appealing collection of early works by Spanish guitar virtuoso and composer Fernando Sor.

Guitar fans will be intrigued by Fernando Sor: Early Works, the third solo album from the world-renowned guitarist, William Carter. This recording presents a unique performance of a delightful collection of early works by the Spanish guitar virtuoso and composer, Fernando Sor.

Fernando Sor: Early Works sees Carter explore the performance practice the composer employed - using his finger pads rather than finger nails - and offers the premiere recording of Sor's music played in this style. Sor's works are often played using the nails as this enables louder and faster finger work which delivers a more 'virtuosic' performance. William comments: "Recording Sor's solo guitar music without fingernails was at first a fairly daunting prospect - probably why it hasn't been attempted until now. The sensation of playing without fingernails has been compared to trying to eat steak without teeth. My first attempts didn't go too well, but with a bit of time and perseverance I found a key: precision of attack and a clear mental idea of the sound required, rather than strength."

In this recording the use of finger pads allows more dynamic contrast thus allowing the tune to really sing: the sound is softer and more subtle. "I really like the warmer vocal quality that fingertips give" states Carter "and this was evidently important to Sor as well - he likened the sound of fingernails to that of the harpsichord, and fingertips to that of the piano." 

The perceptive and comprehensive booklet notes, written by the performer, offer insight into the composer and his works and also discuss the performance concerns of a modern guitarist.  
Related Artists
Reviews