Filters
Gabrieli for Brass: Venetian Extravaganza
Gabrieli for Brass: Venetian Extravaganza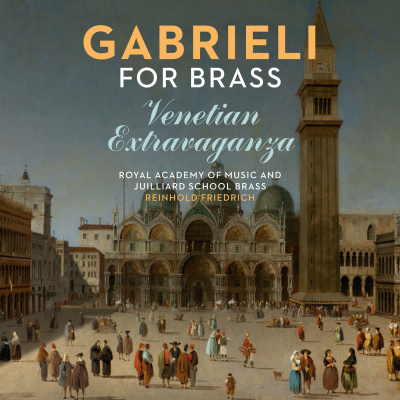 Inlay available for download
Booklet available for download
Canzon duodecimi toni a 10 (II)

Composer(s)

Giovanni Gabrieli

Artist(s)

Reinhold Friedrich

Royal Academy of Music and Juilliard School Brass

Canzon duodecimi toni a 10 (II)

$2.30

Sonata octavi toni a 12

Composer(s)

Giovanni Gabrieli

Artist(s)

Reinhold Friedrich

Royal Academy of Music and Juilliard School Brass

Sonata octavi toni a 12

$2.30

Canzon undecima 'La Serafina' a 4

Artist(s)

Reinhold Friedrich

Royal Academy of Music and Juilliard School Brass

Canzon undecima 'La Serafina' a 4

$2.30

Sonata pian e forte a 8

Composer(s)

Giovanni Gabrieli

Artist(s)

Reinhold Friedrich

Royal Academy of Music and Juilliard School Brass

Sonata pian e forte a 8

$2.30

Canzon V a 7

Composer(s)

Giovanni Gabrieli

Artist(s)

Reinhold Friedrich

Royal Academy of Music and Juilliard School Brass

Canzon V a 7

$2.30

Canzon septimi toni a 8 (II)

Composer(s)

Giovanni Gabrieli

Artist(s)

Reinhold Friedrich

Royal Academy of Music and Juilliard School Brass

Canzon septimi toni a 8 (II)

$2.30

Canzon terza a due canti

Composer(s)

Girolamo Frescobaldi

Artist(s)

Reinhold Friedrich

Royal Academy of Music and Juilliard School Brass

Canzon terza a due canti

$2.30

Sonata XVIII a 14

Composer(s)

Giovanni Gabrieli

Artist(s)

Reinhold Friedrich

Royal Academy of Music and Juilliard School Brass

Sonata XVIII a 14

$2.30

Canzon VIII a 8

Composer(s)

Giovanni Gabrieli

Artist(s)

Reinhold Friedrich

Royal Academy of Music and Juilliard School Brass

Canzon VIII a 8

$2.30

Canzon No. 33 a 8

Composer(s)

Tiburtio Massaino

Artist(s)

Reinhold Friedrich

Royal Academy of Music and Juilliard School Brass

Canzon No. 33 a 8

$2.30

Canzon 'La Spiritata' a 4

Composer(s)

Giovanni Gabrieli

Artist(s)

Reinhold Friedrich

Royal Academy of Music and Juilliard School Brass

Canzon 'La Spiritata' a 4

$2.30

Canzon noni toni a 12

Composer(s)

Giovanni Gabrieli

Artist(s)

Reinhold Friedrich

Royal Academy of Music and Juilliard School Brass

Canzon noni toni a 12

$2.30

Sonata XXI 'con tre violini'

Composer(s)

Giovanni Gabrieli

Artist(s)

Reinhold Friedrich

Royal Academy of Music and Juilliard School Brass

Sonata XXI 'con tre violini'

$2.30

Sinfonia 'La Bergamasca' a 8

Composer(s)

Lodovico Viadana

Artist(s)

Reinhold Friedrich

Royal Academy of Music and Juilliard School Brass

Sinfonia 'La Bergamasca' a 8

$2.30

Canzon III a 6

Composer(s)

Giovanni Gabrieli

Artist(s)

Reinhold Friedrich

Royal Academy of Music and Juilliard School Brass

Canzon III a 6

$2.30

Sonata a 6

Composer(s)

Giovanni Battista Buonamente

Artist(s)

Reinhold Friedrich

Royal Academy of Music and Juilliard School Brass

Sonata a 6

$2.30

Sonata XIX a 15

Composer(s)

Giovanni Gabrieli

Artist(s)

Reinhold Friedrich

Royal Academy of Music and Juilliard School Brass

Sonata XIX a 15

$2.30

La Bottana a 4

Composer(s)

Cesario Gussago

Artist(s)

Reinhold Friedrich

Royal Academy of Music and Juilliard School Brass

La Bottana a 4

$2.30

Sonata XX a 22

Composer(s)

Giovanni Gabrieli

Artist(s)

Reinhold Friedrich

Royal Academy of Music and Juilliard School Brass

Sonata XX a 22

$2.30
Total running time: 76 minutes.
Album information

This fascinating transatlantic musical collaboration between the brass players of London's Royal Academy of Music and New York's Juilliard School presents enduring masterpieces by Giovanni Gabrieli and his Venetian contemporaries. 

Under the direction of Reinhold Friedrich, renowned trumpet soloist and Principal Trumpet of the Lucerne Festival Orchestra, the players blend modern instruments and intellect with 16th-century technique and tuning to excel in this profoundly challenging repertoire. The beautiful acoustic of St Jude's, Hampstead results in a gloriously sonorous soundscape; burnished waves of rich, warm trombones alternate with the brilliant, crystalline articulation of trumpets.

Academy Principal Jonathan Freeman-Attwood, who produced the recording, states: 'We're hoping it will show Gabrieli as the composer of great intimate music as well as wonderfully grandiloquent Venetian polyphony.' This remarkable recording features some of the most compelling and attractive instrumental music of the late Renaissance era and boasts performances worthy of Gabrieli's extraordinary legacy and the reputation of these two outstanding institutions. 
Related Artists
Reviews