Filters
Geminiani: Sonatas for Violoncello & Basso Continuo, Op. 5
Geminiani: Sonatas for Violoncello & Basso Continuo, Op. 5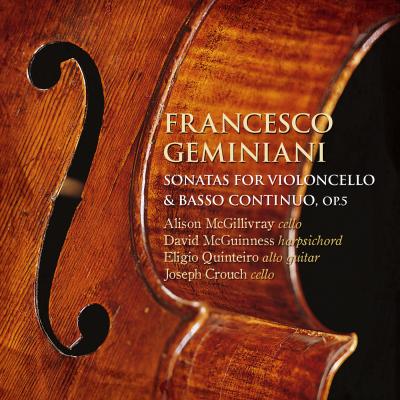 Inlay available for download
Booklet available for download
Sonata in A Major, Op. 5 No. 1: I. Andante

Composer(s)

Francesco Geminiani

Artist(s)

Alison McGillivray

David McGuinness - harpsichord, Eligio Quinteiro - baroque guitar, Joseph Crouch - baroque cello

Sonata in A Major, Op. 5 No. 1: I. Andante

$2.30

Sonata in A Major, Op. 5 No. 1: II. Allegro

Composer(s)

Francesco Geminiani

Artist(s)

Alison McGillivray

David McGuinness - harpsichord, Eligio Quinteiro - baroque guitar, Joseph Crouch - baroque cello

Sonata in A Major, Op. 5 No. 1: II. Allegro

$2.30

Sonata in A Major, Op. 5 No. 1: III. Andante

Composer(s)

Francesco Geminiani

Artist(s)

Alison McGillivray

David McGuinness - harpsichord, Eligio Quinteiro - baroque guitar, Joseph Crouch - baroque cello

Sonata in A Major, Op. 5 No. 1: III. Andante

$2.30

Sonata in A Major, Op. 5 No. 1: IV. Allegro

Composer(s)

Francesco Geminiani

Artist(s)

Alison McGillivray

David McGuinness - harpsichord, Eligio Quinteiro - baroque guitar, Joseph Crouch - baroque cello

Sonata in A Major, Op. 5 No. 1: IV. Allegro

$2.30

Sonata in D Minor, Op. 5 No. 2: I. Andante

Composer(s)

Francesco Geminiani

Artist(s)

Alison McGillivray

David McGuinness - harpsichord, Eligio Quinteiro - baroque guitar, Joseph Crouch - baroque cello

Sonata in D Minor, Op. 5 No. 2: I. Andante

$2.30

Sonata in D Minor, Op. 5 No. 2: II. Presto

Composer(s)

Francesco Geminiani

Artist(s)

Alison McGillivray

David McGuinness - harpsichord, Eligio Quinteiro - baroque guitar, Joseph Crouch - baroque cello

Sonata in D Minor, Op. 5 No. 2: II. Presto

$2.30

Sonata in D Minor, Op. 5 No. 2: III. Adagio

Composer(s)

Francesco Geminiani

Artist(s)

Alison McGillivray

David McGuinness - harpsichord, Eligio Quinteiro - baroque guitar, Joseph Crouch - baroque cello

Sonata in D Minor, Op. 5 No. 2: III. Adagio

$2.30

Sonata in D Minor, Op. 5 No. 2: IV. Allegro

Composer(s)

Francesco Geminiani

Artist(s)

Alison McGillivray

David McGuinness - harpsichord, Eligio Quinteiro - baroque guitar, Joseph Crouch - baroque cello

Sonata in D Minor, Op. 5 No. 2: IV. Allegro

$2.30

Prelude (Lentement) after Pieces de Clavecin, Op. 4 No. 1

Composer(s)

Francesco Geminiani

Artist(s)

Alison McGillivray

David McGuinness - harpsichord, Eligio Quinteiro - baroque guitar, Joseph Crouch - baroque cello

Prelude (Lentement) after Pieces de Clavecin, Op. 4 No. 1

$2.30

Vivement after Pieces de Clavecin, Op. 4 No. 1

Composer(s)

Francesco Geminiani

Artist(s)

Alison McGillivray

David McGuinness - harpsichord, Eligio Quinteiro - baroque guitar, Joseph Crouch - baroque cello

Vivement after Pieces de Clavecin, Op. 4 No. 1

$2.30

Sonata in C Major, Op. 5 No. 3: I. Andante

Composer(s)

Francesco Geminiani

Artist(s)

Alison McGillivray

David McGuinness - harpsichord, Eligio Quinteiro - baroque guitar, Joseph Crouch - baroque cello

Sonata in C Major, Op. 5 No. 3: I. Andante

$2.30

Sonata in C Major, Op. 5 No. 3: II. Allegro

Composer(s)

Francesco Geminiani

Artist(s)

Alison McGillivray

David McGuinness - harpsichord, Eligio Quinteiro - baroque guitar, Joseph Crouch - baroque cello

Sonata in C Major, Op. 5 No. 3: II. Allegro

$2.30

Sonata in C Major, Op. 5 No. 3: III. Affetuoso

Composer(s)

Francesco Geminiani

Artist(s)

Alison McGillivray

David McGuinness - harpsichord, Eligio Quinteiro - baroque guitar, Joseph Crouch - baroque cello

Sonata in C Major, Op. 5 No. 3: III. Affetuoso

$2.30

Sonata in C Major, Op. 5 No. 3: IV. Allegro

Composer(s)

Francesco Geminiani

Artist(s)

Alison McGillivray

David McGuinness - harpsichord, Eligio Quinteiro - baroque guitar, Joseph Crouch - baroque cello

Sonata in C Major, Op. 5 No. 3: IV. Allegro

$2.30

Tendrement after Pieces de Clavecin, Op. 6 No. 1

Composer(s)

Francesco Geminiani

Artist(s)

Alison McGillivray

David McGuinness - harpsichord, Eligio Quinteiro - baroque guitar, Joseph Crouch - baroque cello

Tendrement after Pieces de Clavecin, Op. 6 No. 1

$2.30

Sonata in B flat Major, Op. 5 No. 4: I. Andante

Composer(s)

Francesco Geminiani

Artist(s)

Alison McGillivray

David McGuinness - harpsichord, Eligio Quinteiro - baroque guitar, Joseph Crouch - baroque cello

Sonata in B flat Major, Op. 5 No. 4: I. Andante

$2.30

Sonata in B flat Major, Op. 5 No. 4: II. Allegro moderato

Composer(s)

Francesco Geminiani

Artist(s)

Alison McGillivray

David McGuinness - harpsichord, Eligio Quinteiro - baroque guitar, Joseph Crouch - baroque cello

Sonata in B flat Major, Op. 5 No. 4: II. Allegro moderato

$2.30

Sonata in B flat Major, Op. 5 No. 4: III. Grave

Composer(s)

Francesco Geminiani

Artist(s)

Alison McGillivray

David McGuinness - harpsichord, Eligio Quinteiro - baroque guitar, Joseph Crouch - baroque cello

Sonata in B flat Major, Op. 5 No. 4: III. Grave

$2.30

Sonata in B flat Major, Op. 5 No. 4: IV. Allegro

Composer(s)

Francesco Geminiani

Artist(s)

Alison McGillivray

David McGuinness - harpsichord, Eligio Quinteiro - baroque guitar, Joseph Crouch - baroque cello

Sonata in B flat Major, Op. 5 No. 4: IV. Allegro

$2.30

Vivement after Pieces de Clavecin, Op. 6 No. 4

Composer(s)

Francesco Geminiani

Artist(s)

Alison McGillivray

David McGuinness - harpsichord, Eligio Quinteiro - baroque guitar, Joseph Crouch - baroque cello

Vivement after Pieces de Clavecin, Op. 6 No. 4

$2.30

Sonata in F Major, Op. 5 No. 5: I. Adagio

Composer(s)

Francesco Geminiani

Artist(s)

Alison McGillivray

David McGuinness - harpsichord, Eligio Quinteiro - baroque guitar, Joseph Crouch - baroque cello

Sonata in F Major, Op. 5 No. 5: I. Adagio

$2.30

Sonata in F Major, Op. 5 No. 5: II. Allegro moderato

Composer(s)

Francesco Geminiani

Artist(s)

Alison McGillivray

David McGuinness - harpsichord, Eligio Quinteiro - baroque guitar, Joseph Crouch - baroque cello

Sonata in F Major, Op. 5 No. 5: II. Allegro moderato

$2.30

Sonata in F Major, Op. 5 No. 5: III. Adagio

Composer(s)

Francesco Geminiani

Artist(s)

Alison McGillivray

David McGuinness - harpsichord, Eligio Quinteiro - baroque guitar, Joseph Crouch - baroque cello

Sonata in F Major, Op. 5 No. 5: III. Adagio

$2.30

Sonata in F Major, Op. 5 No. 5: IV. Allegro

Composer(s)

Francesco Geminiani

Artist(s)

Alison McGillivray

David McGuinness - harpsichord, Eligio Quinteiro - baroque guitar, Joseph Crouch - baroque cello

Sonata in F Major, Op. 5 No. 5: IV. Allegro

$2.30

Harpsichord Sonata in B flat Major, Op. 5 No. 4: I. Allegro moderato

Composer(s)

Francesco Geminiani

Artist(s)

Alison McGillivray

David McGuinness - harpsichord, Eligio Quinteiro - baroque guitar, Joseph Crouch - baroque cello

Harpsichord Sonata in B flat Major, Op. 5 No. 4: I. Allegro moderato

$2.30

Harpsichord Sonata in B flat Major, Op. 5 No. 4: II. Andante

Composer(s)

Francesco Geminiani

Artist(s)

Alison McGillivray

David McGuinness - harpsichord, Eligio Quinteiro - baroque guitar, Joseph Crouch - baroque cello

Harpsichord Sonata in B flat Major, Op. 5 No. 4: II. Andante

$2.30

Harpsichord Sonata in B flat Major, Op. 5 No. 4: III. Allegro

Composer(s)

Francesco Geminiani

Artist(s)

Alison McGillivray

David McGuinness - harpsichord, Eligio Quinteiro - baroque guitar, Joseph Crouch - baroque cello

Harpsichord Sonata in B flat Major, Op. 5 No. 4: III. Allegro

$2.30

Sonata in A Minor, Op. 5 No. 6: I. Adagio

Composer(s)

Francesco Geminiani

Artist(s)

Alison McGillivray

David McGuinness - harpsichord, Eligio Quinteiro - baroque guitar, Joseph Crouch - baroque cello

Sonata in A Minor, Op. 5 No. 6: I. Adagio

$2.30

Sonata in A Minor, Op. 5 No. 6: II. Allegro assai. Grave

Composer(s)

Francesco Geminiani

Artist(s)

Alison McGillivray

David McGuinness - harpsichord, Eligio Quinteiro - baroque guitar, Joseph Crouch - baroque cello

Sonata in A Minor, Op. 5 No. 6: II. Allegro assai. Grave

$2.30

Sonata in A Minor, Op. 5 No. 6: III. Allegro - Non tanto

Composer(s)

Francesco Geminiani

Artist(s)

Alison McGillivray

David McGuinness - harpsichord, Eligio Quinteiro - baroque guitar, Joseph Crouch - baroque cello

Sonata in A Minor, Op. 5 No. 6: III. Allegro - Non tanto

$2.30
Total running time: 74 minutes.
Album information

This is the debut solo release by versatile cellist Alison McGillivray who is joined by a trio of Baroque specialists exploring the music of Francesco Geminiani.

Geminiani's Op. 5 mark the beginning of the change from gamba to cello. They are an intriguing and delicately balanced fusion of Italianate clarity and counterpoint and French lavishness of sonority and gesture. In the Op. 5 Cello Sonatas Geminiani succeeded in creating music that lives up to his own high expectations. 

In addition McGillivray and guests (cembalist David McGuinness, continuo cellist Joseph Crouch and Baroque guitarist Eligio Quinteiro) perform some interesting and valuable bonuses taken from Geminiani's keyboard compositions. The Financial Times named McGillivray's eloquent Geminiani recording one of the 'Best Classical Recordings of 2005' for its "scholarship and style".
Related Artists
Reviews