Filters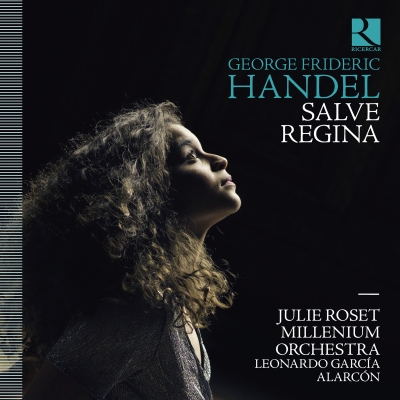 Inlay available for download
Booklet available for download
The Lord is my Light, HWV 255: Sinfonia (Andante - Allegro)

Composer(s)

George Frideric Handel

Artist(s)

Leonardo García Alarcón

Millenium Orchestra

The Lord is my Light, HWV 255: Sinfonia (Andante - Allegro)

$2.30

Acis and Galatea, HWV 49: Overture (Presto)

Composer(s)

George Frideric Handel

Artist(s)

Leonardo García Alarcón

Millenium Orchestra

Acis and Galatea, HWV 49: Overture (Presto)

$2.30

Salve Regina, HWV 241: I. Salve Regina

Composer(s)

George Frideric Handel

Artist(s)

Leonardo García Alarcón

Julie Roset

Millenium Orchestra

Salve Regina, HWV 241: I. Salve Regina

$2.30

Salve Regina, HWV 241: II. Ad te clamamus

Composer(s)

George Frideric Handel

Artist(s)

Leonardo García Alarcón

Julie Roset

Millenium Orchestra

Salve Regina, HWV 241: II. Ad te clamamus

$2.30

Salve Regina, HWV 241: III. Eia ergo

Composer(s)

George Frideric Handel

Artist(s)

Leonardo García Alarcón

Julie Roset

Millenium Orchestra

Salve Regina, HWV 241: III. Eia ergo

$2.30

Salve Regina, HWV 241: IV. O clemens

Composer(s)

George Frideric Handel

Artist(s)

Leonardo García Alarcón

Julie Roset

Millenium Orchestra

Salve Regina, HWV 241: IV. O clemens

$2.30

Esther, HWV 50, Act I Scene 2: Praise the Lord With Cheerful Voice

Composer(s)

George Frideric Handel

Artist(s)

Leonardo García Alarcón

Julie Roset

Millenium Orchestra

Esther, HWV 50, Act I Scene 2: Praise the Lord With Cheerful Voice

$2.30

Gloria, HWV deest: I. Gloria in excelsis Deo

Composer(s)

George Frideric Handel

Artist(s)

Leonardo García Alarcón

Julie Roset

Millenium Orchestra

Gloria, HWV deest: I. Gloria in excelsis Deo

$2.30

Gloria, HWV deest: II. Et in terra pax

Composer(s)

George Frideric Handel

Artist(s)

Leonardo García Alarcón

Julie Roset

Millenium Orchestra

Gloria, HWV deest: II. Et in terra pax

$2.30

Gloria, HWV deest: III. Laudamus te

Composer(s)

George Frideric Handel

Artist(s)

Leonardo García Alarcón

Julie Roset

Millenium Orchestra

Gloria, HWV deest: III. Laudamus te

$2.30

Gloria, HWV deest: IV. Domine Deus

Composer(s)

George Frideric Handel

Artist(s)

Leonardo García Alarcón

Julie Roset

Millenium Orchestra

Gloria, HWV deest: IV. Domine Deus

$2.30

Gloria, HWV deest: V. Qui tollis peccata mundi

Composer(s)

George Frideric Handel

Artist(s)

Leonardo García Alarcón

Julie Roset

Millenium Orchestra

Gloria, HWV deest: V. Qui tollis peccata mundi

$2.30

Gloria, HWV deest: VI. Quoniam tu solus sanctus

Composer(s)

George Frideric Handel

Artist(s)

Leonardo García Alarcón

Julie Roset

Millenium Orchestra

Gloria, HWV deest: VI. Quoniam tu solus sanctus

$2.30

Silete venti, HWV 242: I. Symphonia (Largo e forte - Allegro) - Silete venti

Composer(s)

George Frideric Handel

Artist(s)

Leonardo García Alarcón

Julie Roset

Millenium Orchestra

Silete venti, HWV 242: I. Symphonia (Largo e forte - Allegro) - Silete venti

$2.30

Silete venti, HWV 242: II. Dulcis amor Jesu

Composer(s)

George Frideric Handel

Artist(s)

Leonardo García Alarcón

Julie Roset

Millenium Orchestra

Silete venti, HWV 242: II. Dulcis amor Jesu

$3.40

Silete venti, HWV 242: III. O fortunata anima

Composer(s)

George Frideric Handel

Artist(s)

Leonardo García Alarcón

Julie Roset

Millenium Orchestra

Silete venti, HWV 242: III. O fortunata anima

$2.30

Silete venti, HWV 242: IV. Date serena

Composer(s)

George Frideric Handel

Artist(s)

Leonardo García Alarcón

Julie Roset

Millenium Orchestra

Silete venti, HWV 242: IV. Date serena

$3.40

Silete venti, HWV 242: V. Alleluia

Composer(s)

George Frideric Handel

Artist(s)

Leonardo García Alarcón

Julie Roset

Millenium Orchestra

Silete venti, HWV 242: V. Alleluia

$2.30

Il trionfo del Tempo e del Disinganno, HWV 46a, Pt. 2: Tu del ciel ministro electo

Composer(s)

George Frideric Handel

Artist(s)

Leonardo García Alarcón

Julie Roset

Millenium Orchestra

Il trionfo del Tempo e del Disinganno, HWV 46a, Pt. 2: Tu del ciel ministro electo

$2.30
Total running time: 73 minutes.

Album information

Julie Roset, a young French soprano from Avignon, immediately attracted attention with her first recital for Ricercar (Nun danket alle Gott with Clematis) and went on to record a recital of works by Sigismondo d'India with Mariana Flores that met with great critical acclaim.

In this new recording she tackles several of Handel's masterpieces on religious themes: his Salve Regina, Gloria and the motet Silete venti were all composed at the time when the young Handel had been inspired to new heights by his discovery of Roman musical life.
Related Artists
Reviews