Filters
Haydn: Symphonies Nos. 31, 70 & 101
Haydn: Symphonies Nos. 31, 70 & 101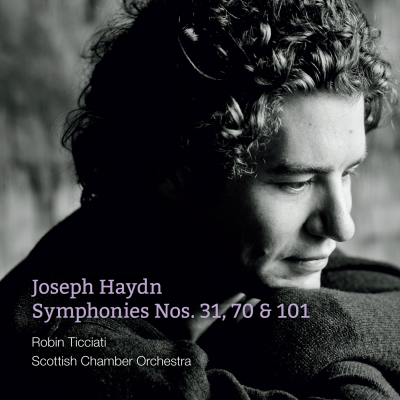 Inlay available for download
Booklet available for download
Symphony No. 31 in D major, Hob. I:31, 'Hornsignal': I. Allegro

Artist(s)

Robin Ticciati

Scottish Chamber Orchestra

Symphony No. 31 in D major, Hob. I:31, 'Hornsignal': I. Allegro

$3.40

Symphony No. 31 in D major, Hob. I:31, 'Hornsignal': II. Adagio

Artist(s)

Robin Ticciati

Scottish Chamber Orchestra

Symphony No. 31 in D major, Hob. I:31, 'Hornsignal': II. Adagio

$3.40

Symphony No. 31 in D major, Hob. I:31, 'Hornsignal': III. Menuet

Artist(s)

Robin Ticciati

Scottish Chamber Orchestra

Symphony No. 31 in D major, Hob. I:31, 'Hornsignal': III. Menuet

$2.30

Symphony No. 31 in D major, Hob. I:31, 'Hornsignal': IV. Finale. Moderato molto – Presto

Artist(s)

Robin Ticciati

Scottish Chamber Orchestra

Symphony No. 31 in D major, Hob. I:31, 'Hornsignal': IV. Finale. Moderato molto – Presto

$3.40

Symphony No. 70 in D major, Hob. I:70: I. Vivace con brio

Artist(s)

Robin Ticciati

Scottish Chamber Orchestra

Symphony No. 70 in D major, Hob. I:70: I. Vivace con brio

$2.30

Symphony No. 70 in D major, Hob. I:70: II. Andante

Artist(s)

Robin Ticciati

Scottish Chamber Orchestra

Symphony No. 70 in D major, Hob. I:70: II. Andante

$3.40

Symphony No. 70 in D major, Hob. I:70: III. Menuet - Trio

Artist(s)

Robin Ticciati

Scottish Chamber Orchestra

Symphony No. 70 in D major, Hob. I:70: III. Menuet - Trio

$2.30

Symphony No. 70 in D major, Hob. I:70: IV. Finale. Allegro con brio

Artist(s)

Robin Ticciati

Scottish Chamber Orchestra

Symphony No. 70 in D major, Hob. I:70: IV. Finale. Allegro con brio

$2.30

Symphony No. 101 in D major, Hob. I:101, 'The Clock': I. Adagio – Presto

Artist(s)

Robin Ticciati

Scottish Chamber Orchestra

Symphony No. 101 in D major, Hob. I:101, 'The Clock': I. Adagio – Presto

$3.40

Symphony No. 101 in D major, Hob. I:101, 'The Clock': II. Andante

Artist(s)

Robin Ticciati

Scottish Chamber Orchestra

Symphony No. 101 in D major, Hob. I:101, 'The Clock': II. Andante

$2.30

Symphony No. 101 in D major, Hob. I:101, 'The Clock': III. Menuet - Trio

Artist(s)

Robin Ticciati

Scottish Chamber Orchestra

Symphony No. 101 in D major, Hob. I:101, 'The Clock': III. Menuet - Trio

$3.40

Symphony No. 101 in D major, Hob. I:101, 'The Clock': IV. Finale. Vivace

Artist(s)

Robin Ticciati

Scottish Chamber Orchestra

Symphony No. 101 in D major, Hob. I:101, 'The Clock': IV. Finale. Vivace

$2.30
Total running time: 77 minutes.


Album information

This recording is the first of two which sees Robin Ticciati and the Scottish Chamber Orchestra present an overview of Haydn's symphonic repertoire.

From Haydn's early period the Baroque influenced 'Horn Signal' has an almost Gothic tinged feel with highly contrapuntal elements. Comparatively, the first of Haydn's famous 'London' Symphonies, the 'Clock', has its focus firmly on the future.

Ticciati's approach takes the best elements of authenticity present in period performances, but with the dynamic range, space, colour and life that modern performance practice brings. Ticciati beautifully highlights the lines, clarity and shape of the music, a skill he brought to bear in his Schumann symphonies recording which garnered several five-star reviews and accolades upon release.

Always popular with symphony orchestra's Haydn has occasionally been treated a little too 'tidily', but these performances are alive and excitingly fresh.

This recording was name one of the 'Best Classical Music Albums of 2015' by The Telegraph and featured on numerous other 'Best' lists including The Herald, Audiophila, Bay Area Reporter and Colorado Public Radio.
Related Artists
Reviews