Filters
J.S. Bach: Sonatas for violin & harpsichord
J.S. Bach: Sonatas for violin & harpsichord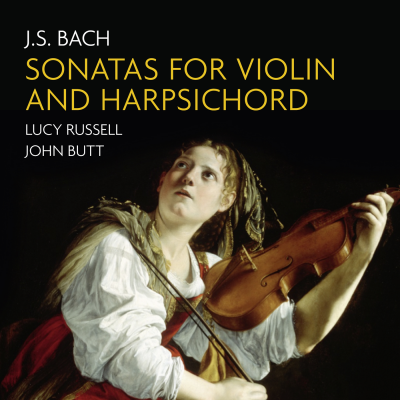 Inlay available for download
Booklet available for download
Sonata No. 1 in B Minor, BWV 1014: I. Adagio

Artist(s)

John Butt - harpsichord, Lucy Russell - violin

Sonata No. 1 in B Minor, BWV 1014: I. Adagio

$2.30

Sonata No. 1 in B Minor, BWV 1014: II. Allegro

Artist(s)

John Butt - harpsichord, Lucy Russell - violin

Sonata No. 1 in B Minor, BWV 1014: II. Allegro

$2.30

Sonata No. 1 in B Minor, BWV 1014: III. Andante

Artist(s)

John Butt - harpsichord, Lucy Russell - violin

Sonata No. 1 in B Minor, BWV 1014: III. Andante

$2.30

Sonata No. 1 in B Minor, BWV 1014: IV. Allegro

Artist(s)

John Butt - harpsichord, Lucy Russell - violin

Sonata No. 1 in B Minor, BWV 1014: IV. Allegro

$2.30

Sonata No. 2 in A Major, BWV 1015: I. Dolce

Artist(s)

John Butt - harpsichord, Lucy Russell - violin

Sonata No. 2 in A Major, BWV 1015: I. Dolce

$2.30

Sonata No. 2 in A Major, BWV 1015: II. Allegro

Artist(s)

John Butt - harpsichord, Lucy Russell - violin

Sonata No. 2 in A Major, BWV 1015: II. Allegro

$2.30

Sonata No. 2 in A Major, BWV 1015: III. Andante un poco

Artist(s)

John Butt - harpsichord, Lucy Russell - violin

Sonata No. 2 in A Major, BWV 1015: III. Andante un poco

$2.30

Sonata No. 2 in A Major, BWV 1015: IV. Presto

Artist(s)

John Butt - harpsichord, Lucy Russell - violin

Sonata No. 2 in A Major, BWV 1015: IV. Presto

$2.30

Sonata No. 3 in E Major, BWV 1016: I. Adagio

Artist(s)

John Butt - harpsichord, Lucy Russell - violin

Sonata No. 3 in E Major, BWV 1016: I. Adagio

$2.30

Sonata No. 3 in E Major, BWV 1016: II. Allegro

Artist(s)

John Butt - harpsichord, Lucy Russell - violin

Sonata No. 3 in E Major, BWV 1016: II. Allegro

$2.30

Sonata No. 3 in E Major, BWV 1016: III. Adagio ma non tanto

Artist(s)

John Butt - harpsichord, Lucy Russell - violin

Sonata No. 3 in E Major, BWV 1016: III. Adagio ma non tanto

$2.30

Sonata No. 3 in E Major, BWV 1016: IV. Allegro

Artist(s)

John Butt - harpsichord, Lucy Russell - violin

Sonata No. 3 in E Major, BWV 1016: IV. Allegro

$2.30

Sonata No. 4 in C Minor, BWV 1017: I. Largo

Artist(s)

John Butt - harpsichord, Lucy Russell - violin

Sonata No. 4 in C Minor, BWV 1017: I. Largo

$2.30

Sonata No. 4 in C Minor, BWV 1017: II. Allegro

Artist(s)

John Butt - harpsichord, Lucy Russell - violin

Sonata No. 4 in C Minor, BWV 1017: II. Allegro

$2.30

Sonata No. 4 in C Minor, BWV 1017: III. Adagio

Artist(s)

John Butt - harpsichord, Lucy Russell - violin

Sonata No. 4 in C Minor, BWV 1017: III. Adagio

$2.30

Sonata No. 4 in C Minor, BWV 1017: IV. Allegro

Artist(s)

John Butt - harpsichord, Lucy Russell - violin

Sonata No. 4 in C Minor, BWV 1017: IV. Allegro

$2.30

Sonata No. 5 in F Minor, BWV 1018: I. Largo

Artist(s)

John Butt - harpsichord, Lucy Russell - violin

Sonata No. 5 in F Minor, BWV 1018: I. Largo

$2.30

Sonata No. 5 in F Minor, BWV 1018: II. Allegro

Artist(s)

John Butt - harpsichord, Lucy Russell - violin

Sonata No. 5 in F Minor, BWV 1018: II. Allegro

$2.30

Sonata No. 5 in F Minor, BWV 1018: III. Adagio

Artist(s)

John Butt - harpsichord, Lucy Russell - violin

Sonata No. 5 in F Minor, BWV 1018: III. Adagio

$2.30

Sonata No. 5 in F Minor, BWV 1018: IV. Vivace

Artist(s)

John Butt - harpsichord, Lucy Russell - violin

Sonata No. 5 in F Minor, BWV 1018: IV. Vivace

$2.30

Sonata No. 6 in G Major, BWV 1019: I. Allegro

Artist(s)

John Butt - harpsichord, Lucy Russell - violin

Sonata No. 6 in G Major, BWV 1019: I. Allegro

$2.30

Sonata No. 6 in G Major, BWV 1019: II. Largo

Artist(s)

John Butt - harpsichord, Lucy Russell - violin

Sonata No. 6 in G Major, BWV 1019: II. Largo

$2.30

Sonata No. 6 in G Major, BWV 1019: III. Allegro

Artist(s)

John Butt - harpsichord, Lucy Russell - violin

Sonata No. 6 in G Major, BWV 1019: III. Allegro

$2.30

Sonata No. 6 in G Major, BWV 1019: IV. Adagio

Artist(s)

John Butt - harpsichord, Lucy Russell - violin

Sonata No. 6 in G Major, BWV 1019: IV. Adagio

$2.30

Sonata No. 6 in G Major, BWV 1019: V. Allegro

Artist(s)

John Butt - harpsichord, Lucy Russell - violin

Sonata No. 6 in G Major, BWV 1019: V. Allegro

$2.30
Total running time: 84 minutes.
Album information

Prize-winning Bach specialist John Butt O.B.E. and distinguished violinist Lucy Russell deliver a personal and historically informed performance on J.S. Bach: Sonatas for violin and harpsichord.

The interpretations benefit from John Butt (Dunedin Consort) and Lucy Russell's combined cumulative experience gained over a lifetime of study. Russell's performance explores the colours and emotions present in the music as well as highlighting Bach's good humour and quirkiness. The duo relish the energetic dialogue and astonishingly diverse moods and characters present in Bach's music: from the supremely expressive violin 'voice' at the opening of the first sonata to the playful rhythmic tricks in the last movement of Sonata No. 4.

Bach's fiendishly complex fugal writing and typically delicious chromaticism is in evidence throughout these hugely enjoyable works. Butt's informative booklets notes highlight the historical significance of these sonatas in which Bach introduces many of the fundamental features of an essentially new genre.

 
Related Artists
Reviews