Filters
Mendelssohn: String Quartet in E Flat Major '1823' & String Quartet in E Flat Major, Op. 44 No. 3
Mendelssohn: String Quartet in E Flat Major '1823' & String Quartet in E Flat Major, Op. 44 No. 3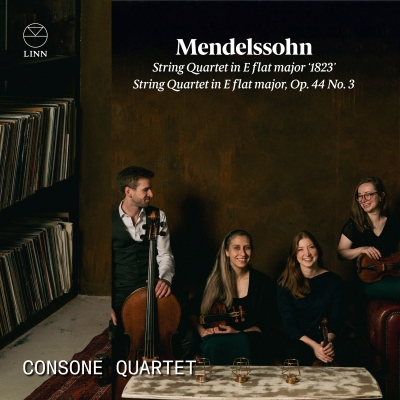 Inlay available for download
Booklet available for download
String Quartet in E-Flat Major, "1823": I. Allegro moderato

Composer(s)

Felix Mendelssohn

Artist(s)

Consone Quartet

String Quartet in E-Flat Major, "1823": I. Allegro moderato

$3.40

String Quartet in E-Flat Major, "1823": II. Adagio non troppo

Composer(s)

Felix Mendelssohn

Artist(s)

Consone Quartet

String Quartet in E-Flat Major, "1823": II. Adagio non troppo

$2.30

String Quartet in E-Flat Major, "1823": III. Minuetto - Trio

Composer(s)

Felix Mendelssohn

Artist(s)

Consone Quartet

String Quartet in E-Flat Major, "1823": III. Minuetto - Trio

$2.30

String Quartet in E-Flat Major, "1823": IV. Fuga

Composer(s)

Felix Mendelssohn

Artist(s)

Consone Quartet

String Quartet in E-Flat Major, "1823": IV. Fuga

$2.30

String Quartet in E-Flat Major, Op. 44 No. 3: I. Allegro vivace

Composer(s)

Felix Mendelssohn

Artist(s)

Consone Quartet

String Quartet in E-Flat Major, Op. 44 No. 3: I. Allegro vivace

$4.60

String Quartet in E-Flat Major, Op. 44 No. 3: II. Scherzo. Assai leggiero vivace

Composer(s)

Felix Mendelssohn

Artist(s)

Consone Quartet

String Quartet in E-Flat Major, Op. 44 No. 3: II. Scherzo. Assai leggiero vivace

$2.30

String Quartet in E-Flat Major, Op. 44 No. 3: III. Adagio non troppo

Composer(s)

Felix Mendelssohn

Artist(s)

Consone Quartet

String Quartet in E-Flat Major, Op. 44 No. 3: III. Adagio non troppo

$3.40

String Quartet in E-Flat Major, Op. 44 No. 3: IV. Molto allegro con fuoco

Composer(s)

Felix Mendelssohn

Artist(s)

Consone Quartet

String Quartet in E-Flat Major, Op. 44 No. 3: IV. Molto allegro con fuoco

$3.40
Total running time: 58 minutes.
Album information

The Consone Quartet launches a new recording partnership with Linn. The first period instrument quartet to be selected as BBC New Generation Artists, the ensemble embarks on a complete Felix Mendelssohn string quartets cycle.

Playing on gut strings, thus creating a warm, grainy soundworld akin to analogue photography (as violinist Agata Daraškaitė puts it), the four musicians have drawn inspiration from editions of the time, including Ferdinand David's own scrupulously marked-up parts, to present fresh accounts of the E flat major quartet '1823' and Op. 44 No. 3. These two works paired together – the former is an early work, the latter is the composer's penultimate achievement in the genre – allow for some revealing comparisons between styles at different points in Mendelssohn's life.
Related Artists
Reviews