Filters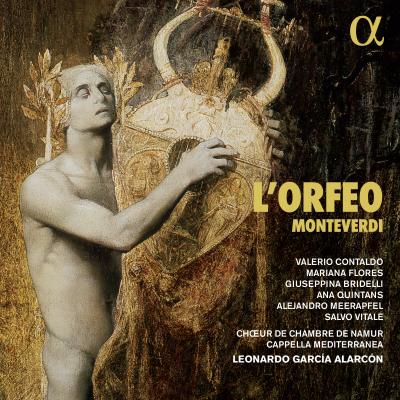 Inlay available for download
Booklet available for download
L'Orfeo, SV 318: Toccata

Composer(s)

Claudio Monteverdi

Artist(s)

Leonardo García Alarcón

Cappella Mediterranea

L'Orfeo, SV 318: Toccata

$2.30

L'Orfeo, SV 318: Prologo - Dal mio permesso amato

Composer(s)

Claudio Monteverdi

Artist(s)

Leonardo García Alarcón

Mariana Flores

Cappella Mediterranea

L'Orfeo, SV 318: Prologo - Dal mio permesso amato

$2.30

L'Orfeo, SV 318, Act 1: No. 1, In questo lieto e fortunato giorno

Composer(s)

Claudio Monteverdi

Artist(s)

Leonardo García Alarcón

Nicholas Scott

Cappella Mediterranea

L'Orfeo, SV 318, Act 1: No. 1, In questo lieto e fortunato giorno

$2.30

L'Orfeo, SV 318, Act 1: No. 2, Vieni Imeneo, deh vieni

Composer(s)

Claudio Monteverdi

Artist(s)

Leonardo García Alarcón

Cappella Mediterranea

Chœur de Chambre de Namur

L'Orfeo, SV 318, Act 1: No. 2, Vieni Imeneo, deh vieni

$2.30

L'Orfeo, SV 318, Act 1: No. 3, Muse, onor di Parnaso

Composer(s)

Claudio Monteverdi

Artist(s)

Leonardo García Alarcón

Julie Roset

Cappella Mediterranea

L'Orfeo, SV 318, Act 1: No. 3, Muse, onor di Parnaso

$2.30

L'Orfeo, SV 318, Act 1: No. 4, Lasciate i monti

Composer(s)

Claudio Monteverdi

Artist(s)

Leonardo García Alarcón

Cappella Mediterranea

Chœur de Chambre de Namur

L'Orfeo, SV 318, Act 1: No. 4, Lasciate i monti

$2.30

L'Orfeo, SV 318, Act 1: No. 5, Ma tu, gentil cantor

Composer(s)

Claudio Monteverdi

Artist(s)

Leonardo García Alarcón

Alessandro Giangrande

Cappella Mediterranea

L'Orfeo, SV 318, Act 1: No. 5, Ma tu, gentil cantor

$2.30

L'Orfeo, SV 318, Act 1: No. 6, Rosa del ciel

Composer(s)

Claudio Monteverdi

Artist(s)

Leonardo García Alarcón

Valerio Contaldo

Cappella Mediterranea

L'Orfeo, SV 318, Act 1: No. 6, Rosa del ciel

$2.30

L'Orfeo, SV 318, Act 1: No. 7, Io no dirò qual sia

Composer(s)

Claudio Monteverdi

Artist(s)

Leonardo García Alarcón

Mariana Flores

Cappella Mediterranea

L'Orfeo, SV 318, Act 1: No. 7, Io no dirò qual sia

$2.30

L'Orfeo, SV 318, Act 1: No. 8, Lasciate i monti

Composer(s)

Claudio Monteverdi

Artist(s)

Leonardo García Alarcón

Cappella Mediterranea

Chœur de Chambre de Namur

L'Orfeo, SV 318, Act 1: No. 8, Lasciate i monti

$2.30

L'Orfeo, SV 318, Act 1: No. 9, Ritornello

Composer(s)

Claudio Monteverdi

Artist(s)

Leonardo García Alarcón

Cappella Mediterranea

L'Orfeo, SV 318, Act 1: No. 9, Ritornello

$2.30

L'Orfeo, SV 318, Act 1: No. 10, Vieni Imeneo, deh vieni

Composer(s)

Claudio Monteverdi

Artist(s)

Leonardo García Alarcón

Cappella Mediterranea

Chœur de Chambre de Namur

L'Orfeo, SV 318, Act 1: No. 10, Vieni Imeneo, deh vieni

$2.30

L'Orfeo, SV 318, Act 1: No. 11, Ma s'il nostro gioir dal Ciel deriva

Composer(s)

Claudio Monteverdi

Artist(s)

Leonardo García Alarcón

Carlo Vistoli

Cappella Mediterranea

L'Orfeo, SV 318, Act 1: No. 11, Ma s'il nostro gioir dal Ciel deriva

$2.30

L'Orfeo, SV 318, Act 1: No. 12, Ritornello

Composer(s)

Claudio Monteverdi

Artist(s)

Leonardo García Alarcón

Cappella Mediterranea

L'Orfeo, SV 318, Act 1: No. 12, Ritornello

$2.30

L'Orfeo, SV 318, Act 1: No. 13, Alcun non sia che disperato in preda

Composer(s)

Claudio Monteverdi

Artist(s)

Leonardo García Alarcón

Carlo Vistoli

Cappella Mediterranea

Nicholas Scott

L'Orfeo, SV 318, Act 1: No. 13, Alcun non sia che disperato in preda

$2.30

L'Orfeo, SV 318, Act 1: No. 14, Ritornello

Composer(s)

Claudio Monteverdi

Artist(s)

Leonardo García Alarcón

Cappella Mediterranea

L'Orfeo, SV 318, Act 1: No. 14, Ritornello

$2.30

L'Orfeo, SV 318, Act 1: No. 15, Che poi che nembo rio gravido il seno

Composer(s)

Claudio Monteverdi

Artist(s)

Leonardo García Alarcón

Julie Roset

Cappella Mediterranea

Matteo Belotto

Alessandro Giangrande

L'Orfeo, SV 318, Act 1: No. 15, Che poi che nembo rio gravido il seno

$2.30

L'Orfeo, SV 318, Act 1: No. 16, Ritornello

Composer(s)

Claudio Monteverdi

Artist(s)

Leonardo García Alarcón

Cappella Mediterranea

L'Orfeo, SV 318, Act 1: No. 16, Ritornello

$2.30

L'Orfeo, SV 318, Act 1: No. 17, E dopo l'aspro gel del Verno ignudo

Composer(s)

Claudio Monteverdi

Artist(s)

Leonardo García Alarcón

Alessandro Giangrande

Cappella Mediterranea

Nicholas Scott

L'Orfeo, SV 318, Act 1: No. 17, E dopo l'aspro gel del Verno ignudo

$2.30

L'Orfeo, SV 318, Act 1: No. 18, Ecco Orfeo

Composer(s)

Claudio Monteverdi

Artist(s)

Leonardo García Alarcón

Cappella Mediterranea

Chœur de Chambre de Namur

L'Orfeo, SV 318, Act 1: No. 18, Ecco Orfeo

$2.30

L'Orfeo, SV 318, Act 2: No. 1, Sinfonia

Composer(s)

Claudio Monteverdi

Artist(s)

Leonardo García Alarcón

Cappella Mediterranea

L'Orfeo, SV 318, Act 2: No. 1, Sinfonia

$2.30

L'Orfeo, SV 318, Act 2: No. 2, Ecco pur ch'a voi ritorno

Composer(s)

Claudio Monteverdi

Artist(s)

Leonardo García Alarcón

Valerio Contaldo

Cappella Mediterranea

L'Orfeo, SV 318, Act 2: No. 2, Ecco pur ch'a voi ritorno

$2.30

L'Orfeo, SV 318, Act 2: No. 3, Ritornelli - Mira ch'a sé n'alletta l'ombra

Composer(s)

Claudio Monteverdi

Artist(s)

Leonardo García Alarcón

Carlo Vistoli

Cappella Mediterranea

Nicholas Scott

L'Orfeo, SV 318, Act 2: No. 3, Ritornelli - Mira ch'a sé n'alletta l'ombra

$2.30

L'Orfeo, SV 318, Act 2: No. 4, Ritornello

Composer(s)

Claudio Monteverdi

Artist(s)

Leonardo García Alarcón

Cappella Mediterranea

L'Orfeo, SV 318, Act 2: No. 4, Ritornello

$2.30

L'Orfeo, SV 318, Act 2: No. 5, In questo prato adorno - Ritornello

Composer(s)

Claudio Monteverdi

Artist(s)

Leonardo García Alarcón

Carlo Vistoli

Cappella Mediterranea

Nicholas Scott

L'Orfeo, SV 318, Act 2: No. 5, In questo prato adorno - Ritornello

$2.30

L'Orfeo, SV 318, Act 2: No. 6, Ritornelli - Qui le Napee vezzose

Composer(s)

Claudio Monteverdi

Artist(s)

Leonardo García Alarcón

Carlo Vistoli

Cappella Mediterranea

Nicholas Scott

L'Orfeo, SV 318, Act 2: No. 6, Ritornelli - Qui le Napee vezzose

$2.30

L'Orfeo, SV 318, Act 2: No. 7, Dunque fa degno Orfeo

Composer(s)

Claudio Monteverdi

Artist(s)

Leonardo García Alarcón

Cappella Mediterranea

Chœur de Chambre de Namur

L'Orfeo, SV 318, Act 2: No. 7, Dunque fa degno Orfeo

$2.30

L'Orfeo, SV 318, Act 2: No. 8, Ritornelli - Vi ricorda, o bosch'ombrosi

Composer(s)

Claudio Monteverdi

Artist(s)

Leonardo García Alarcón

Valerio Contaldo

Cappella Mediterranea

L'Orfeo, SV 318, Act 2: No. 8, Ritornelli - Vi ricorda, o bosch'ombrosi

$2.30

L'Orfeo, SV 318, Act 2: No. 9, Mira, deh mira Orfeo

Composer(s)

Claudio Monteverdi

Artist(s)

Leonardo García Alarcón

Cappella Mediterranea

Nicholas Scott

L'Orfeo, SV 318, Act 2: No. 9, Mira, deh mira Orfeo

$2.30

L'Orfeo, SV 318, Act 2: No. 10, Ahi caso acerbo

Composer(s)

Claudio Monteverdi

Artist(s)

Leonardo García Alarcón

Alessandro Giangrande

Cappella Mediterranea

Giuseppina Bridelli

Carlo Vistoli

L'Orfeo, SV 318, Act 2: No. 10, Ahi caso acerbo

$2.30

L'Orfeo, SV 318, Act 2: No. 11, D'onde vieni?

Composer(s)

Claudio Monteverdi

Artist(s)

Leonardo García Alarcón

Valerio Contaldo

Cappella Mediterranea

Giuseppina Bridelli

L'Orfeo, SV 318, Act 2: No. 11, D'onde vieni?

$2.30

L'Orfeo, SV 318, Act 2: No. 12, In un fiorito prato

Composer(s)

Claudio Monteverdi

Artist(s)

Leonardo García Alarcón

Giuseppina Bridelli

Cappella Mediterranea

L'Orfeo, SV 318, Act 2: No. 12, In un fiorito prato

$2.30

L'Orfeo, SV 318, Act 2: No. 13, Ahi caso acerbo!

Composer(s)

Claudio Monteverdi

Artist(s)

Leonardo García Alarcón

Carlo Vistoli

Cappella Mediterranea

Nicholas Scott

L'Orfeo, SV 318, Act 2: No. 13, Ahi caso acerbo!

$2.30

L'Orfeo, SV 318, Act 2: No. 14, Tu se' morta

Composer(s)

Claudio Monteverdi

Artist(s)

Leonardo García Alarcón

Valerio Contaldo

Cappella Mediterranea

L'Orfeo, SV 318, Act 2: No. 14, Tu se' morta

$2.30

L'Orfeo, SV 318, Act 2: No. 15, Ahi caso acerbo!

Composer(s)

Claudio Monteverdi

Artist(s)

Leonardo García Alarcón

Cappella Mediterranea

Chœur de Chambre de Namur

L'Orfeo, SV 318, Act 2: No. 15, Ahi caso acerbo!

$2.30

L'Orfeo, SV 318, Act 2: No. 16, Ma io, ch'in questa lingua

Composer(s)

Claudio Monteverdi

Artist(s)

Leonardo García Alarcón

Giuseppina Bridelli

Cappella Mediterranea

L'Orfeo, SV 318, Act 2: No. 16, Ma io, ch'in questa lingua

$2.30

L'Orfeo, SV 318, Act 2: No. 17, Sinfonia

Composer(s)

Claudio Monteverdi

Artist(s)

Leonardo García Alarcón

Cappella Mediterranea

L'Orfeo, SV 318, Act 2: No. 17, Sinfonia

$2.30

L'Orfeo, SV 318, Act 2: No. 18, Chi ne consola, ahi lassi?

Composer(s)

Claudio Monteverdi

Artist(s)

Leonardo García Alarcón

Carlo Vistoli

Cappella Mediterranea

Nicholas Scott

L'Orfeo, SV 318, Act 2: No. 18, Chi ne consola, ahi lassi?

$2.30

L'Orfeo, SV 318, Act 2: No. 19, Ahi caso acerbo!

Composer(s)

Claudio Monteverdi

Artist(s)

Leonardo García Alarcón

Cappella Mediterranea

Chœur de Chambre de Namur

L'Orfeo, SV 318, Act 2: No. 19, Ahi caso acerbo!

$2.30

L'Orfeo, SV 318, Act 2: No. 20, Ma dove, ah dove or sono de la misera ninfa

Composer(s)

Claudio Monteverdi

Artist(s)

Leonardo García Alarcón

Carlo Vistoli

Cappella Mediterranea

Nicholas Scott

L'Orfeo, SV 318, Act 2: No. 20, Ma dove, ah dove or sono de la misera ninfa

$2.30

L'Orfeo, SV 318, Act 2: No. 21, Ahi caso acerbo!

Composer(s)

Claudio Monteverdi

Artist(s)

Leonardo García Alarcón

Cappella Mediterranea

Chœur de Chambre de Namur

L'Orfeo, SV 318, Act 2: No. 21, Ahi caso acerbo!

$2.30

L'Orfeo, SV 318, Act 2: No. 22, Ritornello

Composer(s)

Claudio Monteverdi

Artist(s)

Leonardo García Alarcón

Cappella Mediterranea

L'Orfeo, SV 318, Act 2: No. 22, Ritornello

$2.30

L'Orfeo, SV 318, Act 3: No. 1, Sinfonia

Composer(s)

Claudio Monteverdi

Artist(s)

Leonardo García Alarcón

Cappella Mediterranea

L'Orfeo, SV 318, Act 3: No. 1, Sinfonia

$2.30

L'Orfeo, SV 318, Act 3: No. 2, Scorto da te, mio Nume

Composer(s)

Claudio Monteverdi

Artist(s)

Leonardo García Alarcón

Valerio Contaldo

Cappella Mediterranea

L'Orfeo, SV 318, Act 3: No. 2, Scorto da te, mio Nume

$2.30

L'Orfeo, SV 318, Act 3: No. 3, Ecco l'altra palude

Composer(s)

Claudio Monteverdi

Artist(s)

Leonardo García Alarcón

Ana Quitans

Cappella Mediterranea

L'Orfeo, SV 318, Act 3: No. 3, Ecco l'altra palude

$2.30

L'Orfeo, SV 318, Act 3: No. 4, Ecco l'altra palude

Composer(s)

Claudio Monteverdi

Artist(s)

Leonardo García Alarcón

Valerio Contaldo

Cappella Mediterranea

L'Orfeo, SV 318, Act 3: No. 4, Ecco l'altra palude

$2.30

L'Orfeo, SV 318, Act 3: No. 5, O tu ch'innanzi morta a questa rive

Composer(s)

Claudio Monteverdi

Artist(s)

Leonardo García Alarcón

Salvo Vitale

Cappella Mediterranea

L'Orfeo, SV 318, Act 3: No. 5, O tu ch'innanzi morta a questa rive

$2.30

L'Orfeo, SV 318, Act 3: No. 6, Sinfonia

Composer(s)

Claudio Monteverdi

Artist(s)

Leonardo García Alarcón

Cappella Mediterranea

L'Orfeo, SV 318, Act 3: No. 6, Sinfonia

$2.30

L'Orfeo, SV 318, Act 3: No. 7, Possente spirto, e formidabil nume

Composer(s)

Claudio Monteverdi

Artist(s)

Leonardo García Alarcón

Valerio Contaldo

Cappella Mediterranea

L'Orfeo, SV 318, Act 3: No. 7, Possente spirto, e formidabil nume

$3.40

L'Orfeo, SV 318, Act 3: No. 8, Ben mi lusinga alquanto

Composer(s)

Claudio Monteverdi

Artist(s)

Leonardo García Alarcón

Salvo Vitale

Cappella Mediterranea

L'Orfeo, SV 318, Act 3: No. 8, Ben mi lusinga alquanto

$2.30

L'Orfeo, SV 318, Act 3: No. 9, Ahi, sveturato amante

Composer(s)

Claudio Monteverdi

Artist(s)

Leonardo García Alarcón

Valerio Contaldo

Cappella Mediterranea

L'Orfeo, SV 318, Act 3: No. 9, Ahi, sveturato amante

$2.30

L'Orfeo, SV 318, Act 3: No. 10, Sinfonia

Composer(s)

Claudio Monteverdi

Artist(s)

Leonardo García Alarcón

Cappella Mediterranea

L'Orfeo, SV 318, Act 3: No. 10, Sinfonia

$2.30

L'Orfeo, SV 318, Act 3: No. 11, Ei dorme

Composer(s)

Claudio Monteverdi

Artist(s)

Leonardo García Alarcón

Valerio Contaldo

Cappella Mediterranea

L'Orfeo, SV 318, Act 3: No. 11, Ei dorme

$2.30

L'Orfeo, SV 318, Act 3: No. 12, Sinfonia a 7

Composer(s)

Claudio Monteverdi

Artist(s)

Leonardo García Alarcón

Cappella Mediterranea

L'Orfeo, SV 318, Act 3: No. 12, Sinfonia a 7

$2.30

L'Orfeo, SV 318, Act 3: No. 13, Nulla impresa per uom si tenta invano

Composer(s)

Claudio Monteverdi

Artist(s)

Leonardo García Alarcón

Cappella Mediterranea

Chœur de Chambre de Namur

L'Orfeo, SV 318, Act 3: No. 13, Nulla impresa per uom si tenta invano

$2.30

L'Orfeo, SV 318, Act 3: No. 14, Sinfonia a 7

Composer(s)

Claudio Monteverdi

Artist(s)

Leonardo García Alarcón

Cappella Mediterranea

L'Orfeo, SV 318, Act 3: No. 14, Sinfonia a 7

$2.30

L'Orfeo, SV 318, Act 4: No. 1, Signor, quell'infelice

Composer(s)

Claudio Monteverdi

Artist(s)

Leonardo García Alarcón

Ana Quitans

Cappella Mediterranea

L'Orfeo, SV 318, Act 4: No. 1, Signor, quell'infelice

$2.30

L'Orfeo, SV 318, Act 4: No. 2, Benché severo ed immutabil fato

Composer(s)

Claudio Monteverdi

Artist(s)

Leonardo García Alarcón

Alejandro Meerapfel

Cappella Mediterranea

L'Orfeo, SV 318, Act 4: No. 2, Benché severo ed immutabil fato

$2.30

L'Orfeo, SV 318, Act 4: No. 3, O degli abitator de l'ombre eterne

Composer(s)

Claudio Monteverdi

Artist(s)

Leonardo García Alarcón

Cappella Mediterranea

Chœur de Chambre de Namur

L'Orfeo, SV 318, Act 4: No. 3, O degli abitator de l'ombre eterne

$2.30

L'Orfeo, SV 318, Act 4: No. 4, Quagli grazie ti rendo

Composer(s)

Claudio Monteverdi

Artist(s)

Leonardo García Alarcón

Ana Quitans

Cappella Mediterranea

L'Orfeo, SV 318, Act 4: No. 4, Quagli grazie ti rendo

$2.30

L'Orfeo, SV 318, Act 4: No. 5, Tue soave parole

Composer(s)

Claudio Monteverdi

Artist(s)

Leonardo García Alarcón

Alejandro Meerapfel

Cappella Mediterranea

L'Orfeo, SV 318, Act 4: No. 5, Tue soave parole

$2.30

L'Orfeo, SV 318, Act 4: No. 6, Pietade, oggi

Composer(s)

Claudio Monteverdi

Artist(s)

Leonardo García Alarcón

Cappella Mediterranea

Chœur de Chambre de Namur

L'Orfeo, SV 318, Act 4: No. 6, Pietade, oggi

$2.30

L'Orfeo, SV 318, Act 4: No. 7, Ecco il gentil cantore

Composer(s)

Claudio Monteverdi

Artist(s)

Leonardo García Alarcón

Philippe Favette

Cappella Mediterranea

L'Orfeo, SV 318, Act 4: No. 7, Ecco il gentil cantore

$2.30

L'Orfeo, SV 318, Act 4: No. 8, Ritornelli - Qual honor di te fia degno

Composer(s)

Claudio Monteverdi

Artist(s)

Leonardo García Alarcón

Valerio Contaldo

Cappella Mediterranea

L'Orfeo, SV 318, Act 4: No. 8, Ritornelli - Qual honor di te fia degno

$2.30

L'Orfeo, SV 318, Act 4: No. 9, Ma che odo?

Composer(s)

Claudio Monteverdi

Artist(s)

Leonardo García Alarcón

Valerio Contaldo

Cappella Mediterranea

Chœur de Chambre de Namur

L'Orfeo, SV 318, Act 4: No. 9, Ma che odo?

$2.30

L'Orfeo, SV 318, Act 4: No. 10, Ahi, vista troppo dolce e troppo amara

Composer(s)

Claudio Monteverdi

Artist(s)

Leonardo García Alarcón

Mariana Flores

Cappella Mediterranea

Chœur de Chambre de Namur

L'Orfeo, SV 318, Act 4: No. 10, Ahi, vista troppo dolce e troppo amara

$2.30

L'Orfeo, SV 318, Act 4: No. 11, Dove te'n vai, mia vita?

Composer(s)

Claudio Monteverdi

Artist(s)

Leonardo García Alarcón

Valerio Contaldo

Cappella Mediterranea

L'Orfeo, SV 318, Act 4: No. 11, Dove te'n vai, mia vita?

$2.30

L'Orfeo, SV 318, Act 4: No. 12, Sinfonia a 7

Composer(s)

Claudio Monteverdi

Artist(s)

Leonardo García Alarcón

Cappella Mediterranea

L'Orfeo, SV 318, Act 4: No. 12, Sinfonia a 7

$2.30

L'Orfeo, SV 318, Act 4: No. 13, È la virtute un raggio

Composer(s)

Claudio Monteverdi

Artist(s)

Leonardo García Alarcón

Cappella Mediterranea

Chœur de Chambre de Namur

L'Orfeo, SV 318, Act 4: No. 13, È la virtute un raggio

$2.30

L'Orfeo, SV 318, Act 4: No. 14, Sinfonia a 7

Composer(s)

Claudio Monteverdi

Artist(s)

Leonardo García Alarcón

Cappella Mediterranea

L'Orfeo, SV 318, Act 4: No. 14, Sinfonia a 7

$2.30

L'Orfeo, SV 318, Act 5: No. 1, Ritornello

Composer(s)

Claudio Monteverdi

Artist(s)

Leonardo García Alarcón

Cappella Mediterranea

L'Orfeo, SV 318, Act 5: No. 1, Ritornello

$2.30

L'Orfeo, SV 318, Act 5: No. 2, Questi i campi di Tracia

Composer(s)

Claudio Monteverdi

Artist(s)

Leonardo García Alarcón

Valerio Contaldo

Cappella Mediterranea

Nicholas Scott

L'Orfeo, SV 318, Act 5: No. 2, Questi i campi di Tracia

$2.30

L'Orfeo, SV 318, Act 5: No. 3, S'hai del mio mal pietade

Composer(s)

Claudio Monteverdi

Artist(s)

Leonardo García Alarcón

Valerio Contaldo

Cappella Mediterranea

L'Orfeo, SV 318, Act 5: No. 3, S'hai del mio mal pietade

$2.30

L'Orfeo, SV 318, Act 5: No. 4, Tu bella fusti e saggia

Composer(s)

Claudio Monteverdi

Artist(s)

Leonardo García Alarcón

Valerio Contaldo

Cappella Mediterranea

L'Orfeo, SV 318, Act 5: No. 4, Tu bella fusti e saggia

$2.30

L'Orfeo, SV 318, Act 5: No. 5, Hor l'altre donne son superbe e perfide

Composer(s)

Claudio Monteverdi

Artist(s)

Leonardo García Alarcón

Valerio Contaldo

Cappella Mediterranea

L'Orfeo, SV 318, Act 5: No. 5, Hor l'altre donne son superbe e perfide

$2.30

L'Orfeo, SV 318, Act 5: No. 6, Sinfonia

Composer(s)

Claudio Monteverdi

Artist(s)

Leonardo García Alarcón

Cappella Mediterranea

L'Orfeo, SV 318, Act 5: No. 6, Sinfonia

$2.30

L'Orfeo, SV 318, Act 5: No. 7, Perch'a lo sdegno

Composer(s)

Claudio Monteverdi

Artist(s)

Leonardo García Alarcón

Valerio Contaldo

Cappella Mediterranea

Alessandro Giangrande

L'Orfeo, SV 318, Act 5: No. 7, Perch'a lo sdegno

$2.30

L'Orfeo, SV 318, Act 5: No. 8, Saliam cantando al cielo

Composer(s)

Claudio Monteverdi

Artist(s)

Leonardo García Alarcón

Valerio Contaldo

Cappella Mediterranea

Alessandro Giangrande

L'Orfeo, SV 318, Act 5: No. 8, Saliam cantando al cielo

$2.30

L'Orfeo, SV 318, Act 5: No. 9, Ritornello

Composer(s)

Claudio Monteverdi

Artist(s)

Leonardo García Alarcón

Cappella Mediterranea

L'Orfeo, SV 318, Act 5: No. 9, Ritornello

$2.30

L'Orfeo, SV 318, Act 5: No. 10, Vanne Orfeo, felice a pieno

Composer(s)

Claudio Monteverdi

Artist(s)

Leonardo García Alarcón

Cappella Mediterranea

Chœur de Chambre de Namur

L'Orfeo, SV 318, Act 5: No. 10, Vanne Orfeo, felice a pieno

$2.30

L'Orfeo, SV 318, Act 5: No. 11, Moresca

Composer(s)

Claudio Monteverdi

Artist(s)

Leonardo García Alarcón

Cappella Mediterranea

L'Orfeo, SV 318, Act 5: No. 11, Moresca

$2.30
Total running time: 105 minutes.






Album information

Having performed and matured his interpretation of Monteverdi's masterpiece throughout his life, Leonardo García Alarcón now presents his vision of L'Orfeo, together with his group of soloists, the Namur Chamber Choir and Cappella Mediterranea. This album was nominated for a 2022 Edison Classical Opera Award.

Monteverdi's L'Orfeo is naturally an iconic work for the Argentinian conductor and he now presents his vision of L'Orfeo: Monteverdi's opera is as much the apotheosis of the Renaissance as a testimony to the nascent Baroque style. This is what strikes us when we listen to this new recording, which so eloquently emphasises the contrasts between sometimes nostalgic glances towards the past and the most innovative expressions of operatic language. The printed score, published two years after the premiere in Mantua in 1607, offers contrasts too: is it the snapshot of a specific performance or a 'blueprint' intended for future performers? In fact, it is both, and that is where we find the tricky questions that must be answered by those who open this precious document; Leonardo García Alarcón does so here in a manner at once respectful, inventive and theatrical.
Related Artists
Reviews