Filters
Mozart: Divertimento K.334 & Oboe Quartet K.370
Mozart: Divertimento K.334 & Oboe Quartet K.370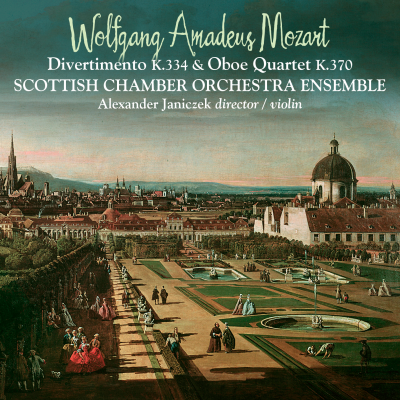 Inlay available for download
Booklet available for download
Divertimento No.17 in D Major for 2 violins, viola, bass and 2 horns - March, K.445 (320c)

Composer(s)

Wolfgang Amadeus Mozart

Artist(s)

Alexander Janiczek

Scottish Chamber Orchestra Ensemble

Divertimento No.17 in D Major for 2 violins, viola, bass and 2 horns - March, K.445 (320c)

$2.30

Divertimento No.17 in D Major for 2 violins, viola, bass and 2 horns K.334 (320b) - I. Allegro

Composer(s)

Wolfgang Amadeus Mozart

Artist(s)

Alexander Janiczek

Scottish Chamber Orchestra Ensemble

Divertimento No.17 in D Major for 2 violins, viola, bass and 2 horns K.334 (320b) - I. Allegro

$3.40

Divertimento No.17 in D Major for 2 violins, viola, bass and 2 horns K.334 (320b) - II. Theme and Variations – Andante

Composer(s)

Wolfgang Amadeus Mozart

Artist(s)

Alexander Janiczek

Scottish Chamber Orchestra Ensemble

Divertimento No.17 in D Major for 2 violins, viola, bass and 2 horns K.334 (320b) - II. Theme and Variations – Andante

$2.30

Divertimento No.17 in D Major for 2 violins, viola, bass and 2 horns K.334 (320b) - III. Theme and Variations – Variation I

Composer(s)

Wolfgang Amadeus Mozart

Artist(s)

Alexander Janiczek

Scottish Chamber Orchestra Ensemble

Divertimento No.17 in D Major for 2 violins, viola, bass and 2 horns K.334 (320b) - III. Theme and Variations – Variation I

$2.30

Divertimento No.17 in D Major for 2 violins, viola, bass and 2 horns K.334 (320b) - IV. Theme and Variations – Variation II

Composer(s)

Wolfgang Amadeus Mozart

Artist(s)

Alexander Janiczek

Scottish Chamber Orchestra Ensemble

Divertimento No.17 in D Major for 2 violins, viola, bass and 2 horns K.334 (320b) - IV. Theme and Variations – Variation II

$2.30

Divertimento No.17 in D Major for 2 violins, viola, bass and 2 horns K.334 (320b) - V. Theme and Variations – Variation III

Composer(s)

Wolfgang Amadeus Mozart

Artist(s)

Alexander Janiczek

Scottish Chamber Orchestra Ensemble

Divertimento No.17 in D Major for 2 violins, viola, bass and 2 horns K.334 (320b) - V. Theme and Variations – Variation III

$2.30

Divertimento No.17 in D Major for 2 violins, viola, bass and 2 horns K.334 (320b) - VI. Theme and Variations – Variation IV

Composer(s)

Wolfgang Amadeus Mozart

Artist(s)

Alexander Janiczek

Scottish Chamber Orchestra Ensemble

Divertimento No.17 in D Major for 2 violins, viola, bass and 2 horns K.334 (320b) - VI. Theme and Variations – Variation IV

$2.30

Divertimento No.17 in D Major for 2 violins, viola, bass and 2 horns K.334 (320b) - VII. Theme and Variations – Variation V

Composer(s)

Wolfgang Amadeus Mozart

Artist(s)

Alexander Janiczek

Scottish Chamber Orchestra Ensemble

Divertimento No.17 in D Major for 2 violins, viola, bass and 2 horns K.334 (320b) - VII. Theme and Variations – Variation V

$2.30

Divertimento No.17 in D Major for 2 violins, viola, bass and 2 horns K.334 (320b) - VIII. Theme and Variations – Variation VI

Composer(s)

Wolfgang Amadeus Mozart

Artist(s)

Alexander Janiczek

Scottish Chamber Orchestra Ensemble

Divertimento No.17 in D Major for 2 violins, viola, bass and 2 horns K.334 (320b) - VIII. Theme and Variations – Variation VI

$2.30

Divertimento No.17 in D Major for 2 violins, viola, bass and 2 horns K.334 (320b) - IX. Menuetto, Trio

Composer(s)

Wolfgang Amadeus Mozart

Artist(s)

Alexander Janiczek

Scottish Chamber Orchestra Ensemble

Divertimento No.17 in D Major for 2 violins, viola, bass and 2 horns K.334 (320b) - IX. Menuetto, Trio

$2.30

Divertimento No.17 in D Major for 2 violins, viola, bass and 2 horns K.334 (320b) - X. Adagio

Composer(s)

Wolfgang Amadeus Mozart

Artist(s)

Alexander Janiczek

Scottish Chamber Orchestra Ensemble

Divertimento No.17 in D Major for 2 violins, viola, bass and 2 horns K.334 (320b) - X. Adagio

$3.40

Divertimento No.17 in D Major for 2 violins, viola, bass and 2 horns K.334 (320b) - XI. Menuetto, Trio I & Trio II

Composer(s)

Wolfgang Amadeus Mozart

Artist(s)

Alexander Janiczek

Scottish Chamber Orchestra Ensemble

Divertimento No.17 in D Major for 2 violins, viola, bass and 2 horns K.334 (320b) - XI. Menuetto, Trio I & Trio II

$2.30

Divertimento No.17 in D Major for 2 violins, viola, bass and 2 horns K.334 (320b) - XII. Rondo Allegro

Composer(s)

Wolfgang Amadeus Mozart

Artist(s)

Alexander Janiczek

Scottish Chamber Orchestra Ensemble

Divertimento No.17 in D Major for 2 violins, viola, bass and 2 horns K.334 (320b) - XII. Rondo Allegro

$3.40

Quartet for oboe, violin, viola and cello in F Major, K.370 - I. Allegro

Composer(s)

Wolfgang Amadeus Mozart

Artist(s)

Alexander Janiczek

Scottish Chamber Orchestra Ensemble

Quartet for oboe, violin, viola and cello in F Major, K.370 - I. Allegro

$2.30

Quartet for oboe, violin, viola and cello in F Major, K.370 - II. Adagio

Composer(s)

Wolfgang Amadeus Mozart

Artist(s)

Alexander Janiczek

Scottish Chamber Orchestra Ensemble

Quartet for oboe, violin, viola and cello in F Major, K.370 - II. Adagio

$2.30

Quartet for oboe, violin, viola and cello in F Major, K.370 - III. Rondeau Allegro

Composer(s)

Wolfgang Amadeus Mozart

Artist(s)

Alexander Janiczek

Scottish Chamber Orchestra Ensemble

Quartet for oboe, violin, viola and cello in F Major, K.370 - III. Rondeau Allegro

$2.30
Total running time: 63 minutes.

Album information

This intimate performance showcases the wealth of talent present in this multi-award-winning orchestra. It was named a 'Choice' recording by Gramophone.

Director and violinist Alexander Janiczek leads principal players from the Scottish Chamber Orchestra in this beautifully intimate recording. Mozart's writing allows each player to shine and demonstrates the depth of talent within the ensemble, illustrating why this orchestra has had such extensive success with its previous Mozart recordings.

The works on this recording are full of well-known tunes which demonstrate Mozart's trademark melodic beauty whilst acclaimed oboist, Robin Williams, gives a dazzling performance of the composer's great masterpiece.

This, the Scottish Chamber Orchestra's third recording of Mozart's serenades and divertimento, is another great addition to the orchestra's catalogue.
Related Artists
Reviews