Filters
Mozart: Opera Arias and Overtures
Mozart: Opera Arias and Overtures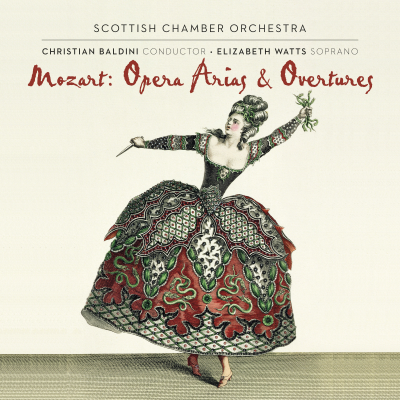 Inlay available for download
Booklet available for download
Le nozze di Figaro: Overture

Composer(s)

Wolfgang Amadeus Mozart

Artist(s)

Christian Baldini

Scottish Chamber Orchestra

Le nozze di Figaro: Overture

$2.30

Le nozze di Figaro: Giunse alfin – Deh vieni non tardar

Composer(s)

Wolfgang Amadeus Mozart

Artist(s)

Christian Baldini

Elizabeth Watts

Scottish Chamber Orchestra

Le nozze di Figaro: Giunse alfin – Deh vieni non tardar

$2.30

Idomeneo: Overture

Composer(s)

Wolfgang Amadeus Mozart

Artist(s)

Christian Baldini

Scottish Chamber Orchestra

Idomeneo: Overture

$2.30

Idomeneo: Quanti mi siete intorno – Padre, germani, addio!

Composer(s)

Wolfgang Amadeus Mozart

Artist(s)

Christian Baldini

Elizabeth Watts

Scottish Chamber Orchestra

Idomeneo: Quanti mi siete intorno – Padre, germani, addio!

$2.30

Don Giovanni: Overture

Composer(s)

Wolfgang Amadeus Mozart

Artist(s)

Christian Baldini

Scottish Chamber Orchestra

Don Giovanni: Overture

$2.30

Don Giovanni: Batti, batti

Composer(s)

Wolfgang Amadeus Mozart

Artist(s)

Christian Baldini

Elizabeth Watts

Scottish Chamber Orchestra

Don Giovanni: Batti, batti

$2.30

Don Giovanni: Vedrai, carino

Composer(s)

Wolfgang Amadeus Mozart

Artist(s)

Christian Baldini

Elizabeth Watts

Scottish Chamber Orchestra

Don Giovanni: Vedrai, carino

$2.30

La clemenza di Tito: Overture

Composer(s)

Wolfgang Amadeus Mozart

Artist(s)

Christian Baldini

Scottish Chamber Orchestra

La clemenza di Tito: Overture

$2.30

La clemenza di Tito: S'altro che lacrime

Composer(s)

Wolfgang Amadeus Mozart

Artist(s)

Christian Baldini

Elizabeth Watts

Scottish Chamber Orchestra

La clemenza di Tito: S'altro che lacrime

$2.30

La finta giardiniera: Overture

Composer(s)

Wolfgang Amadeus Mozart

Artist(s)

Christian Baldini

Scottish Chamber Orchestra

La finta giardiniera: Overture

$2.30

La finta giardiniera: Appena mi vedon

Composer(s)

Wolfgang Amadeus Mozart

Artist(s)

Christian Baldini

Elizabeth Watts

Scottish Chamber Orchestra

La finta giardiniera: Appena mi vedon

$2.30

Così fan tutte: Overture

Composer(s)

Wolfgang Amadeus Mozart

Artist(s)

Christian Baldini

Scottish Chamber Orchestra

Così fan tutte: Overture

$2.30

Così fan tutte: Ei parte – Per pietà

Composer(s)

Wolfgang Amadeus Mozart

Artist(s)

Christian Baldini

Elizabeth Watts

Scottish Chamber Orchestra

Così fan tutte: Ei parte – Per pietà

$3.40
Total running time: 61 minutes.


Album information

This recording features Christian Baldini conducting a hand-picked selection of arias from six of Mozart's much-loved operas, alongside their respective overtures. Soprano Elizabeth Watts, winner of the 2006 Kathleen Ferrier prize, is the featured soprano.

The Scottish Chamber Orchestra has established impeccable Mozartian credentials with its award-winning discography, to which Mozart: Opera Arias and Overtures is the latest addition. The SCO's previous forays into operatic repertoire (Handel with soprano Emma Bell and Mozart, Haydn & Cimarosa with baritone William Berger) have been highly critically acclaimed.

The SCO's affinity with Mozart's music is demonstrated with perfect eighteenth-century style in the overtures; whilst the arias see the orchestra lend characterful support. Award-winning soprano Elizabeth Watts has performed in Don Giovanni at Covent Garden, Così fan tutte for Glyndebourne on Tour and Le nozze di Figaro for Santa Fe Opera and Welsh National Opera; she utilises her experience to create memorable performances.

A love of Mozart inspired conductor Christian Baldini to make music his career so it is fitting that his recording debut with the SCO features repertoire that is so close to his heart.
Related Artists
Reviews