Filters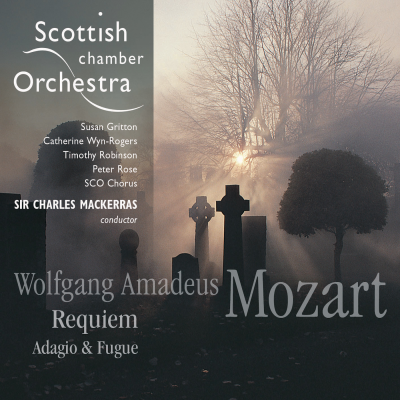 Inlay available for download
Booklet available for download
Requiem in D minor, K. 626 - I. Introitus (Requiem aeternam)

Composer(s)

Wolfgang Amadeus Mozart

Artist(s)

Sir Charles Mackerras

Susan Gritton, Catherine Wyn-Rogers, Timothy Robinson, Peter Rose

Scottish Chamber Orchestra

SCO Chorus

Requiem in D minor, K. 626 - I. Introitus (Requiem aeternam)

$2.30

Requiem in D minor, K. 626 - II. Kyrie

Composer(s)

Wolfgang Amadeus Mozart

Artist(s)

Sir Charles Mackerras

Susan Gritton, Catherine Wyn-Rogers, Timothy Robinson, Peter Rose

Scottish Chamber Orchestra

SCO Chorus

Requiem in D minor, K. 626 - II. Kyrie

$2.30

Requiem in D minor, K. 626 - III. Dies irae

Composer(s)

Wolfgang Amadeus Mozart

Artist(s)

Sir Charles Mackerras

Susan Gritton, Catherine Wyn-Rogers, Timothy Robinson, Peter Rose

Scottish Chamber Orchestra

SCO Chorus

Requiem in D minor, K. 626 - III. Dies irae

$2.30

Requiem in D minor, K. 626 - IV. Tuba mirum

Composer(s)

Wolfgang Amadeus Mozart

Artist(s)

Sir Charles Mackerras

Susan Gritton, Catherine Wyn-Rogers, Timothy Robinson, Peter Rose

Scottish Chamber Orchestra

SCO Chorus

Requiem in D minor, K. 626 - IV. Tuba mirum

$2.30

Requiem in D minor, K. 626 - V. Rex tremendae

Composer(s)

Wolfgang Amadeus Mozart

Artist(s)

Sir Charles Mackerras

Susan Gritton, Catherine Wyn-Rogers, Timothy Robinson, Peter Rose

Scottish Chamber Orchestra

SCO Chorus

Requiem in D minor, K. 626 - V. Rex tremendae

$2.30

Requiem in D minor, K. 626 - VI. Recordare

Composer(s)

Wolfgang Amadeus Mozart

Artist(s)

Sir Charles Mackerras

Susan Gritton, Catherine Wyn-Rogers, Timothy Robinson, Peter Rose

Scottish Chamber Orchestra

SCO Chorus

Requiem in D minor, K. 626 - VI. Recordare

$2.30

Requiem in D minor, K. 626 - VII. Confutatis

Composer(s)

Wolfgang Amadeus Mozart

Artist(s)

Sir Charles Mackerras

Susan Gritton, Catherine Wyn-Rogers, Timothy Robinson, Peter Rose

Scottish Chamber Orchestra

SCO Chorus

Requiem in D minor, K. 626 - VII. Confutatis

$2.30

Requiem in D minor, K. 626 - VIII. Lacrimosa

Composer(s)

Wolfgang Amadeus Mozart

Artist(s)

Sir Charles Mackerras

Susan Gritton, Catherine Wyn-Rogers, Timothy Robinson, Peter Rose

Scottish Chamber Orchestra

SCO Chorus

Requiem in D minor, K. 626 - VIII. Lacrimosa

$2.30

Requiem in D minor, K. 626 - IX. Amen

Composer(s)

Wolfgang Amadeus Mozart

Artist(s)

Sir Charles Mackerras

Susan Gritton, Catherine Wyn-Rogers, Timothy Robinson, Peter Rose

Scottish Chamber Orchestra

SCO Chorus

Requiem in D minor, K. 626 - IX. Amen

$2.30

Requiem in D minor, K. 626 - X. Domine Jesu

Composer(s)

Wolfgang Amadeus Mozart

Artist(s)

Sir Charles Mackerras

Susan Gritton, Catherine Wyn-Rogers, Timothy Robinson, Peter Rose

Scottish Chamber Orchestra

SCO Chorus

Requiem in D minor, K. 626 - X. Domine Jesu

$2.30

Requiem in D minor, K. 626 - XI. Hostias

Composer(s)

Wolfgang Amadeus Mozart

Artist(s)

Sir Charles Mackerras

Susan Gritton, Catherine Wyn-Rogers, Timothy Robinson, Peter Rose

Scottish Chamber Orchestra

SCO Chorus

Requiem in D minor, K. 626 - XI. Hostias

$2.30

Requiem in D minor, K. 626 - XII. Sanctus

Composer(s)

Wolfgang Amadeus Mozart

Artist(s)

Sir Charles Mackerras

Susan Gritton, Catherine Wyn-Rogers, Timothy Robinson, Peter Rose

Scottish Chamber Orchestra

SCO Chorus

Requiem in D minor, K. 626 - XII. Sanctus

$2.30

Requiem in D minor, K. 626 - XIII. Benedictus

Composer(s)

Wolfgang Amadeus Mozart

Artist(s)

Sir Charles Mackerras

Susan Gritton, Catherine Wyn-Rogers, Timothy Robinson, Peter Rose

Scottish Chamber Orchestra

SCO Chorus

Requiem in D minor, K. 626 - XIII. Benedictus

$2.30

Requiem in D minor, K. 626 - XIV. Agnus Dei

Composer(s)

Wolfgang Amadeus Mozart

Artist(s)

Sir Charles Mackerras

Susan Gritton, Catherine Wyn-Rogers, Timothy Robinson, Peter Rose

Scottish Chamber Orchestra

SCO Chorus

Requiem in D minor, K. 626 - XIV. Agnus Dei

$2.30

Requiem in D minor, K. 626 - XV. Lux aeterna

Composer(s)

Wolfgang Amadeus Mozart

Artist(s)

Sir Charles Mackerras

Susan Gritton, Catherine Wyn-Rogers, Timothy Robinson, Peter Rose

Scottish Chamber Orchestra

SCO Chorus

Requiem in D minor, K. 626 - XV. Lux aeterna

$2.30

Requiem in D minor, K. 626 - XVI. Cum sanctis tuis

Composer(s)

Wolfgang Amadeus Mozart

Artist(s)

Sir Charles Mackerras

Susan Gritton, Catherine Wyn-Rogers, Timothy Robinson, Peter Rose

Scottish Chamber Orchestra

SCO Chorus

Requiem in D minor, K. 626 - XVI. Cum sanctis tuis

$2.30

Adagio & Fugue in C minor, K. 546 - I. Adagio

Composer(s)

Wolfgang Amadeus Mozart

Artist(s)

Sir Charles Mackerras

Susan Gritton, Catherine Wyn-Rogers, Timothy Robinson, Peter Rose

Scottish Chamber Orchestra

SCO Chorus

Adagio & Fugue in C minor, K. 546 - I. Adagio

$2.30

Adagio & Fugue in C minor, K. 546 - II. Fugue

Composer(s)

Wolfgang Amadeus Mozart

Artist(s)

Sir Charles Mackerras

Susan Gritton, Catherine Wyn-Rogers, Timothy Robinson, Peter Rose

Scottish Chamber Orchestra

SCO Chorus

Adagio & Fugue in C minor, K. 546 - II. Fugue

$2.30
Total running time: 54 minutes.
Album information

The Levin edition of Mozart's compelling Requiem performed in thrilling splendour by Mackerras and the Scottish Chamber Orchestra.

This is Sir Charles Mackerras' first recording of the Mozart Requiem. His history in conducting Mozart is considerable - during his lifetime he was acclaimed as one of the world's greatest living Mozarteans. 

This recording uses the score prepared by Harvard professor Robert Levin.  Levin aims to improve on Franz Sussmayr's familiar edition by making the music closer to what Mozart might have written. It was named a Benchmark recording by BBC Music Magazine amongst other accolades.
Related Artists
Reviews