Filters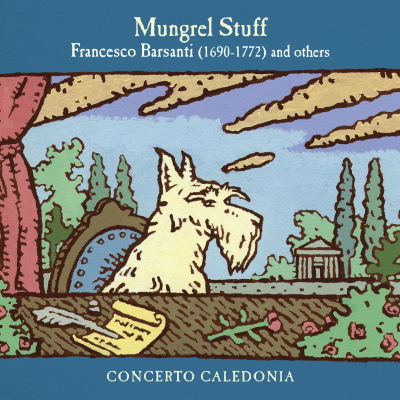 Corn riggs are bonny

Composer(s)

Francesco Barsanti

Artist(s)

David McGuinness

Chris Norman

Corn riggs are bonny

$1.80

She raise and loot me in

Composer(s)

Francesco Geminiani

Artist(s)

David McGuinness

Chris Norman

She raise and loot me in

$1.80

Sonata in imitation of Corelli

Composer(s)

William McGibbon

Artist(s)

David McGuinness

Chris Norman

Sonata in imitation of Corelli

$1.80

Tweed Side

Composer(s)

William Thomson

Artist(s)

David McGuinness

Chris Norman

Tweed Side

$1.80

Sonata in A op2 no9 <br> allegro moderatamente

Composer(s)

Francesco Maria Veracini

Artist(s)

David McGuinness

Chris Norman

Sonata in A op2 no9 allegro moderatamente

$1.80

adagio, scozzese: un poco andante et affetuoso

Composer(s)

Francesco Maria Veracini

Artist(s)

David McGuinness

Chris Norman

adagio, scozzese: un poco andante et affetuoso

$2.70

A Scots Cantata - Recitative: Blate Jonny faintly teld fair Jean his mind

Composer(s)

Lorenzo Bocchi

Artist(s)

David McGuinness

Chris Norman

A Scots Cantata - Recitative: Blate Jonny faintly teld fair Jean his mind

$1.80

Air - spiritoso: O bonny lassie

Composer(s)

Lorenzo Bocchi

Artist(s)

David McGuinness

Chris Norman

Air - spiritoso: O bonny lassie

$1.80

Recitative: These tender notes did a' her pity move

Composer(s)

Lorenzo Bocchi

Artist(s)

David McGuinness

Chris Norman

Recitative: These tender notes did a' her pity move

$1.80

Air - Allegro: Hence frae my breast, contentious care

Composer(s)

Lorenzo Bocchi

Artist(s)

David McGuinness

Chris Norman

Air - Allegro: Hence frae my breast, contentious care

$1.80

Duncan Gray

Composer(s)

Domenico Corri

Artist(s)

David McGuinness

Chris Norman

Duncan Gray

$1.80

Gilderoy: The Highland laddie: Clout the cauldron

Composer(s)

Francesco Barsanti

Artist(s)

David McGuinness

Chris Norman

Gilderoy: The Highland laddie: Clout the cauldron

$1.80

Johnnie Faa

Composer(s)

Francesco Barsanti

Artist(s)

David McGuinness

Chris Norman

Johnnie Faa

$1.80

Bessy Bell and Mary Gray

Composer(s)

Francesco Geminiani

Artist(s)

David McGuinness

Chris Norman

Bessy Bell and Mary Gray

$1.80

Lord Aboyne's welcome or Cumbernauld House

Composer(s)

Francesco Barsanti

Artist(s)

David McGuinness

Chris Norman

Lord Aboyne's welcome or Cumbernauld House

$1.80

Pinky House

Artist(s)

David McGuinness

Chris Norman

Pinky House

$1.80

Hamilton House

Artist(s)

David McGuinness

Chris Norman

Hamilton House

$1.80

Leader Haughs and Yarrow

Composer(s)

Francesco Geminiani

Artist(s)

David McGuinness

Chris Norman

Leader Haughs and Yarrow

$1.80

Steer her up and had her gawn

Composer(s)

Alexander Reinagle

Artist(s)

David McGuinness

Chris Norman

Steer her up and had her gawn

$1.80

The Lass of Peaty's Mill

Composer(s)

Francesco Geminiani

Artist(s)

David McGuinness

Chris Norman

The Lass of Peaty's Mill

$1.80
Total running time: 71 minutes.
Album information

A selection of Scottish themed tunes from a great variety of composers. It was named one of The Sunday Times' Records of the Year in 2001. 

Mungrel Stuff features Scottish music written by (mostly) Italian composers and a little Italian music written by Scottish composers (hence the title), including Barsanti, Geminiani, McGibbon, Thomson, Oswald, Veracini, Bocchi, Corri, and Reinagle. All the lyrics are from Alan Ramsay's Tea-Table Miscellany (Edinburgh, 1724-29).

The musicians are David McGuinness director and harpsichord with Mhairi Lawson soprano, Jamie MacDougall tenor, Chris Norman on flute & whistle, Elisabeth Dooner on flute, Lucy Russell, Adrian Chandler, Joanna Parker, Sarah Bevan-Baker on violins, Katherine McGillivray on viola, Alison McGillivray on cello, Ninian Perry on bass, Steve Player on guitar and Elizabeth Kenny on guitar & theorbo.
Related Artists
Reviews