Filters
Rodgers & Hammerstein: A Grand Night for Singing
Rodgers & Hammerstein: A Grand Night for Singing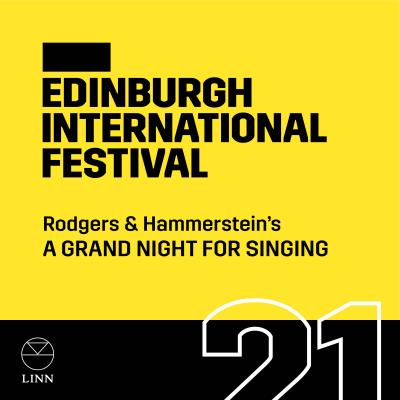 Sounds of the Earth

Composer(s)

Richard Rodgers

Artist(s)

Wayne Marshall

Danielle de Niese

Kim Criswell

Anna-Jane Casey

Damian Humbley

Richard Morrison

Edinburgh Festival Ensemble

Sounds of the Earth

$2.30

Opening Medley

Composer(s)

Richard Rodgers

Artist(s)

Wayne Marshall

Danielle de Niese

Kim Criswell

Anna-Jane Casey

Damian Humbley

Richard Morrison

Edinburgh Festival Ensemble

Opening Medley

$2.30

Surrey with the Fringe on Top

Composer(s)

Richard Rodgers

Artist(s)

Wayne Marshall

Danielle de Niese

Kim Criswell

Anna-Jane Casey

Damian Humbley

Edinburgh Festival Ensemble

Surrey with the Fringe on Top

$2.30

Stepsisters' Lament

Composer(s)

Richard Rodgers

Artist(s)

Wayne Marshall

Danielle de Niese

Kim Criswell

Edinburgh Festival Ensemble

Stepsisters' Lament

$2.30

We Kiss in a Shadow

Composer(s)

Richard Rodgers

Artist(s)

Wayne Marshall

Richard Morrison

Edinburgh Festival Ensemble

We Kiss in a Shadow

$2.30

Hello Young Lovers

Composer(s)

Richard Rodgers

Artist(s)

Wayne Marshall

Danielle de Niese

Kim Criswell

Anna-Jane Casey

Damian Humbley

Richard Morrison

Edinburgh Festival Ensemble

Hello Young Lovers

$2.30

I'm in Love with a Wonderful Guy

Composer(s)

Richard Rodgers

Artist(s)

Wayne Marshall

Anna-Jane Casey

Edinburgh Festival Ensemble

I'm in Love with a Wonderful Guy

$2.30

I Cain't Say No

Composer(s)

Richard Rodgers

Artist(s)

Wayne Marshall

Kim Criswell

Anna-Jane Casey

Edinburgh Festival Ensemble

I Cain't Say No

$2.30

Maria

Composer(s)

Richard Rodgers

Artist(s)

Wayne Marshall

Damian Humbley

Edinburgh Festival Ensemble

Maria

$2.30

Do I Love You

Composer(s)

Richard Rodgers

Artist(s)

Wayne Marshall

Danielle de Niese

Edinburgh Festival Ensemble

Do I Love You

$2.30

Honey Bun

Composer(s)

Richard Rodgers

Artist(s)

Wayne Marshall

Danielle de Niese

Kim Criswell

Anna-Jane Casey

Damian Humbley

Richard Morrison

Edinburgh Festival Ensemble

Honey Bun

$2.30

The Gentleman Is a Dope

Composer(s)

Richard Rodgers

Artist(s)

Wayne Marshall

Anna-Jane Casey

Edinburgh Festival Ensemble

The Gentleman Is a Dope

$2.30

Don't Marry Me

Composer(s)

Richard Rodgers

Artist(s)

Wayne Marshall

Danielle de Niese

Kim Criswell

Anna-Jane Casey

Edinburgh Festival Ensemble

Don't Marry Me

$2.30

Many a New Day / Wash That Man

Composer(s)

Richard Rodgers

Artist(s)

Wayne Marshall

Kim Criswell

Edinburgh Festival Ensemble

Many a New Day / Wash That Man

$2.30

If I Loved You

Composer(s)

Richard Rodgers

Artist(s)

Wayne Marshall

Danielle de Niese

Kim Criswell

Anna-Jane Casey

Damian Humbley

Richard Morrison

Edinburgh Festival Ensemble

If I Loved You

$2.30

Shall We Dance

Composer(s)

Richard Rodgers

Artist(s)

Wayne Marshall

Danielle de Niese

Kim Criswell

Anna-Jane Casey

Damian Humbley

Richard Morrison

Edinburgh Festival Ensemble

Shall We Dance

$2.30

That's the Way It Happens

Composer(s)

Richard Rodgers

Artist(s)

Wayne Marshall

Anna-Jane Casey

Damian Humbley

Richard Morrison

Edinburgh Festival Ensemble

That's the Way It Happens

$2.30

All at Once You Love Her

Composer(s)

Richard Rodgers

Artist(s)

Wayne Marshall

Damian Humbley

Richard Morrison

Edinburgh Festival Ensemble

All at Once You Love Her

$2.30

Act I Finale

Composer(s)

Richard Rodgers

Artist(s)

Wayne Marshall

Danielle de Niese

Kim Criswell

Anna-Jane Casey

Damian Humbley

Richard Morrison

Edinburgh Festival Ensemble

Act I Finale

$2.30

Beautiful Mornin'

Composer(s)

Richard Rodgers

Artist(s)

Wayne Marshall

Richard Morrison

Edinburgh Festival Ensemble

Beautiful Mornin'

$2.30

Wedding Sequence

Composer(s)

Richard Rodgers

Artist(s)

Wayne Marshall

Danielle de Niese

Kim Criswell

Anna-Jane Casey

Damian Humbley

Richard Morrison

Edinburgh Festival Ensemble

Wedding Sequence

$2.30

The Man I Used to Be

Composer(s)

Richard Rodgers

Artist(s)

Wayne Marshall

Danielle de Niese

Kim Criswell

Anna-Jane Casey

Edinburgh Festival Ensemble

The Man I Used to Be

$2.30

It Might as Well Be Spring

Composer(s)

Richard Rodgers

Artist(s)

Wayne Marshall

Danielle de Niese

Edinburgh Festival Ensemble

It Might as Well Be Spring

$2.30

Kansas City

Composer(s)

Richard Rodgers

Artist(s)

Wayne Marshall

Danielle de Niese

Kim Criswell

Anna-Jane Casey

Damian Humbley

Richard Morrison

Edinburgh Festival Ensemble

Kansas City

$2.30

Parent Medley

Composer(s)

Richard Rodgers

Artist(s)

Wayne Marshall

Danielle de Niese

Kim Criswell

Anna-Jane Casey

Damian Humbley

Richard Morrison

Edinburgh Festival Ensemble

Parent Medley

$2.30

It's Me

Composer(s)

Richard Rodgers

Artist(s)

Wayne Marshall

Anna-Jane Casey

Damian Humbley

Richard Morrison

Edinburgh Festival Ensemble

It's Me

$2.30

Love Look Away

Composer(s)

Richard Rodgers

Artist(s)

Wayne Marshall

Damian Humbley

Edinburgh Festival Ensemble

Love Look Away

$2.30

Driving Through the Moonlight / A Lovely Night

Composer(s)

Richard Rodgers

Artist(s)

Wayne Marshall

Danielle de Niese

Kim Criswell

Anna-Jane Casey

Damian Humbley

Richard Morrison

Edinburgh Festival Ensemble

Driving Through the Moonlight / A Lovely Night

$2.30

Something Wonderful

Composer(s)

Richard Rodgers

Artist(s)

Wayne Marshall

Danielle de Niese

Edinburgh Festival Ensemble

Something Wonderful

$2.30

This Nearly Was Mine

Composer(s)

Richard Rodgers

Artist(s)

Wayne Marshall

Richard Morrison

Edinburgh Festival Ensemble

This Nearly Was Mine

$2.30

Impossible / I Have Dreamed

Composer(s)

Richard Rodgers

Artist(s)

Wayne Marshall

Danielle de Niese

Kim Criswell

Anna-Jane Casey

Damian Humbley

Richard Morrison

Edinburgh Festival Ensemble

Impossible / I Have Dreamed

$2.30

Bows

Composer(s)

Richard Rodgers

Artist(s)

Wayne Marshall

Danielle de Niese

Kim Criswell

Anna-Jane Casey

Damian Humbley

Richard Morrison

Edinburgh Festival Ensemble

Bows

$2.30
Total running time: 94 minutes.
Album information

All the glitz, glamour and unforgettable songs of the classic Rodgers and Hammerstein musicals but like you've never heard them before. Recorded at the 2021 Edinburgh International Festival it features an all-star cast.

This dazzling musical revue weaves a moving new storyline through iconic songs from Carousel, Oklahoma!, The King and I, South Pacific and The Sound of Music, with performances from some of today's top names in musical theatre. Conceived and created by Tony Award-winning director and choreographer Walter Bobbie, A Grand Night for Singing took Broadway by storm at its opening in 1993.

Kim Criswell, one of today's pre-eminent musical theatre singers/actors, stars in the production together with a handpicked cast of brilliant musical theatre performers that also includes lyric soprano Danielle de Niese, Anna-Jane Casey, Wayne Marshall, Damian Humbley and Richard Morrison.