Filters
1723: Bach, Bertali, Biber, Corelli & Pisendel
1723: Bach, Bertali, Biber, Corelli & Pisendel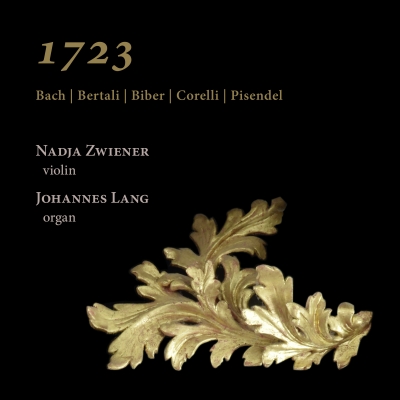 Inlay available for download
Booklet available for download
Violin Sonata in G Major, BWV 1021: I. Adagio

Composer(s)

Johann Sebastian Bach

Artist(s)

Nadja Zwiener

Johannes Lang

Violin Sonata in G Major, BWV 1021: I. Adagio

$2.30

Violin Sonata in G Major, BWV 1021: II. Vivace

Composer(s)

Johann Sebastian Bach

Artist(s)

Nadja Zwiener

Johannes Lang

Violin Sonata in G Major, BWV 1021: II. Vivace

$2.30

Violin Sonata in G Major, BWV 1021: III. Largo

Composer(s)

Johann Sebastian Bach

Artist(s)

Nadja Zwiener

Johannes Lang

Violin Sonata in G Major, BWV 1021: III. Largo

$2.30

Violin Sonata in G Major, BWV 1021: IV. Presto

Composer(s)

Johann Sebastian Bach

Artist(s)

Nadja Zwiener

Johannes Lang

Violin Sonata in G Major, BWV 1021: IV. Presto

$2.30

Violin Sonata V in E Minor, C. 142

Composer(s)

Heinrich Ignaz Franz Biber

Artist(s)

Nadja Zwiener

Johannes Lang

Violin Sonata V in E Minor, C. 142

$4.60

Violin Sonata in A Major, Op. 5 No. 6: I. Grave

Composer(s)

Arcangelo Corelli

Artist(s)

Nadja Zwiener

Johannes Lang

Violin Sonata in A Major, Op. 5 No. 6: I. Grave

$2.30

Violin Sonata in A Major, Op. 5 No. 6: II. Allegro

Composer(s)

Arcangelo Corelli

Artist(s)

Nadja Zwiener

Johannes Lang

Violin Sonata in A Major, Op. 5 No. 6: II. Allegro

$2.30

Violin Sonata in A Major, Op. 5 No. 6: III. Allegro

Composer(s)

Arcangelo Corelli

Artist(s)

Nadja Zwiener

Johannes Lang

Violin Sonata in A Major, Op. 5 No. 6: III. Allegro

$2.30

Violin Sonata in A Major, Op. 5 No. 6: IV. Adagio

Composer(s)

Arcangelo Corelli

Artist(s)

Nadja Zwiener

Johannes Lang

Violin Sonata in A Major, Op. 5 No. 6: IV. Adagio

$2.30

Violin Sonata in A Major, Op. 5 No. 6: V. Allegro

Composer(s)

Arcangelo Corelli

Artist(s)

Nadja Zwiener

Johannes Lang

Violin Sonata in A Major, Op. 5 No. 6: V. Allegro

$2.30

Violin Sonata in E Minor, BWV 1023: I. [–]

Composer(s)

Johann Sebastian Bach

Artist(s)

Nadja Zwiener

Johannes Lang

Violin Sonata in E Minor, BWV 1023: I. [–]

$2.30

Violin Sonata in E Minor, BWV 1023: II. Adagio ma non tanto

Composer(s)

Johann Sebastian Bach

Artist(s)

Nadja Zwiener

Johannes Lang

Violin Sonata in E Minor, BWV 1023: II. Adagio ma non tanto

$2.30

Violin Sonata in E Minor, BWV 1023: III. Allemanda

Composer(s)

Johann Sebastian Bach

Artist(s)

Nadja Zwiener

Johannes Lang

Violin Sonata in E Minor, BWV 1023: III. Allemanda

$2.30

Violin Sonata in E Minor, BWV 1023: IV. Gigue

Composer(s)

Johann Sebastian Bach

Artist(s)

Nadja Zwiener

Johannes Lang

Violin Sonata in E Minor, BWV 1023: IV. Gigue

$2.30

Prelude, Largo and Fugue in C Major BWV 545: I. Praeludium

Composer(s)

Johann Sebastian Bach

Prelude, Largo and Fugue in C Major BWV 545: I. Praeludium

$2.30

Prelude, Largo and Fugue in C Major BWV 545/529.2: II. Largo

Composer(s)

Johann Sebastian Bach

Artist(s)

Nadja Zwiener

Johannes Lang

Prelude, Largo and Fugue in C Major BWV 545/529.2: II. Largo

$2.30

Prelude, Largo and Fugue in C Major BWV 545: III. Fuga

Composer(s)

Johann Sebastian Bach

Prelude, Largo and Fugue in C Major BWV 545: III. Fuga

$2.30

Violin Sonata in E Minor, JunP IV.1: I. Largo

Composer(s)

Johann Georg Pisendel

Artist(s)

Nadja Zwiener

Johannes Lang

Violin Sonata in E Minor, JunP IV.1: I. Largo

$2.30

Violin Sonata in E Minor, JunP IV.1: II. Moderato

Composer(s)

Johann Georg Pisendel

Artist(s)

Nadja Zwiener

Johannes Lang

Violin Sonata in E Minor, JunP IV.1: II. Moderato

$2.30

Violin Sonata in E Minor, JunP IV.1: III. Scherzando

Composer(s)

Johann Georg Pisendel

Artist(s)

Nadja Zwiener

Johannes Lang

Violin Sonata in E Minor, JunP IV.1: III. Scherzando

$2.30

Ciaccona in C Major

Composer(s)

Antonio Bertali

Artist(s)

Nadja Zwiener

Johannes Lang

Ciaccona in C Major

$3.40
Total running time: 73 minutes.
Album information

Johann Sebastian Bach, the newly appointed Cantor of the Thomaskirche, undertook his first official journey from Leipzig to nearby Störmthal in 1723, where he and his Thomanerchor inaugurated the beautiful new organ built by Zacharias Hildebrandt, a pupil of Silbermann. Bach was thrilled by the instrument's splendid timbres and tonal beauty. 

A particularly beautiful violin was made by the German luthier David Tecchler in Rome — 1400 km from Störmthal — during that same year. Both instruments have survived and have been excellently restored; now, three hundred years after their creation, they meet for the first time.

Nadja Zwiener, leader of The English Concert and Johannes Lang, the current organist of the Thomaskirche here celebrate the 300th anniversary of these two instruments and Bach's investiture in Leipzig with a florilegium of works by Bach himself, his contemporaries and his predecessors. A splendidly colourful musical firework!
Related Artists