Filters
Beethoven: Complete Works for Fortepiano and Violoncello
Beethoven: Complete Works for Fortepiano and Violoncello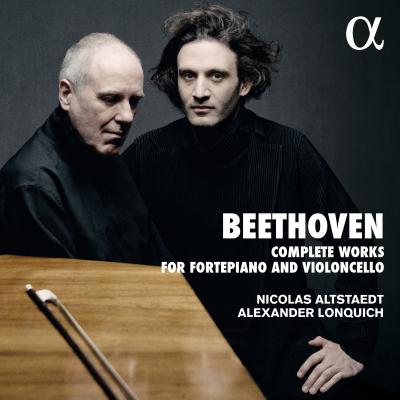 Inlay available for download
Booklet available for download
12 Variations on 'See the Conqu'ring Hero Comes' in G Major, WoO 45

Composer(s)

Ludwig van Beethoven

Artist(s)

Nicolas Altstaedt

Alexander Lonquich

12 Variations on 'See the Conqu'ring Hero Comes' in G Major, WoO 45

$4.60

Sonata No. 1 in F Major, Op. 2, No. 1: I. Adagio sostenuto

Composer(s)

Ludwig van Beethoven

Artist(s)

Nicolas Altstaedt

Alexander Lonquich

Sonata No. 1 in F Major, Op. 2, No. 1: I. Adagio sostenuto

$2.30

Sonata No. 1 in F Major, Op. 2, No. 1: II. Allegro

Composer(s)

Ludwig van Beethoven

Artist(s)

Nicolas Altstaedt

Alexander Lonquich

Sonata No. 1 in F Major, Op. 2, No. 1: II. Allegro

$4.60

Sonata No. 1 in F Major, Op. 2, No. 1: III. Allegro vivace

Composer(s)

Ludwig van Beethoven

Artist(s)

Nicolas Altstaedt

Alexander Lonquich

Sonata No. 1 in F Major, Op. 2, No. 1: III. Allegro vivace

$2.30

Sonata No. 2 in G Minor, Op. 5, No. 2: I. Adagio sostenuto ed espressivo

Composer(s)

Ludwig van Beethoven

Artist(s)

Nicolas Altstaedt

Alexander Lonquich

Sonata No. 2 in G Minor, Op. 5, No. 2: I. Adagio sostenuto ed espressivo

$2.30

Sonata No. 2 in G Minor, Op. 5, No. 2: II. Allegro molto più tosto presto

Composer(s)

Ludwig van Beethoven

Artist(s)

Nicolas Altstaedt

Alexander Lonquich

Sonata No. 2 in G Minor, Op. 5, No. 2: II. Allegro molto più tosto presto

$4.60

Sonata No. 2 in G Minor, Op. 5, No. 2: III. Rondo. Allegro

Composer(s)

Ludwig van Beethoven

Artist(s)

Nicolas Altstaedt

Alexander Lonquich

Sonata No. 2 in G Minor, Op. 5, No. 2: III. Rondo. Allegro

$3.40

12 Variations on ,ein Mädchen oder Weibchen' in F Major, Op. 66

Composer(s)

Ludwig van Beethoven

Artist(s)

Nicolas Altstaedt

Alexander Lonquich

12 Variations on ,ein Mädchen oder Weibchen' in F Major, Op. 66

$3.40

Sonata No. 3 in A Major, Op. 69: I. Allegro, ma non troppo

Composer(s)

Ludwig van Beethoven

Artist(s)

Nicolas Altstaedt

Alexander Lonquich

Sonata No. 3 in A Major, Op. 69: I. Allegro, ma non troppo

$4.60

Sonata No. 3 in A Major, Op. 69: II. Scherzo. Allegro molto - trio

Composer(s)

Ludwig van Beethoven

Artist(s)

Nicolas Altstaedt

Alexander Lonquich

Sonata No. 3 in A Major, Op. 69: II. Scherzo. Allegro molto - trio

$2.30

Sonata No. 3 in A Major, Op. 69: III. Adagio - allegro vivace

Composer(s)

Ludwig van Beethoven

Artist(s)

Nicolas Altstaedt

Alexander Lonquich

Sonata No. 3 in A Major, Op. 69: III. Adagio - allegro vivace

$3.40

7 Variations on ,bei Männern Welche Liebe Fühlen' in E-Flat Major, WoO 46

Composer(s)

Ludwig van Beethoven

Artist(s)

Nicolas Altstaedt

Alexander Lonquich

7 Variations on ,bei Männern Welche Liebe Fühlen' in E-Flat Major, WoO 46

$3.40

Sonata No. 4 in C Major, Op. 102, No. 1: Ia. Andante

Composer(s)

Ludwig van Beethoven

Artist(s)

Nicolas Altstaedt

Alexander Lonquich

Sonata No. 4 in C Major, Op. 102, No. 1: Ia. Andante

$2.30

Sonata No. 4 in C Major, Op. 102, No. 1: Ib. Allegro vivace

Composer(s)

Ludwig van Beethoven

Artist(s)

Nicolas Altstaedt

Alexander Lonquich

Sonata No. 4 in C Major, Op. 102, No. 1: Ib. Allegro vivace

$2.30

Sonata No. 4 in C Major, Op. 102, No. 1: IIa. Adagio

Composer(s)

Ludwig van Beethoven

Artist(s)

Nicolas Altstaedt

Alexander Lonquich

Sonata No. 4 in C Major, Op. 102, No. 1: IIa. Adagio

$2.30

Sonata No. 4 in C Major, Op. 102, No. 1: IIb. Allegro vivace

Composer(s)

Ludwig van Beethoven

Artist(s)

Nicolas Altstaedt

Alexander Lonquich

Sonata No. 4 in C Major, Op. 102, No. 1: IIb. Allegro vivace

$2.30

Sonata No. 5 in D Major, Op. 102, No. 2: I. Allegro con brio

Composer(s)

Ludwig van Beethoven

Artist(s)

Nicolas Altstaedt

Alexander Lonquich

Sonata No. 5 in D Major, Op. 102, No. 2: I. Allegro con brio

$2.30

Sonata No. 5 in D Major, Op. 102, No. 2: II. Adagio con molto sentimento d'affetto

Composer(s)

Ludwig van Beethoven

Artist(s)

Nicolas Altstaedt

Alexander Lonquich

Sonata No. 5 in D Major, Op. 102, No. 2: II. Adagio con molto sentimento d'affetto

$3.40

Sonata No. 5 in D Major, Op. 102, No. 2: III. Allegro

Composer(s)

Ludwig van Beethoven

Artist(s)

Nicolas Altstaedt

Alexander Lonquich

Sonata No. 5 in D Major, Op. 102, No. 2: III. Allegro

$2.30
Total running time: 144 minutes.


Album information

Recorded on gut stringed violoncello and a Graf fortepiano of 1826, this is an authentically performed addition to Beethoven year.

Beethoven's output for fortepiano and violoncello is fascinating because it covers every period of his career, from early to late, with references to Bach in Op. 69 and Op. 102 No. 2 and an especially innovative and amazingly modern musical language. For this complete set, which includes the variations on themes from Handel's Judas Maccabaeus and Mozart's Die Zauberflöte, Nicolas Altstaedt was keen to record on an instrument with gut strings, a Guadagnini from Piacenza dated 1749, and using a Classical bow. Alexander Lonquich, his faithful recital partner – they been inseparable companions since the day Altstaedt replaced his teacher Boris Pergamenschikow for a concert of Beethoven sonatas with Lonquich at the Beethovenfest in Bonn in 2004 – here plays a Graf fortepiano of 1826. The combination of these instruments produces a finely balanced sound and exceptional tone colours.

This recording is Nicolas Altstaedt's first for Alpha as a soloist. Others will follow, in very different genres, for eclecticism is the hallmark of this musician, among the most promising of the new generation.
Related Artists
Reviews