Filters
Brahms: Two Sonatas for Cello and Piano - Martucci: Two Romances for Cello and Piano
Brahms: Two Sonatas for Cello and Piano - Martucci: Two Romances for Cello and Piano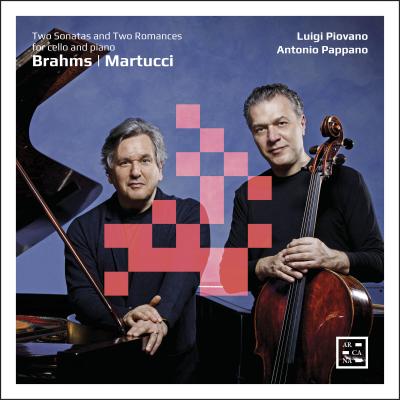 Inlay available for download
Booklet available for download
Romance for Cello and Piano in A Minor, Op. 72 No. 1

Composer(s)

Giuseppe Martucci

Artist(s)

Luigi Piovano

Antonio Pappano

Romance for Cello and Piano in A Minor, Op. 72 No. 1

$2.30

Sonata for Cello and Piano No. 1 in E Minor, Op. 38: I. Allegro non troppo

Composer(s)

Johannes Brahms

Artist(s)

Luigi Piovano

Antonio Pappano

Sonata for Cello and Piano No. 1 in E Minor, Op. 38: I. Allegro non troppo

$4.60

Sonata for Cello and Piano No. 1 in E Minor, Op. 38: II. Allegretto quasi Menuetto - Trio

Composer(s)

Johannes Brahms

Artist(s)

Luigi Piovano

Antonio Pappano

Sonata for Cello and Piano No. 1 in E Minor, Op. 38: II. Allegretto quasi Menuetto - Trio

$2.30

Sonata for Cello and Piano No. 1 in E Minor, Op. 38: III. Allegro

Composer(s)

Johannes Brahms

Artist(s)

Luigi Piovano

Antonio Pappano

Sonata for Cello and Piano No. 1 in E Minor, Op. 38: III. Allegro

$2.30

Romance for Cello and Piano in A Major, Op. 72 No. 2

Composer(s)

Giuseppe Martucci

Artist(s)

Luigi Piovano

Antonio Pappano

Romance for Cello and Piano in A Major, Op. 72 No. 2

$2.30

Sonata for Cello and Piano No. 2 in F Major, Op. 99: I. Allegro vivace

Composer(s)

Johannes Brahms

Artist(s)

Luigi Piovano

Antonio Pappano

Sonata for Cello and Piano No. 2 in F Major, Op. 99: I. Allegro vivace

$3.40

Sonata for Cello and Piano No. 2 in F Major, Op. 99: II. Adagio affettuoso

Composer(s)

Johannes Brahms

Artist(s)

Luigi Piovano

Antonio Pappano

Sonata for Cello and Piano No. 2 in F Major, Op. 99: II. Adagio affettuoso

$2.30

Sonata for Cello and Piano No. 2 in F Major, Op. 99: III. Allegro passionato - Trio

Composer(s)

Johannes Brahms

Artist(s)

Luigi Piovano

Antonio Pappano

Sonata for Cello and Piano No. 2 in F Major, Op. 99: III. Allegro passionato - Trio

$2.30

Sonata for Cello and Piano No. 2 in F Major, Op. 99: IV. Allegro molto

Composer(s)

Johannes Brahms

Artist(s)

Luigi Piovano

Antonio Pappano

Sonata for Cello and Piano No. 2 in F Major, Op. 99: IV. Allegro molto

$2.30
Total running time: 59 minutes.
Album information

With interpretations honed over the years in dozens of performances at leading concert halls such as Rome, Milan, Bologna, Florence and Brussels, Antonio Pappano (piano) and Luigi Piovano (cello) perform Brahms and Martucci.

Even a star of the podium like Antonio Pappano devotes himself with enthusiasm to chamber music: there are more and more concerts and recordings in which he sits at the piano, performing with such eminent artists as Dmitry Sitkovetsky, Diana Damrau, Ian Bostridge and Joyce DiDonato. Now it is his fifteen-year-old friendship and musical collaboration with Luigi Piovano that is reflected in this new and exciting album, in which the two musicians finally record their interpretation of the two Brahms cello sonatas and a gem of late nineteenth-century Italian instrumental music: Giuseppe Martucci's Two Romances op.72.

Two further elements add life and fascination to this new Arcana release: the instruments used (a sumptuous Alessandro Gagliano cello of 1710 and a splendid piano by Steinway & Sons built in New York in 1875) and the atmospheric surroundings in which the recording was made – not a sterile studio, but the magnificent villa, deep in the tranquil and harmonious verdure of the Tuscan countryside, of a great friend of the two musicians, Nicola Bulgari.
Related Artists
Reviews