Filters
Brahms: Violin Concerto & Hungarian Dances
Brahms: Violin Concerto & Hungarian Dances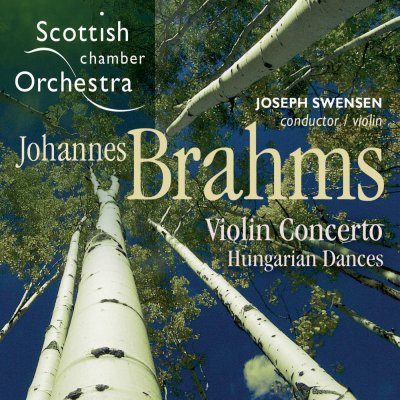 Inlay available for download
Booklet available for download
Violin Concerto in D major Op. 77 - I. Allegro non troppo

Composer(s)

Johannes Brahms

Artist(s)

Joseph Swensen

Scottish Chamber Orchestra

Violin Concerto in D major Op. 77 - I. Allegro non troppo

$8.00

Violin Concerto in D major Op. 77 - II. Adagio

Composer(s)

Johannes Brahms

Artist(s)

Joseph Swensen

Scottish Chamber Orchestra

Violin Concerto in D major Op. 77 - II. Adagio

$3.40

Violin Concerto in D major Op. 77 - III. Allegro giocoso, ma non troppo vivace

Composer(s)

Johannes Brahms

Artist(s)

Joseph Swensen

Scottish Chamber Orchestra

Violin Concerto in D major Op. 77 - III. Allegro giocoso, ma non troppo vivace

$3.40

21 Hungarian Dances, WoO. 1 (version for orchestra) - No. 1 in G minor (orch. Brahms)

Composer(s)

Johannes Brahms

Artist(s)

Joseph Swensen

Scottish Chamber Orchestra

21 Hungarian Dances, WoO. 1 (version for orchestra) - No. 1 in G minor (orch. Brahms)

$2.30

21 Hungarian Dances, WoO. 1 (version for orchestra) - No. 8 in A minor (orch. Gal)

Composer(s)

Johannes Brahms

Artist(s)

Joseph Swensen

Scottish Chamber Orchestra

21 Hungarian Dances, WoO. 1 (version for orchestra) - No. 8 in A minor (orch. Gal)

$2.30

21 Hungarian Dances, WoO. 1 (version for orchestra) - No. 19 in B minor (orch. Dvorak)

Composer(s)

Johannes Brahms

Artist(s)

Joseph Swensen

Scottish Chamber Orchestra

21 Hungarian Dances, WoO. 1 (version for orchestra) - No. 19 in B minor (orch. Dvorak)

$2.30

21 Hungarian Dances, WoO. 1 (version for orchestra) - No. 2 in D minor (orch. Hallen)

Composer(s)

Johannes Brahms

Artist(s)

Joseph Swensen

Scottish Chamber Orchestra

21 Hungarian Dances, WoO. 1 (version for orchestra) - No. 2 in D minor (orch. Hallen)

$2.30

21 Hungarian Dances, WoO. 1 (version for orchestra) - No. 18 in D major (orch. Dvorak)

Composer(s)

Johannes Brahms

Artist(s)

Joseph Swensen

Scottish Chamber Orchestra

21 Hungarian Dances, WoO. 1 (version for orchestra) - No. 18 in D major (orch. Dvorak)

$2.30

21 Hungarian Dances, WoO. 1 (version for orchestra) - No. 9 in E minor (orch. Gal)

Composer(s)

Johannes Brahms

Artist(s)

Joseph Swensen

Scottish Chamber Orchestra

21 Hungarian Dances, WoO. 1 (version for orchestra) - No. 9 in E minor (orch. Gal)

$2.30

21 Hungarian Dances, WoO. 1 (version for orchestra) - No. 21 in E minor (orch. Dvorak)

Composer(s)

Johannes Brahms

Artist(s)

Joseph Swensen

Scottish Chamber Orchestra

21 Hungarian Dances, WoO. 1 (version for orchestra) - No. 21 in E minor (orch. Dvorak)

$2.30

21 Hungarian Dances, WoO. 1 (version for orchestra) - No. 20 in E minor (orch. Dvorak)

Composer(s)

Johannes Brahms

Artist(s)

Joseph Swensen

Scottish Chamber Orchestra

21 Hungarian Dances, WoO. 1 (version for orchestra) - No. 20 in E minor (orch. Dvorak)

$2.30

21 Hungarian Dances, WoO. 1 (version for orchestra) - No. 3 in F major (orch. Brahms)

Composer(s)

Johannes Brahms

Artist(s)

Joseph Swensen

Scottish Chamber Orchestra

21 Hungarian Dances, WoO. 1 (version for orchestra) - No. 3 in F major (orch. Brahms)

$2.30

21 Hungarian Dances, WoO. 1 (version for orchestra) - No. 6 in D major (orch. Schmeling)

Composer(s)

Johannes Brahms

Artist(s)

Joseph Swensen

Scottish Chamber Orchestra

21 Hungarian Dances, WoO. 1 (version for orchestra) - No. 6 in D major (orch. Schmeling)

$2.30

21 Hungarian Dances, WoO. 1 (version for orchestra) - No. 7 in A major (orch. Schmeling)

Composer(s)

Johannes Brahms

Artist(s)

Joseph Swensen

Scottish Chamber Orchestra

21 Hungarian Dances, WoO. 1 (version for orchestra) - No. 7 in A major (orch. Schmeling)

$2.30

21 Hungarian Dances, WoO. 1 (version for orchestra) - No. 10 in F major (orch. Brahms)

Composer(s)

Johannes Brahms

Artist(s)

Joseph Swensen

Scottish Chamber Orchestra

21 Hungarian Dances, WoO. 1 (version for orchestra) - No. 10 in F major (orch. Brahms)

$2.30

21 Hungarian Dances, WoO. 1 (version for orchestra) - No. 17 in F-sharp minor (orch. Dvorak)

Composer(s)

Johannes Brahms

Artist(s)

Joseph Swensen

Scottish Chamber Orchestra

21 Hungarian Dances, WoO. 1 (version for orchestra) - No. 17 in F-sharp minor (orch. Dvorak)

$2.30

21 Hungarian Dances, WoO. 1 (version for orchestra) - No. 5 in G minor (orch. Schmeling)

Composer(s)

Johannes Brahms

Artist(s)

Joseph Swensen

Scottish Chamber Orchestra

21 Hungarian Dances, WoO. 1 (version for orchestra) - No. 5 in G minor (orch. Schmeling)

$2.30
Total running time: 72 minutes.

Album information

Another triumphant success for director Joseph Swensen and the Scottish Chamber Orchestra.

The beguiling lyrical melodies of the Violin Concerto belie its formidable technical demands; Swensen proves the master of Brahms' frequent use of multiple stopping, broken chords, rapid scale passages and shifting rhythms. Playing a 1715 Stradivarius Swensen showcases honeyed tone colours with effortless bravura executing Joachim's dazzling Cadenza with aplomb. 

Swensen's authoritative command produces well-characterised and energetic performances in the selection of Hungarian Dances orchestrated by Dvorak, Schmeling and Brahms himself, among others. Guided by Swensen the SCO give dynamic, technically assured and intimate readings overflowing with the subtle touches and flourishes.  

Dedicated to Donald and Louise MacDonald.
Related Artists
Reviews