Filters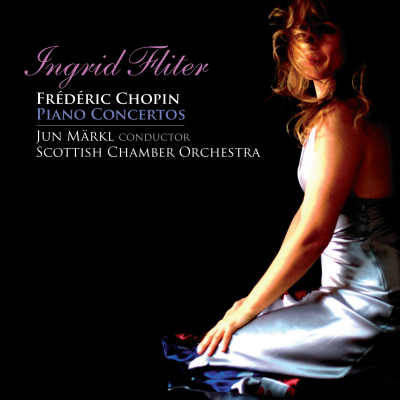 Inlay available for download
Booklet available for download
Piano Concerto No. 1 in E minor, Opus 11 - I. Allegro maestoso

Composer(s)

Frederic Chopin

Artist(s)

Jun Märkl

Ingrid Fliter

Scottish Chamber Orchestra

Piano Concerto No. 1 in E minor, Opus 11 - I. Allegro maestoso

$7.00

Piano Concerto No. 1 in E minor, Opus 11 - II. Romanze - Larghetto

Composer(s)

Frederic Chopin

Artist(s)

Jun Märkl

Ingrid Fliter

Scottish Chamber Orchestra

Piano Concerto No. 1 in E minor, Opus 11 - II. Romanze - Larghetto

$3.40

Piano Concerto No. 1 in E minor, Opus 11 - III. Rondo - Vivace

Composer(s)

Frederic Chopin

Artist(s)

Jun Märkl

Ingrid Fliter

Scottish Chamber Orchestra

Piano Concerto No. 1 in E minor, Opus 11 - III. Rondo - Vivace

$3.40

Piano Concerto No. 2 in F minor, Opus 21 - I. Allegro maestoso

Composer(s)

Frederic Chopin

Artist(s)

Jun Märkl

Ingrid Fliter

Scottish Chamber Orchestra

Piano Concerto No. 2 in F minor, Opus 21 - I. Allegro maestoso

$5.75

Piano Concerto No. 2 in F minor, Opus 21 - II. Larghetto

Composer(s)

Frederic Chopin

Artist(s)

Jun Märkl

Ingrid Fliter

Scottish Chamber Orchestra

Piano Concerto No. 2 in F minor, Opus 21 - II. Larghetto

$3.40

Piano Concerto No. 2 in F minor, Opus 21 - III. Allegro Vivace

Composer(s)

Frederic Chopin

Artist(s)

Jun Märkl

Ingrid Fliter

Scottish Chamber Orchestra

Piano Concerto No. 2 in F minor, Opus 21 - III. Allegro Vivace

$3.40
Total running time: 73 minutes.



Album information

Award-winning pianist Ingrid Fliter makes her Linn debut with a distinctive performance of Chopin's notoriously difficult piano concertos, featuring the Scottish Chamber Orchestra conducted by Jun Märkl.

Since winning the silver medal at the 2000 Frederic Chopin Competition in Warsaw, Fliter has built a reputation as a first-rate Chopin interpreter. Fliter has previously recorded two all-Chopin discs; her interpretation of the complete Chopin Waltzes received several five star reviews and was named as The Telegraph's 'CD of the Week' and Classic FM Magazine's 'Editors Choice'.

Chopin's Piano Concerto No. 1 is a thoughtfully scored composition that allows the piano to shine. The Scottish Chamber Orchestra's beautifully delicate playing perfectly highlights Fliter's authoritative, yet expressive performance. 

Fliter carefully and skilfully showcases the range of tones in Chopin's Second Piano Concerto, from the dramatic introductory chords at the opening of the first movement to the sweetly lyrical second movement where the Scottish Chamber Orchestra's woodwinds vie for centre stage. Fliter is a breathtaking performer whose performance of Chopin's commanding chords and lightening speed runs are effortless.

2014 was the Scottish Chamber Orchestra's fortieth anniversary year; Chopin: Piano Concertos marked its twenty first recording with Linn.
Related Artists
Reviews