Filters
Chrysalis: Cello works by Haydn, Couperin, Monn
Chrysalis: Cello works by Haydn, Couperin, Monn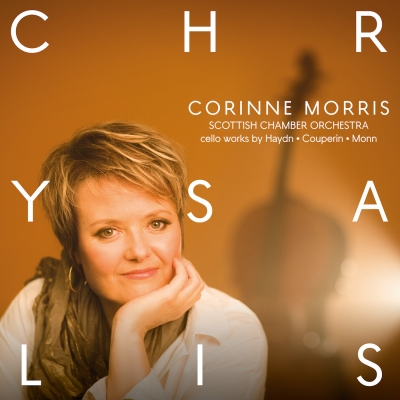 Inlay available for download
Booklet available for download
Pieces en Concert: I. Prelude

Composer(s)

Francois Couperin

Artist(s)

Corinne Morris

Scottish Chamber Orchestra

Pieces en Concert: I. Prelude

$2.30

Pieces en Concert: II. Sicilienne

Composer(s)

Francois Couperin

Artist(s)

Corinne Morris

Scottish Chamber Orchestra

Pieces en Concert: II. Sicilienne

$2.30

Pieces en Concert: III. La Tromba

Composer(s)

Francois Couperin

Artist(s)

Corinne Morris

Scottish Chamber Orchestra

Pieces en Concert: III. La Tromba

$2.30

Pieces en Concert: IV. Plainte

Composer(s)

Francois Couperin

Artist(s)

Corinne Morris

Scottish Chamber Orchestra

Pieces en Concert: IV. Plainte

$2.30

Pieces en Concert: V. Air de Diable

Composer(s)

Francois Couperin

Artist(s)

Corinne Morris

Scottish Chamber Orchestra

Pieces en Concert: V. Air de Diable

$2.30

Cello Concerto in G minor: I. Allegro

Composer(s)

Georg Matthias Monn

Artist(s)

Corinne Morris

Scottish Chamber Orchestra

Cello Concerto in G minor: I. Allegro

$2.30

Cello Concerto in G minor: II. Adagio

Composer(s)

Georg Matthias Monn

Artist(s)

Corinne Morris

Scottish Chamber Orchestra

Cello Concerto in G minor: II. Adagio

$3.40

Cello Concerto in G minor: III. Allegro non tanto

Composer(s)

Georg Matthias Monn

Artist(s)

Corinne Morris

Scottish Chamber Orchestra

Cello Concerto in G minor: III. Allegro non tanto

$2.30

Cello Concerto No. 1 in C major, Hob. VIIb:1: I. Moderato

Artist(s)

Corinne Morris

Scottish Chamber Orchestra

Cello Concerto No. 1 in C major, Hob. VIIb:1: I. Moderato

$3.40

Cello Concerto No. 1 in C major, Hob. VIIb:1: II. Adagio

Artist(s)

Corinne Morris

Scottish Chamber Orchestra

Cello Concerto No. 1 in C major, Hob. VIIb:1: II. Adagio

$3.40

Cello Concerto No. 1 in C major, Hob. VIIb:1: III. Allegro molto

Artist(s)

Corinne Morris

Scottish Chamber Orchestra

Cello Concerto No. 1 in C major, Hob. VIIb:1: III. Allegro molto

$2.30
Total running time: 58 minutes.

Album information

Corinne Morris's debut concerto recording is a landmark in a career shaped by extraordinary talent and remarkable determination.

This evocatively titled recording reflects Corinne's inspirational journey through a career-halting injury and back out the other side.

An invitation to perform with the renowned Scottish Chamber Orchestra in summer 2016 revealed an instant rapport; Corinne's recording partner was secured. Chrysalis marks Corinne's return to form, as she takes centre stage in concertos by Monn and Haydn plus Couperin's Pièces en Concert.

Corinne returns to Monn's original notes for her performance of the concerto made famous by Jacqueline Du Pré. In staying true to the composer's intentions Corinne creates a purposeful and stylistic journey towards the Haydn Concerto. Overcoming the technical challenges presented by the Haydn concerto is of particular significance for the indomitable cellist. The personalized cadenzas are a fitting representation of her inspirational return to her virtuosic best.
Related Artists
Reviews