Filters
Artist
Orchestre Victor Hugo
Jean-François Verdier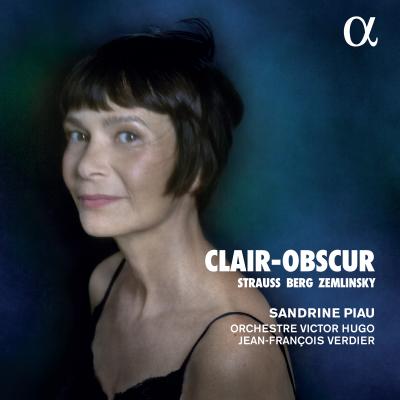 Inlay available for download
Booklet available for download
Waldgespräch

Composer(s)

Alexander von Zemlinsky

Artist(s)

Jean-François Verdier

Sandrine Piau

Orchestre Victor Hugo

Waldgespräch

$3.40

Morgen!, Op. 27 No. 4

Composer(s)

Richard Strauss

Artist(s)

Jean-François Verdier

Sandrine Piau

Orchestre Victor Hugo

Morgen!, Op. 27 No. 4

$2.30

Meinem Kinde, Op. 37 No. 3

Composer(s)

Richard Strauss

Artist(s)

Jean-François Verdier

Sandrine Piau

Orchestre Victor Hugo

Meinem Kinde, Op. 37 No. 3

$2.30

Sieben Frühe Lieder: I. Nacht

Artist(s)

Jean-François Verdier

Sandrine Piau

Orchestre Victor Hugo

Sieben Frühe Lieder: I. Nacht

$2.30

Sieben Frühe Lieder: II. Schilflied

Artist(s)

Jean-François Verdier

Sandrine Piau

Orchestre Victor Hugo

Sieben Frühe Lieder: II. Schilflied

$2.30

Sieben Frühe Lieder: III. Die Nachtigall

Artist(s)

Jean-François Verdier

Sandrine Piau

Orchestre Victor Hugo

Sieben Frühe Lieder: III. Die Nachtigall

$2.30

Sieben Frühe Lieder: IV. Traumgekrönt

Artist(s)

Jean-François Verdier

Sandrine Piau

Orchestre Victor Hugo

Sieben Frühe Lieder: IV. Traumgekrönt

$2.30

Sieben Frühe Lieder: V. Im Zimmer

Artist(s)

Jean-François Verdier

Sandrine Piau

Orchestre Victor Hugo

Sieben Frühe Lieder: V. Im Zimmer

$2.30

Sieben Frühe Lieder: VI. Liebesode

Artist(s)

Jean-François Verdier

Sandrine Piau

Orchestre Victor Hugo

Sieben Frühe Lieder: VI. Liebesode

$2.30

Sieben Frühe Lieder: VII. Sommertage

Artist(s)

Jean-François Verdier

Sandrine Piau

Orchestre Victor Hugo

Sieben Frühe Lieder: VII. Sommertage

$2.30

Vier Letzte Lieder: I. Frühling

Composer(s)

Richard Strauss

Artist(s)

Jean-François Verdier

Sandrine Piau

Orchestre Victor Hugo

Vier Letzte Lieder: I. Frühling

$2.30

Vier Letzte Lieder: II. September

Composer(s)

Richard Strauss

Artist(s)

Jean-François Verdier

Sandrine Piau

Orchestre Victor Hugo

Vier Letzte Lieder: II. September

$2.30

Vier Letzte Lieder: III. Beim Schlafengehen

Composer(s)

Richard Strauss

Artist(s)

Jean-François Verdier

Sandrine Piau

Orchestre Victor Hugo

Vier Letzte Lieder: III. Beim Schlafengehen

$2.30

Vier Letzte Lieder: IV. Im Abendrot

Composer(s)

Richard Strauss

Artist(s)

Jean-François Verdier

Sandrine Piau

Orchestre Victor Hugo

Vier Letzte Lieder: IV. Im Abendrot

$2.30

Malven

Composer(s)

Richard Strauss

Artist(s)

Jean-François Verdier

Sandrine Piau

Orchestre Victor Hugo

Malven

$2.30
Total running time: 48 minutes.








Album information

Sandrine Piau follows up her Gramophone Award-winning recital, Si j'ai aimé, with an album of Lieder by three composers who are particularly close to her heart: Strauss, Berg and Zemlinsky.

'The dreamer! That double of our existence, that chiaroscuro of the thinking being', wrote Gaston Bachelard in 1961. 'The old is dying, the new cannot be born, and in that chiaroscuro, monsters appear', adds Antonio Gramsci. Sandrine Piau has chosen to use these two quotations as an epigraph to her new recording: 'My family and friends know about this obsession that never leaves me completely. The antagonism between light and darkness. The chiaroscuro, the space in between . . .'

This programme, recorded with the Orchestre Victor Hugo under its conductor Jean-François Verdier, who is also principal clarinettist of the Paris Opéra, travels between the chilly Rhenish forest of Waldgespräch, a ballad by Zemlinsky composed for soprano and small ensemble in 1895, the night of the first of Berg's Seven Early Songs (1905-08), and the sunlight of Richard Strauss's Morgen, which are followed by the Four Last Songs, composed in 1948, the first two of which, Frühling and September (evoking spring and autumn respectively) are also, as Sandrine Piau concludes, 'the seasons of life'.
Related Artists
Reviews