Filters
Dvořák: Piano Quartets Op. 23 & 87
Dvořák: Piano Quartets Op. 23 & 87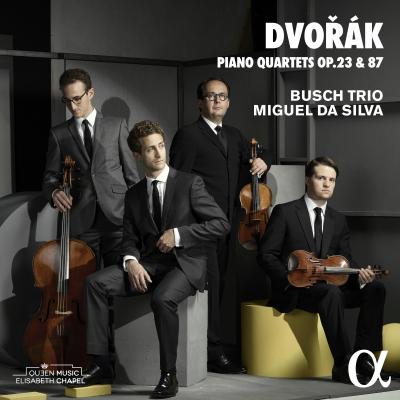 Inlay available for download
Booklet available for download
Piano Quartet No. 1 in D Major, Op. 23, B. 53: I. Allegro moderato

Composer(s)

Antonín Dvořák

Artist(s)

Miguel Da Silva

Busch Trio

Piano Quartet No. 1 in D Major, Op. 23, B. 53: I. Allegro moderato

$4.60

Piano Quartet No. 1 in D Major, Op. 23, B. 53: II. Andantino con variazioni

Composer(s)

Antonín Dvořák

Artist(s)

Miguel Da Silva

Busch Trio

Piano Quartet No. 1 in D Major, Op. 23, B. 53: II. Andantino con variazioni

$4.60

Piano Quartet No. 1 in D Major, Op. 23, B. 53: III. Finale. Allegretto scherzando

Composer(s)

Antonín Dvořák

Artist(s)

Miguel Da Silva

Busch Trio

Piano Quartet No. 1 in D Major, Op. 23, B. 53: III. Finale. Allegretto scherzando

$3.40

Piano Quartet No. 2 in E-Flat Major, Op. 87, B. 162: I. Allegro con fuoco

Composer(s)

Antonín Dvořák

Artist(s)

Miguel Da Silva

Busch Trio

Piano Quartet No. 2 in E-Flat Major, Op. 87, B. 162: I. Allegro con fuoco

$3.40

Piano Quartet No. 2 in E-Flat Major, Op. 87, B. 162: II. Lento

Composer(s)

Antonín Dvořák

Artist(s)

Miguel Da Silva

Busch Trio

Piano Quartet No. 2 in E-Flat Major, Op. 87, B. 162: II. Lento

$4.60

Piano Quartet No. 2 in E-Flat Major, Op. 87, B. 162: III. Allegro moderato, grazioso

Composer(s)

Antonín Dvořák

Artist(s)

Miguel Da Silva

Busch Trio

Piano Quartet No. 2 in E-Flat Major, Op. 87, B. 162: III. Allegro moderato, grazioso

$3.40

Piano Quartet No. 2 in E-Flat Major, Op. 87, B. 162: IV. Finale. Allegro ma non troppo

Composer(s)

Antonín Dvořák

Artist(s)

Miguel Da Silva

Busch Trio

Piano Quartet No. 2 in E-Flat Major, Op. 87, B. 162: IV. Finale. Allegro ma non troppo

$3.40
Total running time: 71 minutes.
Album information

Following a first recording devoted to Dvořák's Dumky Trio and Trio no.3, Omri Epstein, Mathieu van Bellen and Ori Epstein are joined by one of their former teachers at the Queen Elisabeth Music Chapel, the violist Miguel da Silva, a founder member of the famous Quatuor Ysaÿe.

Together they pursue this series of the Czech composer's complete chamber music with piano: there is an obvious close rapport between the musicians, who share with us their passion for this repertory and their pleasure in playing together. The Piano Quartet no.1 in D major op.23 of 1875 was one of the first works in which the young Dvořák, inspired by Schubert, laid the foundations of the compositional style which he would conserve for the rest of his life.

Fourteen years later, he composed the Piano Quartet no.2 in E flat major op.87, completed under pressure from his publisher. This work, influenced by Brahms, is one of the masterpieces of his maturity. Two further recordings will complete this quadriptych of the Czech composer's keyboard trios, quartets and quintets.
Related Artists
Reviews