Filters
Schubert: Trio Opus 99 & Forellenquintett
Schubert: Trio Opus 99 & Forellenquintett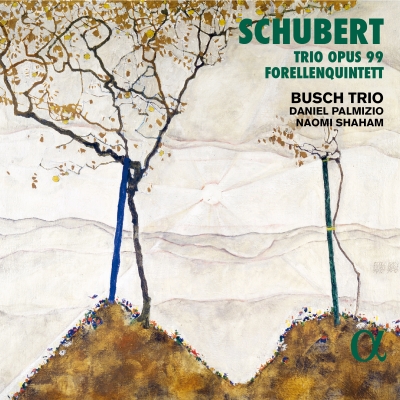 Inlay available for download
Booklet available for download
Piano Trio in B-Flat Major, Op. 99, D. 898: I. Allegro moderato

Composer(s)

Franz Schubert

Piano Trio in B-Flat Major, Op. 99, D. 898: I. Allegro moderato

$4.60

Piano Trio in B-Flat Major, Op. 99, D. 898: II. Andante un poco mosso

Composer(s)

Franz Schubert

Piano Trio in B-Flat Major, Op. 99, D. 898: II. Andante un poco mosso

$3.40

Piano Trio in B-Flat Major, Op. 99, D. 898: III. Scherzo. Allegro - Trio

Composer(s)

Franz Schubert

Piano Trio in B-Flat Major, Op. 99, D. 898: III. Scherzo. Allegro - Trio

$2.30

Piano Trio in B-Flat Major, Op. 99, D. 898: IV. Rondo. Allegro vivace

Composer(s)

Franz Schubert

Piano Trio in B-Flat Major, Op. 99, D. 898: IV. Rondo. Allegro vivace

$3.40

Piano Quintet in A Major, Op. 114, D. 667 "Die Forelle": I. Allegro vivace

Composer(s)

Franz Schubert

Artist(s)

Daniel Palmizio

Busch Trio

Naomi Shaham

Piano Quintet in A Major, Op. 114, D. 667 "Die Forelle": I. Allegro vivace

$4.60

Piano Quintet in A Major, Op. 114, D. 667 "Die Forelle": II. Andante

Composer(s)

Franz Schubert

Artist(s)

Daniel Palmizio

Busch Trio

Naomi Shaham

Piano Quintet in A Major, Op. 114, D. 667 "Die Forelle": II. Andante

$2.30

Piano Quintet in A Major, Op. 114, D. 667 "Die Forelle": III. Scherzo. Presto

Composer(s)

Franz Schubert

Artist(s)

Daniel Palmizio

Busch Trio

Naomi Shaham

Piano Quintet in A Major, Op. 114, D. 667 "Die Forelle": III. Scherzo. Presto

$2.30

Piano Quintet in A Major, Op. 114, D. 667 "Die Forelle": IV. Tema con variazione. Andantino

Composer(s)

Franz Schubert

Artist(s)

Daniel Palmizio

Busch Trio

Naomi Shaham

Piano Quintet in A Major, Op. 114, D. 667 "Die Forelle": IV. Tema con variazione. Andantino

$3.40

Piano Quintet in A Major, Op. 114, D. 667 "Die Forelle": V. Finale. Allegro giusto

Composer(s)

Franz Schubert

Artist(s)

Daniel Palmizio

Busch Trio

Naomi Shaham

Piano Quintet in A Major, Op. 114, D. 667 "Die Forelle": V. Finale. Allegro giusto

$3.40
Total running time: 80 minutes.
Album information

The Busch Trio continues its Schubertian explorations in two works brimming with melodic invention and nostalgia: the Trio in B flat and the famous 'Trout' Quintet in A major. 

But to those who see Schubert as the embodiment of the gemütlich (cosy) face of Vienna, his output, and especially his chamber music, responds with a spirituality, an intensity and sometimes even a fury that are far removed from the atmosphere of the 'Schubertiad'.
Related Artists
Reviews