Filters
Dvořák: Piano Quintets & Bagatelles
Dvořák: Piano Quintets & Bagatelles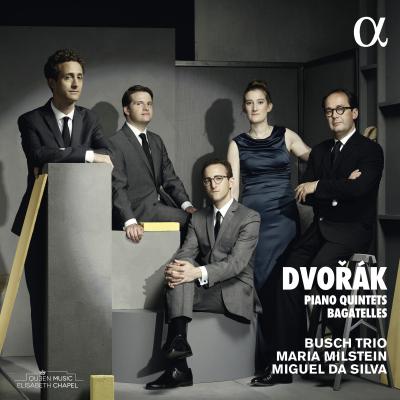 Inlay available for download
Booklet available for download
Piano Quintet No. 1 in A Major, Op. 5: I. Allegro ma non troppo

Composer(s)

Antonín Dvořák

Artist(s)

Maria Milstein

Busch Trio

Miguel Da Silva

Piano Quintet No. 1 in A Major, Op. 5: I. Allegro ma non troppo

$3.40

Piano Quintet No. 1 in A Major, Op. 5: II. Andante sostenuto

Composer(s)

Antonín Dvořák

Artist(s)

Maria Milstein

Busch Trio

Miguel Da Silva

Piano Quintet No. 1 in A Major, Op. 5: II. Andante sostenuto

$3.40

Piano Quintet No. 1 in A Major, Op. 5: III. Finale (Allegro con brio)

Composer(s)

Antonín Dvořák

Artist(s)

Maria Milstein

Busch Trio

Miguel Da Silva

Piano Quintet No. 1 in A Major, Op. 5: III. Finale (Allegro con brio)

$3.40

Bagatelles, Op. 47: I. Allegro scherzando

Composer(s)

Antonín Dvořák

Artist(s)

Maria Milstein

Busch Trio

Miguel Da Silva

Bagatelles, Op. 47: I. Allegro scherzando

$2.30

Bagatelles, Op. 47: II. Tempo di minuetto - Grazioso

Composer(s)

Antonín Dvořák

Artist(s)

Maria Milstein

Busch Trio

Miguel Da Silva

Bagatelles, Op. 47: II. Tempo di minuetto - Grazioso

$2.30

Bagatelles, Op. 47: III. Allegretto scherzando

Composer(s)

Antonín Dvořák

Artist(s)

Maria Milstein

Busch Trio

Miguel Da Silva

Bagatelles, Op. 47: III. Allegretto scherzando

$2.30

Bagatelles, Op. 47: IV. Canon (Andante con moto)

Composer(s)

Antonín Dvořák

Artist(s)

Maria Milstein

Busch Trio

Miguel Da Silva

Bagatelles, Op. 47: IV. Canon (Andante con moto)

$2.30

Bagatelles, Op. 47: V. Poco allegro

Composer(s)

Antonín Dvořák

Artist(s)

Maria Milstein

Busch Trio

Miguel Da Silva

Bagatelles, Op. 47: V. Poco allegro

$2.30

Piano Quintet No. 2 in A Major, Op. 81: I. Allegro ma non tanto

Composer(s)

Antonín Dvořák

Artist(s)

Maria Milstein

Busch Trio

Miguel Da Silva

Piano Quintet No. 2 in A Major, Op. 81: I. Allegro ma non tanto

$4.60

Piano Quintet No. 2 in A Major, Op. 81: II. Dumka (Andante con moto)

Composer(s)

Antonín Dvořák

Artist(s)

Maria Milstein

Busch Trio

Miguel Da Silva

Piano Quintet No. 2 in A Major, Op. 81: II. Dumka (Andante con moto)

$4.60

Piano Quintet No. 2 in A Major, Op. 81: III. Scherzo - Furiant (Molto vivace poco tranquillo)

Composer(s)

Antonín Dvořák

Artist(s)

Maria Milstein

Busch Trio

Miguel Da Silva

Piano Quintet No. 2 in A Major, Op. 81: III. Scherzo - Furiant (Molto vivace poco tranquillo)

$2.30

Piano Quintet No. 2 in A Major, Op. 81: IV. Finale (Allegro)

Composer(s)

Antonín Dvořák

Artist(s)

Maria Milstein

Busch Trio

Miguel Da Silva

Piano Quintet No. 2 in A Major, Op. 81: IV. Finale (Allegro)

$3.40
Total running time: 80 minutes.
Album information

Omri Epstein, Mathieu van Bellen and Ori Epstein are joined by one of their teachers at the Queen Elisabeth Music Chapel, the violist Miguel da Silva (founder member of the famous Quatuor Ysaÿe) and the violinist Maria Milstein, who was also an artist in residence at the Music Chapel from 2011 to 2014.

Together they continue this recording of the Czech composer's complete chamber music with keyboard, this time in the two Piano Quintets and the Bagatelles. There is an obvious close rapport between these musicians, who share with us their passion for this repertory and their enjoyment of playing together.

A gap of fifteen years separates Dvořák's two Piano Quintets, which have few features in common except a shared home key: the First marks the debut of a youthful composer, while the Second shows him at the peak of his art. The Bagatelles, originally scored for two violins, cello and harmonium, are among his best known short pieces. 
Related Artists
Reviews