Filters
Dvořák: Piano Trios Op. 21 & 26
Dvořák: Piano Trios Op. 21 & 26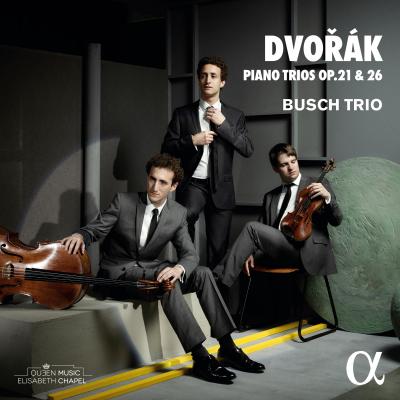 Inlay available for download
Booklet available for download
Piano Trio No. 1 in B-flat major, op. 21: I. Allegro molto

Composer(s)

Antonín Dvořák

Piano Trio No. 1 in B-flat major, op. 21: I. Allegro molto

$4.60

Piano Trio No. 1 in B-flat major, op. 21: II. Adagio molto e mesto

Composer(s)

Antonín Dvořák

Piano Trio No. 1 in B-flat major, op. 21: II. Adagio molto e mesto

$3.40

Piano Trio No. 1 in B-flat major, op. 21: III. Allegretto scherzando

Composer(s)

Antonín Dvořák

Piano Trio No. 1 in B-flat major, op. 21: III. Allegretto scherzando

$2.30

Piano Trio No. 1 in B-flat major, op. 21: IV. Finale. Allegro vivace

Composer(s)

Antonín Dvořák

Piano Trio No. 1 in B-flat major, op. 21: IV. Finale. Allegro vivace

$2.30

Piano Trio No. 2 in G minor, op. 26: I. Allegro moderato

Composer(s)

Antonín Dvořák

Piano Trio No. 2 in G minor, op. 26: I. Allegro moderato

$4.60

Piano Trio No. 2 in G minor, op. 26: II. Largo

Composer(s)

Antonín Dvořák

Piano Trio No. 2 in G minor, op. 26: II. Largo

$3.40

Piano Trio No. 2 in G minor, op. 26: III. Scherzo: Presto - Trio: Poco meno mosso

Composer(s)

Antonín Dvořák

Piano Trio No. 2 in G minor, op. 26: III. Scherzo: Presto - Trio: Poco meno mosso

$2.30

Piano Trio No. 2 in G minor, op. 26: IV. Finale. Allegro non tanto

Composer(s)

Antonín Dvořák

Piano Trio No. 2 in G minor, op. 26: IV. Finale. Allegro non tanto

$2.30
Total running time: 66 minutes.

Album information

After their three recordings dedicated to Dvořák's Piano Trios No. 3 and No. 4 (the 'Dumky'), as well as his First and Second Piano Quartets, the Piano Quintets and the Bagatelles, the Busch Trio conclude their complete cycle of the Czech composer's chamber music with piano.

In recording Dvořák's first two piano trios the bond of sympathy between the artists becomes evident as they communicate both their passion for this repertoire and their pleasure in making music together.

The Trio in B flat major – the first that has survived – was composed in the spring of 1875, during a period when Dvořák was conceiving and consolidating a more conventional sense of musical form and style. The works of this remarkably prolific year show a distinct crystallisation of Dvořák's mature melodic style.

When the composer began work on his Trio in G minor, in January 1876, he was exhausted after the completion of his opera Vanda, and overcome with grief for the death of his daughter Josefa. He would certainly have known how, back in 1855, his elder colleague Smetana had turned to the genre of the piano trio in similar circumstances, to express his sorrow at the death of his own daughter. This recording completes this four-part edition of Dvořák's piano trios, quartets and quintets.
Related Artists
Reviews