Filters
Dvořák: Violin Concerto in A minor
Dvořák: Violin Concerto in A minor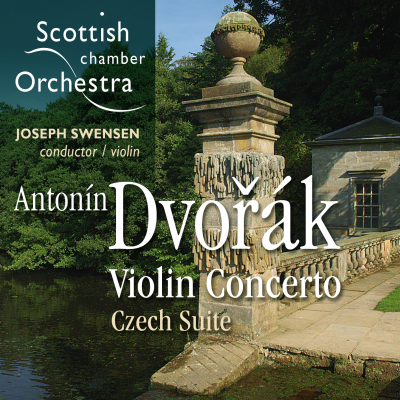 Booklet available for download
Violin Concerto in A minor, Op. 53 – I. Allegro ma non troppo

Composer(s)

Antonin Dvorak

Artist(s)

Joseph Swensen

Joseph Swensen - violin

Violin Concerto in A minor, Op. 53 – I. Allegro ma non troppo

$3.40

Violin Concerto in A minor, Op. 53 – II. Adagio, ma non troppo

Composer(s)

Antonin Dvorak

Artist(s)

Joseph Swensen

Joseph Swensen - violin

Violin Concerto in A minor, Op. 53 – II. Adagio, ma non troppo

$3.40

Violin Concerto in A minor, Op. 53 – III. Finale: Allegro giocoso, ma non troppo

Composer(s)

Antonin Dvorak

Artist(s)

Joseph Swensen

Joseph Swensen - violin

Violin Concerto in A minor, Op. 53 – III. Finale: Allegro giocoso, ma non troppo

$3.40

Czech Suite, Op. 39 – I. Preludium (Pastorale)

Composer(s)

Antonin Dvorak

Czech Suite, Op. 39 – I. Preludium (Pastorale)

$2.30

Czech Suite, Op. 39 – II. Polka

Composer(s)

Antonin Dvorak

Czech Suite, Op. 39 – II. Polka

$2.30

Czech Suite, Op. 39 – III. Sousedská (Minuetto)

Composer(s)

Antonin Dvorak

Czech Suite, Op. 39 – III. Sousedská (Minuetto)

$2.30

Czech Suite, Op. 39 – IV. Romance (Romanza)

Composer(s)

Antonin Dvorak

Czech Suite, Op. 39 – IV. Romance (Romanza)

$2.30

Czech Suite, Op. 39 – V. Finale (Furiant)

Composer(s)

Antonin Dvorak

Czech Suite, Op. 39 – V. Finale (Furiant)

$2.30

Notturno for string orchestra in B major, Op. 40

Composer(s)

Antonin Dvorak

Notturno for string orchestra in B major, Op. 40

$3.40

Two Waltzes, Op. 54 – No. 1 in A major (arranged for string orchestra)

Composer(s)

Antonin Dvorak

Two Waltzes, Op. 54 – No. 1 in A major (arranged for string orchestra)

$2.30
Total running time: 63 minutes.
Album information

Having delighted us with his performances of the Brahms, Mendelssohn and Prokofiev Violin Concertos, Swensen now turns his hand to the Czech master Dvořák. Named a 'Disc of the Month' by both Classic FM and BBC Music Magazine. 

Acclaimed conductor and violinst Joseph Swensen again combines his considerable talents in this, his fifth collaboration with the Scottish Chamber Orchestra. Joseph Swensen was principal conductor of the Scottish Chamber Orchestra from 1996-2005 at which point he became the orchestra's Conductor Emeritus. Swensen and the SCO have released five recordings together through the Orchestra's partnership with Linn including music by Sibelius, Brahms, Mendelssohn and Prokofiev.

From the opening 'Preludium' to the rustic qualities of the 'Polka' and the exhilarating, symphonically developed 'Finale' the five-movement Czech Suite is a delightful collection of movements. Even by Dvořák's standards, his Violin Concerto is a richly lyrical work; the first movement begins boldly with a forceful unison statement from the orchestra answered by a bitter-sweet melody from the solo violin whilst the finale is close to the world of the Slavonic Dances and the Czech Suite.

In this version for strings, either solo or orchestral, the Notturno is an attractive occasional piece, richly textured with affecting harmonies set over a sustained pedal bass note. All in all a fine collection.
Related Artists
Reviews