Filters
Every Grain of Sand: Barb Jungr Sings Bob Dylan (Fifteenth Anniversary Edition)
Every Grain of Sand: Barb Jungr Sings Bob Dylan (Fifteenth Anniversary Edition)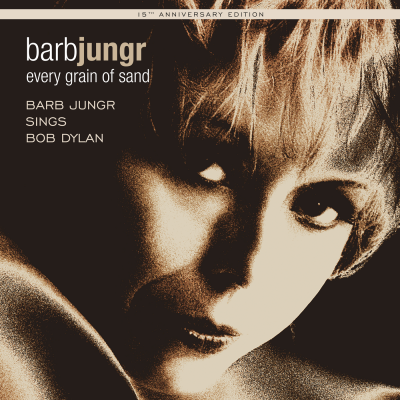 Inlay available for download
Booklet available for download
I'll Be Your Baby Tonight

Artist(s)

Barb Jungr - vocals, harmonica, Julie Walkington - double bass, Sonia Oakes Stuart- cello, Sonya Fairburn - violin, Kim Burton - accordion, Gary Hammond - percussion, Mark Lockheart - soprano and tenor saxophones, Simon Wallace - piano,

I'll Be Your Baby Tonight

$2.30

If Not For You

Artist(s)

Barb Jungr - vocals, harmonica, Julie Walkington - double bass, Sonia Oakes Stuart- cello, Sonya Fairburn - violin, Kim Burton - accordion, Gary Hammond - percussion, Mark Lockheart - soprano and tenor saxophones, Simon Wallace - piano

If Not For You

$2.30

Things Have Changed

Artist(s)

Barb Jungr - vocals, harmonica, Julie Walkington - double bass, Sonia Oakes Stuart- cello, Sonya Fairburn - violin, Kim Burton - accordion, Gary Hammond - percussion, Mark Lockheart - soprano and tenor saxophones, Simon Wallace - piano

Things Have Changed

$2.30

Ring Them Bells

Artist(s)

Barb Jungr - vocals, harmonica, Julie Walkington - double bass, Sonia Oakes Stuart- cello, Sonya Fairburn - violin, Kim Burton - accordion, Gary Hammond - percussion, Mark Lockheart - soprano and tenor saxophones, Russell Churney - piano

Ring Them Bells

$2.30

Not Dark Yet

Artist(s)

Barb Jungr - vocals, harmonica, Julie Walkington - double bass, Sonia Oakes Stuart- cello, Sonya Fairburn - violin, Kim Burton - accordion, Gary Hammond - percussion, Mark Lockheart - soprano and tenor saxophones, Simon Wallace - piano

Not Dark Yet

$2.30

Don't Think Twice, It's All Right

Artist(s)

Barb Jungr - vocals, harmonica, Julie Walkington - double bass, Sonia Oakes Stuart- cello, Sonya Fairburn - violin, Kim Burton - accordion, Gary Hammond - percussion, Mark Lockheart - soprano and tenor saxophones, Simon Wallace - piano

Don't Think Twice, It's All Right

$2.30

Is Your Love in Vain

Artist(s)

Barb Jungr - vocals, harmonica, Julie Walkington - double bass, Sonia Oakes Stuart- cello, Sonya Fairburn - violin, Kim Burton - accordion, Gary Hammond - percussion, Mark Lockheart - soprano and tenor saxophones, Simon Wallace - piano

Is Your Love in Vain

$2.30

It's All Over Now, Baby Blue

Artist(s)

Barb Jungr - vocals, harmonica, Julie Walkington - double bass, Sonia Oakes Stuart- cello, Sonya Fairburn - violin, Kim Burton - accordion, Gary Hammond - percussion, Mark Lockheart - soprano and tenor saxophones, Simon Wallace - piano

It's All Over Now, Baby Blue

$2.30

I Want You

Artist(s)

Barb Jungr - vocals, harmonica, Julie Walkington - double bass, Sonia Oakes Stuart- cello, Sonya Fairburn - violin, Kim Burton - accordion, Gary Hammond - percussion, Mark Lockheart - soprano and tenor saxophones, Russell Churney - piano

I Want You

$2.30

Sugar Baby

Artist(s)

Barb Jungr - vocals, harmonica, Julie Walkington - double bass, Sonia Oakes Stuart- cello, Sonya Fairburn - violin, Kim Burton - accordion, Gary Hammond - percussion, Mark Lockheart - soprano and tenor saxophones, Simon Wallace - piano

Sugar Baby

$3.40

Born in Time

Artist(s)

Barb Jungr - vocals, harmonica, Julie Walkington - double bass, Sonia Oakes Stuart- cello, Sonya Fairburn - violin, Kim Burton - accordion, Gary Hammond - percussion, Mark Lockheart - soprano and tenor saxophones, Simon Wallace - piano

Born in Time

$2.30

What Good Am I

Artist(s)

Barb Jungr - vocals, harmonica, Julie Walkington - double bass, Sonia Oakes Stuart- cello, Sonya Fairburn - violin, Kim Burton - accordion, Gary Hammond - percussion, Mark Lockheart - soprano and tenor saxophones, Simon Wallace - piano

What Good Am I

$2.30

Tangled up in Blue

Artist(s)

Barb Jungr - vocals, harmonica, Julie Walkington - double bass, Sonia Oakes Stuart- cello, Sonya Fairburn - violin, Kim Burton - accordion, Gary Hammond - percussion, Mark Lockheart - soprano and tenor saxophones, Russell Churney - piano

Tangled up in Blue

$2.30

Forever Young

Artist(s)

Barb Jungr - vocals, harmonica, Julie Walkington - double bass, Sonia Oakes Stuart- cello, Sonya Fairburn - violin, Kim Burton - accordion, Gary Hammond - percussion, Mark Lockheart - soprano and tenor saxophones, Simon Wallace - piano

Forever Young

$2.30

Every Grain of Sand

Artist(s)

Barb Jungr - vocals, harmonica, Julie Walkington - double bass, Sonia Oakes Stuart- cello, Sonya Fairburn - violin, Kim Burton - accordion, Gary Hammond - percussion, Mark Lockheart - soprano and tenor saxophones, Simon Wallace - piano

Every Grain of Sand

$2.30
Total running time: 63 minutes.

Album information

Every Grain Of Sand has deservedly become known as a modern cult classic and has won the singer a dedicated fan base around the world. 

Originally released in 2002 this insightful album established Barb Jungr as one of the leading interpreters of the Bob Dylan songbook and entered the Top 10 'Jazz Album of the Year' lists in The Sunday Times and The Telegraph whilst the Wall Street Journal described it as "...the most significant vocal album of the 21st century thus far". In 2017 the album featured in Will Friedwald's book, 'The Great Jazz and Pop Vocal Albums', the author stated, "This was more than a breakthrough; this was a revelation. Jungr heard possibilities in Dylan's music that the composer himself never even dreamed of."

Barb's revelatory interpretations get right to the heart of Dylan's lyrics, finding new depths and emotion in his work. The album's many fans include actor Jeremy Irons who named it one of his must-have albums on BBC Radio 4's Desert Island Discs. Barb's passion for the material and her clever musicality ensure that everyone will find something to enjoy. This album prompted more than a decade of Dylan performances with a Barbican tribute alongside Billy Bragg and Odetta, a highlight. 

 
Related Artists
Reviews