Filters
Handel: Acis and Galatea (Original Cannons Performing Version 1718)
Handel: Acis and Galatea (Original Cannons Performing Version 1718)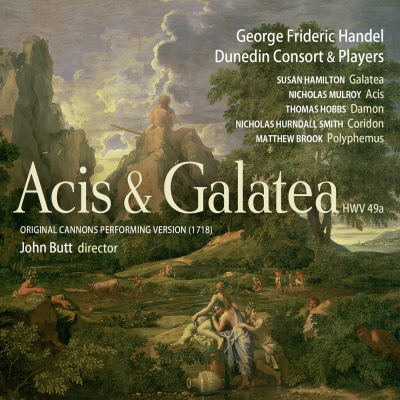 Inlay available for download
Booklet available for download
Sinfonia

Composer(s)

George Frideric Handel

Artist(s)

John Butt

Dunedin Consort & Players

Sinfonia

$2.30

Chorus: Oh, the pleasure of the plains!

Composer(s)

George Frideric Handel

Artist(s)

John Butt

Dunedin Consort & Players

Chorus: Oh, the pleasure of the plains!

$2.30

Accompagnato: Ye verdant plains and woody mountains

Composer(s)

George Frideric Handel

Artist(s)

John Butt

Susan Hamilton - Galatea

Dunedin Consort & Players

Accompagnato: Ye verdant plains and woody mountains

$2.30

Air: Hush, ye pretty warbling quire!

Composer(s)

George Frideric Handel

Artist(s)

John Butt

Susan Hamilton - Galatea

Dunedin Consort & Players

Air: Hush, ye pretty warbling quire!

$2.30

Air: Where shall I seek the charming fair?

Composer(s)

George Frideric Handel

Artist(s)

John Butt

Nicholas Mulroy - Acis

Dunedin Consort & Players

Air: Where shall I seek the charming fair?

$2.30

Recitative: Stay, shepherd, stay!

Composer(s)

George Frideric Handel

Artist(s)

John Butt

Thomas Hobbs - Damon

Dunedin Consort & Players

Recitative: Stay, shepherd, stay!

$2.30

Air: Shepherd, what art thou pursuing?

Composer(s)

George Frideric Handel

Artist(s)

John Butt

Thomas Hobbs - Damon

Dunedin Consort & Players

Air: Shepherd, what art thou pursuing?

$2.30

Recitative: Lo, here my love

Composer(s)

George Frideric Handel

Artist(s)

John Butt

Nicholas Mulroy - Acis

Dunedin Consort & Players

Recitative: Lo, here my love

$2.30

Air: Love in her eyes sits playing

Composer(s)

George Frideric Handel

Artist(s)

John Butt

Nicholas Mulroy - Acis

Dunedin Consort & Players

Air: Love in her eyes sits playing

$2.30

Recitative: Oh, didst thou know the pains of absent love

Composer(s)

George Frideric Handel

Artist(s)

John Butt

Susan Hamilton - Galatea

Dunedin Consort & Players

Recitative: Oh, didst thou know the pains of absent love

$2.30

Air: As when the dove laments her love

Composer(s)

George Frideric Handel

Artist(s)

John Butt

Susan Hamilton - Galatea

Dunedin Consort & Players

Air: As when the dove laments her love

$2.30

Duet: Happy we!

Composer(s)

George Frideric Handel

Artist(s)

John Butt

Susan Hamilton - Galatea, Nicholas Mulroy - Acis

Dunedin Consort & Players

Duet: Happy we!

$2.30

Chorus: Wretched lovers!

Composer(s)

George Frideric Handel

Artist(s)

John Butt

Dunedin Consort & Players

Chorus: Wretched lovers!

$2.30

Accompagnato: I rage — I melt — I burn!

Composer(s)

George Frideric Handel

Artist(s)

John Butt

Matthew Brook - Polyphemus

Dunedin Consort & Players

Accompagnato: I rage — I melt — I burn!

$2.30

Air: O ruddier than the cherry

Composer(s)

George Frideric Handel

Artist(s)

John Butt

Matthew Brook - Polyphemus

Dunedin Consort & Players

Air: O ruddier than the cherry

$2.30

Recitative: Whither, fairest, art thou running

Composer(s)

George Frideric Handel

Artist(s)

John Butt

Matthew Brook - Polyphemus, Susan Hamilton - Galatea

Dunedin Consort & Players

Recitative: Whither, fairest, art thou running

$2.30

Air: Cease to beauty to be suing

Composer(s)

George Frideric Handel

Artist(s)

John Butt

Matthew Brook - Polyphemus

Dunedin Consort & Players

Air: Cease to beauty to be suing

$2.30

Air: Would you gain the tender creature

Composer(s)

George Frideric Handel

Artist(s)

John Butt

Nicholas Hurndall Smith - Coridon

Dunedin Consort & Players

Air: Would you gain the tender creature

$2.30

Recitative: His hideous love provokes my rage

Composer(s)

George Frideric Handel

Artist(s)

John Butt

Nicholas Mulroy - Acis

Dunedin Consort & Players

Recitative: His hideous love provokes my rage

$2.30

Air: Love sounds th'alarm

Composer(s)

George Frideric Handel

Artist(s)

John Butt

Nicholas Mulroy - Acis

Dunedin Consort & Players

Air: Love sounds th'alarm

$2.30

Air: Consider, fond shepherd

Composer(s)

George Frideric Handel

Artist(s)

John Butt

Thomas Hobbs - Damon

Dunedin Consort & Players

Air: Consider, fond shepherd

$2.30

Recitative: Cease, oh cease, thou gentle youth

Composer(s)

George Frideric Handel

Artist(s)

John Butt

Susan Hamilton - Galatea

Dunedin Consort & Players

Recitative: Cease, oh cease, thou gentle youth

$2.30

Trio: The flocks shall leave the mountains

Composer(s)

George Frideric Handel

Artist(s)

John Butt

Susan Hamilton - Galatea, Nicholas Mulroy - Acis, Matthew Brook - Polyphemus

Dunedin Consort & Players

Trio: The flocks shall leave the mountains

$2.30

Accompagnato: Help, Galatea! Help, ye parent gods!

Composer(s)

George Frideric Handel

Artist(s)

John Butt

Nicholas Mulroy - Acis

Dunedin Consort & Players

Accompagnato: Help, Galatea! Help, ye parent gods!

$2.30

Chorus: Mourn, all ye muses!

Composer(s)

George Frideric Handel

Artist(s)

John Butt

Dunedin Consort & Players

Chorus: Mourn, all ye muses!

$2.30

Solo & Chorus: Must I my Acis still bemoan

Composer(s)

George Frideric Handel

Artist(s)

John Butt

Susan Hamilton - Galatea

Dunedin Consort & Players

Solo & Chorus: Must I my Acis still bemoan

$2.30

Recitative: 'Tis done! Thus I exert my pow'r divine

Composer(s)

George Frideric Handel

Artist(s)

John Butt

Susan Hamilton - Galatea

Dunedin Consort & Players

Recitative: 'Tis done! Thus I exert my pow'r divine

$2.30

Air: Heart, the seat of soft delight

Composer(s)

George Frideric Handel

Artist(s)

John Butt

Susan Hamilton - Galatea

Dunedin Consort & Players

Air: Heart, the seat of soft delight

$2.30

Chorus: Galatea, dry thy tears

Composer(s)

George Frideric Handel

Artist(s)

John Butt

Dunedin Consort & Players

Chorus: Galatea, dry thy tears

$2.30
Total running time: 95 minutes.





Album information

The second Handel recording from the award-winning Dunedin Consort is a revelation. The album was a finalist in the 'Baroque Vocal' category in the 2009 Gramophone Awards.

For the many fans of the Consort's award-winning Messiah, the release of another Handel album is welcome news and Acis and Galatea does not disappoint! Classic FM magazine named the recording 'Opera & Vocal Disc of the Month'. In addition to awarding the recording five stars the magazine stated "...the freshness with which they sing radiates joy throughout the entire score". This adds to the numerous recommendations and outstanding reviews that the double award-winning group have received for their recording of this pastoral entertainment by Handel.

Gramophone named the recording 'Disc of the Month' and it was named the 'First Choice' recommendation by Record Review's 'Building a Library' on BBC Radio 3, who described it as "a vivacious performance brimming with sheer happiness".
Related Artists
Reviews