Filters
La Guitarre Royalle: The Music of Francesco Corbetta
La Guitarre Royalle: The Music of Francesco Corbetta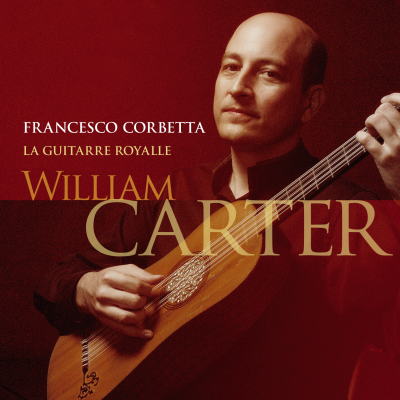 Booklet available for download
Pieces in C <i>Chaconne</i>

Composer(s)

Francesco Corbetta

Pieces in C Chaconne

$2.70

Pieces in C <i>Menuet</i>

Composer(s)

Francesco Corbetta

Pieces in C Menuet

$1.80

Pieces in C <i>Autre Chaconne</i>

Composer(s)

Francesco Corbetta

Pieces in C Autre Chaconne

$1.80

Prelude

Composer(s)

Francesco Corbetta

Prelude

$1.80

Folie

Composer(s)

Francesco Corbetta

Folie

$1.80

Sarabande

Composer(s)

Francesco Corbetta

Sarabande

$1.80

Suite in G minor <i>Prelude</i>

Composer(s)

Francesco Corbetta

Suite in G minor Prelude

$1.80

Suite in G minor <i>Allemande</i>

Composer(s)

Francesco Corbetta

Suite in G minor Allemande

$1.80

Suite in G minor <i>Courante</i>

Composer(s)

Francesco Corbetta

Suite in G minor Courante

$1.80

Suite in G minor <i>Sarabande</i>

Composer(s)

Francesco Corbetta

Suite in G minor Sarabande

$1.80

Suite in G minor <i>Gigue</i>

Composer(s)

Francesco Corbetta

Suite in G minor Gigue

$1.80

Suite in G minor <i>Passacaille</i>

Composer(s)

Francesco Corbetta

Suite in G minor Passacaille

$1.80

Pieces in D <i>Gigue a la maniere Anglois</i>

Composer(s)

Francesco Corbetta

Pieces in D Gigue a la maniere Anglois

$1.80

Pieces in D <i>Menuet</i>

Composer(s)

Francesco Corbetta

Pieces in D Menuet

$1.80

Pieces in D <i>Chaconne</i>

Composer(s)

Francesco Corbetta

Pieces in D Chaconne

$1.80

Suite in A minor <i>Prelude</i>

Composer(s)

Francesco Corbetta

Suite in A minor Prelude

$1.80

Suite in A minor <i>Allemande</i>

Composer(s)

Francesco Corbetta

Suite in A minor Allemande

$1.80

Suite in A minor <i>Courante</i>

Composer(s)

Francesco Corbetta

Suite in A minor Courante

$1.80

Suite in A minor <i>Sarabande-La Victoire</i>

Composer(s)

Francesco Corbetta

Suite in A minor Sarabande-La Victoire

$1.80

Suite in A minor <i>Passacaille</i>

Composer(s)

Francesco Corbetta

Suite in A minor Passacaille

$1.80

Folie in G minor

Composer(s)

Francesco Corbetta

Folie in G minor

$1.80

Las Vacas Espagnole

Composer(s)

Francesco Corbetta

Las Vacas Espagnole

$1.80

Suite in G major <i>Prelude</i>

Composer(s)

Francesco Corbetta

Suite in G major Prelude

$1.80

Suite in G major <i>Allemande</i>

Composer(s)

Francesco Corbetta

Suite in G major Allemande

$1.80

Suite in G major <i>Courante</i>

Composer(s)

Francesco Corbetta

Suite in G major Courante

$1.80

Suite in G major <i>Sarabande</i>

Composer(s)

Francesco Corbetta

Suite in G major Sarabande

$1.80

Suite in G major <i>Passacaille</i>

Composer(s)

Francesco Corbetta

Suite in G major Passacaille

$1.80

Passacaille

Composer(s)

Francesco Corbetta

Passacaille

$1.80
Total running time: 72 minutes.
Album information

A hidden gem of guitar music written by Francesco Corbetta for the bedchambers of Louis XIV. Widely known as one of the founding members of the Palladian Ensemble, this is Carter's debut solo recording.

La Guitarre Royalle is William Carter's first solo recording and features the works of Francesco Corbetta (c. 1615-1681) who taught guitar to Louis XIV.  Corbetta was considered by his contemporaries to be the greatest guitar virtuoso of his time. As well his time in the French Royal Courts, Corbetta also lived in London for a few years as part of King Charles II "Private Music", playing and teaching the royal brothers as well as other members of the nobility.

The works on this recording are from Corbetta's books La Guitarre Royalle, and are firmly in the French style – the result of his residence in France and at the French-influenced English court of Charles II.
Related Artists
Reviews