Filters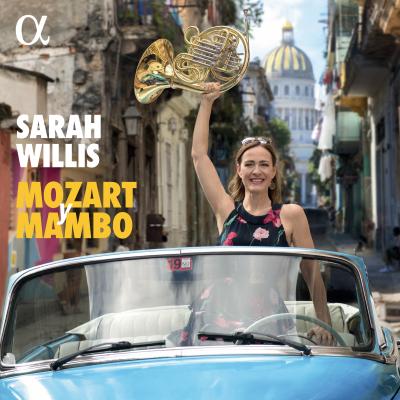 Inlay available for download
Booklet available for download
Concerto Movement for Horn in E-Flat Major, K. 370b

Composer(s)

Wolfgang Amadeus Mozart

Artist(s)

José Antonio Méndez Padrón

Sarah Willis

Havana Lyceum Orchestra

Concerto Movement for Horn in E-Flat Major, K. 370b

$2.30

Qué rico el mambo

Composer(s)

Dámaso Pérez Prado

Artist(s)

Sarah Willis

Havana Horns

Qué rico el mambo

$2.30

Rondo in E-Flat Major, K. 371 for Horn and Orchestra

Composer(s)

Wolfgang Amadeus Mozart

Artist(s)

José Antonio Méndez Padrón

Sarah Willis

Havana Lyceum Orchestra

Rondo in E-Flat Major, K. 371 for Horn and Orchestra

$2.30

Sarahnade mambo (Based on Eine Kleine Nachtmusik by W. A. Mozart)

Composer(s)

Edgar Olivero

Artist(s)

Sarah Willis

The Sarahbanda

Yuniet Lombida Prieto

Sarahnade mambo (Based on Eine Kleine Nachtmusik by W. A. Mozart)

$2.30

Horn Concerto in E-Flat Major, K. 447: I. Allegro

Composer(s)

Wolfgang Amadeus Mozart

Artist(s)

José Antonio Méndez Padrón

Sarah Willis

Havana Lyceum Orchestra

Horn Concerto in E-Flat Major, K. 447: I. Allegro

$3.40

Horn Concerto in E-Flat Major, K. 447: II. Romance - Larghetto

Composer(s)

Wolfgang Amadeus Mozart

Artist(s)

José Antonio Méndez Padrón

Sarah Willis

Havana Lyceum Orchestra

Horn Concerto in E-Flat Major, K. 447: II. Romance - Larghetto

$2.30

Horn Concerto in E-Flat Major, K. 447: III. Allegro

Composer(s)

Wolfgang Amadeus Mozart

Artist(s)

José Antonio Méndez Padrón

Sarah Willis

Havana Lyceum Orchestra

Horn Concerto in E-Flat Major, K. 447: III. Allegro

$2.30

Rondo alla mambo (Based on the Third Movement of W. A. Mozart's Horn Concerto, K.447)

Artist(s)

José Antonio Méndez Padrón

Sarah Willis

Havana Lyceum Orchestra

Rondo alla mambo (Based on the Third Movement of W. A. Mozart's Horn Concerto, K.447)

$2.30

Dos gardenias

Composer(s)

Isolina Carrillo

Artist(s)

José Antonio Méndez Padrón

Sarah Willis

Havana Lyceum Orchestra

Jorge Aragón

Harold Madrigal Frías

Dos gardenias

$2.30

El manisero

Composer(s)

Moisés Simons

Artist(s)

José Antonio Méndez Padrón

Sarah Willis

Havana Lyceum Orchestra

Jorge Aragón

Harold Madrigal Frías

El manisero

$3.40
Total running time: 54 minutes.



Album information

With 'Mozart y Mambo, Sarah has created an album combining the music of one of the most famous classical music composers, W. A. Mozart and traditional Cuban music.

A horn player with the famous Berlin Philharmonic Orchestra since 2001, she launched what was soon to become a famous TV programme, 'Sarah's Music', for Deutsche Welle in 2014, interviewing personalities ranging from Gustavo Dudamel to Wynton Marsalis. The award-winning programme presents music with warmth and in all its diversity. Sarah's other passion was born when she arrived in Cuba to give a horn masterclass. The music and the musicians she met there had a huge impact on her. Since then she has returned regularly and founded the Havana Horns, an ensemble of Cuban horn players who were featured in a 'Sarah's Music' episode.

"Mozart would have been a good Cuban" she was told in Havana, and this is what inspired her to create this project. With the Havana Lyceum Orchestra and its exuberant conductor José Antonio Méndez Padrón, she presents works for French horn and orchestra by W. A. Mozart (the Concerto No. 3 K. 447 and the Concert Rondo K. 371) alongside a 'Rondo alla Mambo' (inspired by the Concerto No. 3 K. 447) a 'Sarahnade Mambo', a Cuban 'Eine Kleine Nachtmusik', and other treats. A number of well-known local musicians take part in this recording, which also pays tribute to Cuban repertoire with two songs including 'Dos Gardenias', made famous by Ibrahim Ferrer and the Buena Vista Social Club.
Related Artists
Reviews