Filters
Piano Works of the Young Beethoven
Piano Works of the Young Beethoven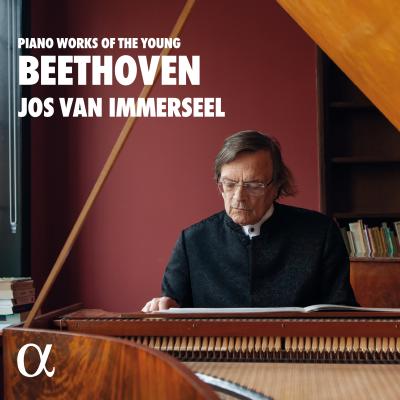 Inlay available for download
Booklet available for download
Piano Sonata No.5 in C Minor, Op. 10 No. 1: I. Allegro molto e con brio

Composer(s)

Ludwig van Beethoven

Artist(s)

Jos van Immerseel

Piano Sonata No.5 in C Minor, Op. 10 No. 1: I. Allegro molto e con brio

$3.40

Piano Sonata No.5 in C Minor, Op. 10 No. 1: II. Adagio molto

Composer(s)

Ludwig van Beethoven

Artist(s)

Jos van Immerseel

Piano Sonata No.5 in C Minor, Op. 10 No. 1: II. Adagio molto

$3.40

Piano Sonata No.5 in C Minor, Op. 10 No. 1: III. Prestissimo

Composer(s)

Ludwig van Beethoven

Artist(s)

Jos van Immerseel

Piano Sonata No.5 in C Minor, Op. 10 No. 1: III. Prestissimo

$2.30

Piano Sonata No.7 in D Major, Op. 10 No. 3: I. Presto

Composer(s)

Ludwig van Beethoven

Artist(s)

Jos van Immerseel

Piano Sonata No.7 in D Major, Op. 10 No. 3: I. Presto

$3.40

Piano Sonata No.7 in D Major, Op. 10 No. 3: II. Largo e mesto

Composer(s)

Ludwig van Beethoven

Artist(s)

Jos van Immerseel

Piano Sonata No.7 in D Major, Op. 10 No. 3: II. Largo e mesto

$3.40

Piano Sonata No.7 in D Major, Op. 10 No. 3: III. Menuetto. Allegro

Composer(s)

Ludwig van Beethoven

Artist(s)

Jos van Immerseel

Piano Sonata No.7 in D Major, Op. 10 No. 3: III. Menuetto. Allegro

$2.30

Piano Sonata No.7 in D Major, Op. 10 No. 3: IV. Rondo. Allegro

Composer(s)

Ludwig van Beethoven

Artist(s)

Jos van Immerseel

Piano Sonata No.7 in D Major, Op. 10 No. 3: IV. Rondo. Allegro

$2.30

Alla ingharese in G Major, Op. 129

Composer(s)

Ludwig van Beethoven

Artist(s)

Jos van Immerseel

Alla ingharese in G Major, Op. 129

$3.40

Piano Sonata No.8 in C Minor, Op. 13 "Pathétique": I. Grave - Allegro di molto e con brio

Composer(s)

Ludwig van Beethoven

Artist(s)

Jos van Immerseel

Piano Sonata No.8 in C Minor, Op. 13 "Pathétique": I. Grave - Allegro di molto e con brio

$3.40

Piano Sonata No.8 in C Minor, Op. 13 "Pathétique": II. Adagio cantabile

Composer(s)

Ludwig van Beethoven

Artist(s)

Jos van Immerseel

Piano Sonata No.8 in C Minor, Op. 13 "Pathétique": II. Adagio cantabile

$2.30

Piano Sonata No.8 in C Minor, Op. 13 "Pathétique": III. Rondo. Allegro

Composer(s)

Ludwig van Beethoven

Artist(s)

Jos van Immerseel

Piano Sonata No.8 in C Minor, Op. 13 "Pathétique": III. Rondo. Allegro

$2.30

Piano Sonata No. 9 in E Major, Op. 14 No. 1: I. Allegro

Composer(s)

Ludwig van Beethoven

Artist(s)

Jos van Immerseel

Piano Sonata No. 9 in E Major, Op. 14 No. 1: I. Allegro

$3.40

Piano Sonata No. 9 in E Major, Op. 14 No. 1: II. Allegretto

Composer(s)

Ludwig van Beethoven

Artist(s)

Jos van Immerseel

Piano Sonata No. 9 in E Major, Op. 14 No. 1: II. Allegretto

$2.30

Piano Sonata No. 9 in E Major, Op. 14 No. 1: III. Rondo. Allegro comodo

Composer(s)

Ludwig van Beethoven

Artist(s)

Jos van Immerseel

Piano Sonata No. 9 in E Major, Op. 14 No. 1: III. Rondo. Allegro comodo

$2.30

Piano Sonata No. 10 in G Major, Op. 14 No. 2: I. Allegro

Composer(s)

Ludwig van Beethoven

Artist(s)

Jos van Immerseel

Piano Sonata No. 10 in G Major, Op. 14 No. 2: I. Allegro

$3.40

Piano Sonata No. 10 in G Major, Op. 14 No. 2: II. Andante

Composer(s)

Ludwig van Beethoven

Artist(s)

Jos van Immerseel

Piano Sonata No. 10 in G Major, Op. 14 No. 2: II. Andante

$2.30

Piano Sonata No. 10 in G Major, Op. 14 No. 2: III. Scherzo. Allegro assai

Composer(s)

Ludwig van Beethoven

Artist(s)

Jos van Immerseel

Piano Sonata No. 10 in G Major, Op. 14 No. 2: III. Scherzo. Allegro assai

$2.30

Marcia funebre from Piano Sonata No. 12 in A-Flat Major, Op. 26

Composer(s)

Ludwig van Beethoven

Artist(s)

Jos van Immerseel

Marcia funebre from Piano Sonata No. 12 in A-Flat Major, Op. 26

$2.30

Piano Sonata No. 14 in C-Sharp Minor, Op. 27 No. 2 ("Moonlight"): I. Adagio sostenuto

Composer(s)

Ludwig van Beethoven

Artist(s)

Jos van Immerseel

Piano Sonata No. 14 in C-Sharp Minor, Op. 27 No. 2 ("Moonlight"): I. Adagio sostenuto

$2.30

Piano Sonata No. 14 in C-Sharp Minor, Op. 27 No. 2 ("Moonlight"): II. Allegretto

Composer(s)

Ludwig van Beethoven

Artist(s)

Jos van Immerseel

Piano Sonata No. 14 in C-Sharp Minor, Op. 27 No. 2 ("Moonlight"): II. Allegretto

$2.30

Piano Sonata No. 14 in C-Sharp Minor, Op. 27 No. 2 ("Moonlight"): III. Presto agitato

Composer(s)

Ludwig van Beethoven

Artist(s)

Jos van Immerseel

Piano Sonata No. 14 in C-Sharp Minor, Op. 27 No. 2 ("Moonlight"): III. Presto agitato

$3.40

Piano Sonata No. 15 in D Major, Op. 28 "Pastoral": I. Allegro

Composer(s)

Ludwig van Beethoven

Artist(s)

Jos van Immerseel

Piano Sonata No. 15 in D Major, Op. 28 "Pastoral": I. Allegro

$4.60

Piano Sonata No. 15 in D Major, Op. 28 "Pastoral": II. Andante

Composer(s)

Ludwig van Beethoven

Artist(s)

Jos van Immerseel

Piano Sonata No. 15 in D Major, Op. 28 "Pastoral": II. Andante

$2.30

Piano Sonata No. 15 in D Major, Op. 28 "Pastoral": III. Scherzo. Allegro vivace

Composer(s)

Ludwig van Beethoven

Artist(s)

Jos van Immerseel

Piano Sonata No. 15 in D Major, Op. 28 "Pastoral": III. Scherzo. Allegro vivace

$2.30

Piano Sonata No. 15 in D Major, Op. 28 "Pastoral": IV. Rondo. Allegro ma non troppo

Composer(s)

Ludwig van Beethoven

Artist(s)

Jos van Immerseel

Piano Sonata No. 15 in D Major, Op. 28 "Pastoral": IV. Rondo. Allegro ma non troppo

$2.30

Rondo in G Major, Op. 51 No. 2 No. 2: Andante cantabile e grazioso

Composer(s)

Ludwig van Beethoven

Artist(s)

Jos van Immerseel

Rondo in G Major, Op. 51 No. 2 No. 2: Andante cantabile e grazioso

$4.60

Piano Sonata No. 18 in E-Flat Major, Op. 31 No. 3: I. Allegro

Composer(s)

Ludwig van Beethoven

Artist(s)

Jos van Immerseel

Piano Sonata No. 18 in E-Flat Major, Op. 31 No. 3: I. Allegro

$3.40

Piano Sonata No. 18 in E-Flat Major, Op. 31 No. 3: II. Scherzo. Allegro vivace

Composer(s)

Ludwig van Beethoven

Artist(s)

Jos van Immerseel

Piano Sonata No. 18 in E-Flat Major, Op. 31 No. 3: II. Scherzo. Allegro vivace

$2.30

Piano Sonata No. 18 in E-Flat Major, Op. 31 No. 3: III. Menuetto. Moderato e grazioso

Composer(s)

Ludwig van Beethoven

Artist(s)

Jos van Immerseel

Piano Sonata No. 18 in E-Flat Major, Op. 31 No. 3: III. Menuetto. Moderato e grazioso

$2.30

Piano Sonata No. 18 in E-Flat Major, Op. 31 No. 3: IV. Presto con fuoco

Composer(s)

Ludwig van Beethoven

Artist(s)

Jos van Immerseel

Piano Sonata No. 18 in E-Flat Major, Op. 31 No. 3: IV. Presto con fuoco

$2.30

Andante in F Major, WoO 57

Composer(s)

Ludwig van Beethoven

Artist(s)

Jos van Immerseel

Andante in F Major, WoO 57

$3.40
Total running time: 214 minutes.
Album information

A leading authority on the fortepiano, Jos Van Immerseel has devised a programme focusing on the music Beethoven composed for a Viennese piano with a range of five octaves. 

This includes the finest keyboard music from Beethoven's early Viennese period, more specifically works written between 1795 and 1804. For this recording, the Flemish pianist has used the composer's extant autograph manuscripts or the first editions published shortly after composition, as well as the latest critical edition by Jonathan Del Mar (Kassel: Bärenreiter-Verlag, 2017-18). The writings of Carl Czerny, one of Beethoven's most important 'pupils', were also a significant source of information.

With his customary attention to the instrumentarium, Jos Van Immerseel has opted for a five-octave Viennese grand fortepiano by Christopher Clarke, a masterly replica, built in 1988, of an instrument by Walter, whom Beethoven himself selected in 1802 from among the sixty or so Viennese piano makers of the time.
Related Artists
Reviews